Continuing with "Vivien in Fashion" Week, today we throw the spotlight on photographer and costume designer Cecil Beaton. Cecil is perhaps the most interesting of all of the Vogue photographers who photographed Vivien Leigh and Laurence Olivier because he also had somewhat of a personal relationship with them as well as a professional one.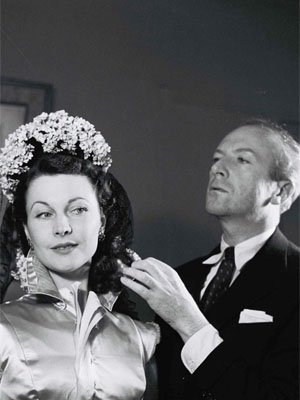 Since I first became interested in vintage fashion and photography, I have been interested in Beaton's photographs of Vivien Leigh in particular (and he did take my all time favorite portrait of Laurence Olivier in 1948).  Cecil was the photographer on Caesar and Cleopatra, and the costume designer for Anna Karenina as well as for the play The School for Scandal which the Oliviers performed in 1948 and 49.  In my opinion, he took the best photos of Vivien Leigh, and his abrupt falling out with the Oliviers in 1948 makes me rather sad.  But it is an interesting story, so I thought it would be nice to hear about their personal and professional relationship from someone who knows quite a bit about it.
Most of you know Hugo Vickers for writing the definitive biography on Vivien Leigh.  He is also the Literary Executor for the Cecil Beaton Estate and has published Beaton's biography and diaries.  He was very kind in writing out the tale of the Oliviers and Cecil Beaton especially for vivandlarry.com. Thanks, Hugo!