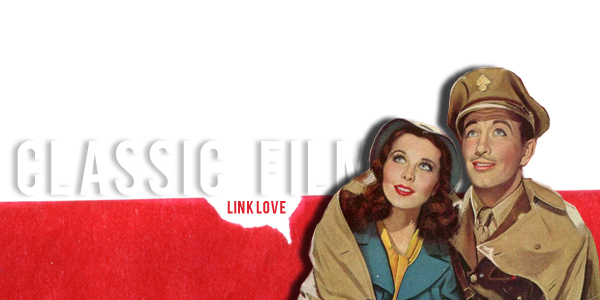 Welcome to the second installment of Classic Film Link Love!  I've started following quite a few new classic film blogs since Link Love #1 was posted a few weeks ago. One of them is the Classic Movie Blog Association. I'm really excited to be participating in their Classic Movies of 1939 Blogathon in May! I'll be talking about one of my all time favorite films, The Wizard of Oz, as well as the little-talked-about Tim Whelan film Q Planes, starring Laurence Olivier, Valerie Hobson and Ralph Richardson. Watch this space!
And now, to get down to business, here are some of my favorite recent classic film blog posts from around the interwebz.
Meredith shines the spotlight on Virginia Grey, one of Clark Gable's many young starlet conquests, over at Dear Mr. Gable.
The Mythical Monkey (who writes about the movies) paid tribute to the great Charles Chaplin on his birthday by sharing one of Chaplin's famous silents, The Gold Rush. If you haven't seen this film, I highly recommend popping over to watch it. It's hilarious, and is the source of the famous bread roll dance scene.
Sarah at And…Scene! made a great post about vintage ads featuring classic film stars. My favorites are David Niven promoting First National travelers checks and fat Orson Welles for Paul Masson Cabernet Sauvingon. I was recently introduced to the wonders of Orson's drunken Paul Masson commercial outtakes on youtube, and have to say it might be the greatest thing ever.
Laura gives a glowing review of one of my all-time favorite films, Frank Capra's Oscar-winning It Happened One Night, over at City Lights.
Tom at Motion Picture Gems is doing a series about historical small town movie theatres. I love old theatres. They have such a sense of history, and they usually screen older films. I'd take one of these over the multiplex any day. Do you have an old theatre in your town?
Page wrote a fabulous post about the beautiful silent film star (and one of Vivien Leigh's favorite actors) Ramon Novarro over at My Love of Old Hollywood.
Jnpickens shoed us how she decked out her room and office space with old movie memorabilia (glad I'm not the only one who does this) over at Comet Over Hollywood. Do you have classic film memorabilia on your walls?
That's all for this installment of Classic Film Link Love. Until next time!