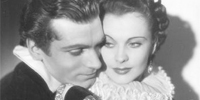 In 1588, relations between Spain and England are at the breaking point. British sea raiders regularly capture Spanish merchantmen bringing gold from the New World with the support of Queen Elizabeth I (Flora Robson). After a plot to depose her is discovered, she enlists Michael Ingolby (Laurence Olivier), whose father was killed by the Inquisition, to go undercover and infiltrate the court of Philip of Spain. Masquerading as one of the traitors, Ingolby finds the names of British subjects in Spanish pay. He identifies the would-be assassins and discovers their plans to send the Armada against England. His feats earn Ingolby the love of a Spanish noblewoman, an English courtesan (Vivien Leigh), and Queen Elizabeth herself as he takes the British fleet into battle. At the climax he leads a night attack on the Armada ships amassed off the coast of England. (imdb)
Cast:
Flora Robson … Queen Elizabeth I
Laurence Olivier … Michael Ingolby
Vivien Leigh … Cynthia
Raymond Massey … King Philip II of Spain
Leslie Banks … Robert Dudley, Earl of Leicester
Production Notes:
Directed by: William K. Howard
Written by: Clemence Dane, Sergei Nolbandov
Produced by: Alexander Korda and Erich Pommer/London Films
Distributed by: United Artists
Film location: Denham Studios, Buckinghamshire, England
Premiered: January 8, 1937 (USA) / February 25, 1937 (UK)
Behind-the-scenes:
• Adapted from the novel by A.E.W. Mason, Fire Over England was the first film in which Vivien Leigh and Laurence Olivier were paired together, and it was on the set that they fell in love. Producer Alexander Korda, a friend to both stars, supported their affair, and word soon got out around the studio.
• Vivien Leigh remembers: "I was making Fire Over England then, and Larry was in it too. Flora Robson was playing Queen Elizabeth. It was in that film that Larry and I met, too. I wonder whether-if the film was shown again-you would see it in our faces, the confrontation with our destiny. I don't think I have ever lived quite as intensely ever since. I don't remember sleeping, ever; only every precious moment that we spent together."
External Links:
Fire Over England on TCM
Fire Over England in the Internet Archive — Download the film for free.
Reviews:
TIME magazine | March 15, 1937
Fire Over England (London Films), not to be confused with Wings Over Europe, Wings Over Ethiopia, Storm Over the Andes, Storm Over Asia, Thunder Over Mexico and Head Over Heels in Love (TIME, Feb. 22), is Elizabethan sword & cloak drama, showing how the Spanish Armada was frustrated by young Michael Ingolby (Laurence Olivier) while Queen Elizabeth (Flora Robson) was feeding porridge to doddering Lord Burleigh (Morton Selten). In a hand-to-hand combat between Michael Ingolby and Michael Strogoff, the correct odds would be even money. In addition to burning the Armada with the aid of seven men in rowboats, Ingolby escapes from a Spanish galleon, sails in a fishing smack from Spain to England, foils an attempt on the Queen's life, uncovers a Spanish plot to assassinate her, impersonates a traitor to his land at the court of Spain's King Philip II, defeats the King's palace guard in a fencing match and accompanies his own songs on the Spanish guitar, in return for which he gets a title and the Queen's cutest lady-in-waiting (Vivien Leigh). Unfortunately, in its whole handsomely photographed gamut of daring deeds, the picture contains nothing as sporting as such a mythical contest might be. The onesidedness of Ingolby's encounters, combined with a certain stuffiness not wholly mitigated by having the Queen use such locutions as "You stink of fish" to her subjects, prevent Ingolby's escapades from being as exciting as those of his Russian rival. Typical shot: loyal Ingolby at a Spanish dinner party, evading a toast to England's downfall.
The Times | February 26, 1937
The age of Elizabeth and the coming of the Spanish Armada will always provide a spectacle and an excitement, even when viewed with the blank and incurious stare of an adventure story. The adventures themselves derive from Mr A.E.W. Mason's novel of the same title as the film, and though conveniently heroic, with no subtlety of character and little inspection of motives, they have a certain deftness and agility in their construction.

It would be a relief, it is true, if when the hero had to make his escape from the Escorial it was not entirely a foregone conclusion that he would baffle or bowl over every one of the guards. And it might have been better if he had not so conspicuously alternated, to suit the occasion, between a blunt and charming naivety and a Machiavellian power of deception. but so long as he is bustling with sufficient speed from one escapade to another, his adventures and his charm–which is very considerable in the hands of Mr. Olivier–hardly suffer from the kind of inconsistency to which every one must be accustomed…
Related Photos:
Click the image below to activate lightbox.
More (log-in required):
Photos
|
Screencaps