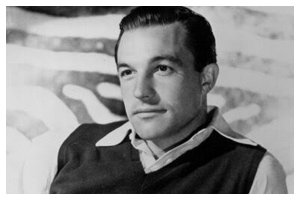 Gene Kelly had first met Vivien and Laurence Olivier in Chicago in 1940. He was performing there while they were doing their run of Romeo and Juliet. Gene took an immediate liking to both of them, particularly Vivien. According to the biography Gene Kelly: A Life of Dance and Dreams by Alvin Yudkoff, the Oliviers were back in Hollywood in 1944, where MGM studio head Louis B. Mayer threw a party where they were guests of honor. The Kellys had been invited on behalf of the Oliviers. At the time, Gene was furious with Louis B. Mayer because he wasn't getting roles that showcased his talents (it sounds like he was on suspension). Gene wanted better roles, or he threatened to join the Navy. Because of the rift between he and Mayer, Gene did not want to attend the party, but his wife, Betsey, persuaded him to go so he could see Vivien again, whom he had been enthusiastic about since seeing her in GWTW and meeting her in Chicago four years prior.
"I saw the way the Oliviers greeted you out there," Mayer gestured toward the door. "Vivien told me they had met you in Chicago when you were doing a show and she liked you in For Me and My Gal."
"Good, well Mr. Mayer, I'll let you get back to your party and–"
"You can do me a favor."
"Oh?"
"Ask Vivien to dance. It's what Larry says would make her happy. She's been depressed lately. Has even seen doctors about it." Mayer went to the door and opened it. 'I'm doing a favor for you. You do one for me."
When he returned to their table, Betsey's smile faded as she saw his exasperated expression. "Was it that bad?"
"Well, at least I know. That letter of mine, he never received it."
"Oh, oh."
"But we're back in business, kiddo. They're loaning me out to Columbia."
The exuberant smile came back. "Tell me, tell me!"
"I will. But first I have to ask Scarlett O'Hara to dance."
"But you hate that sort of thing!"
"Just being social." The band had started up again, a suitable fox trot, slow and simple. He crossed the floor to the head table, a beehive of conversation, where Mayer had reseated with the Oliviers. One of the MGM executives was exuberantly talking with Vivien and, laughing, she threw her head back and brought it forward to sip her champagne. It was an awkward interruption but he had no choice. Conscious of Mayer's gaze, he leaned forward and asked Vivien to dance.
"Thought you'd never ask, Gene." She slurred the words as she got to her feet uncertainly, and he knew at once, with the clarity of one who had grown up with an alcoholic father, she was drunk. "There's only one thing left for me to do in Hollywood. That's to dance with Gene Kelly."
He had to hold her hand tightly as they walked out to the dance floor. Of course, most of the guests had already turned to watch. Even though these were mostly movie people well aware of the preparation needed to do a cinematic dance number, Gene sensed an expectant glaze over their eyes as he put his hand on Vivien's back. She rocked forward into him. he bobbed back and forth gently–and knew it would be impossible, as he later told his English biographer:
As soon as we began to dance, I knew she couldn't follow me too well. We were both too nervous about it, I guess, and simply out of sync with each other. Maybe we both had had a couple drinks too many, but it just never worked out, and after a while, I did something I've never ever forgiven myself for. i asked her if we could sit the rest of it out. Well of course i hurt her feelings terribly. It was a cruel, thoughtless thing to have done to anyone–especially someone so lovely and gracious as Vivien Leigh–and I wanted to kill myself the second after I'd done it.
It was the look on her face that he always remembered. Disappointment, of course, and wonderment, inadequacy and pain. Hand in hand, she almost tugged him back to he table and her drink while he was smiling his best, as though having enjoyed a grand time. The whole experience was heart-rending, and, if the encounter with Mayer hadn't poisoned the night, his callousness had killed it. He was in a funk and hardly spoke to Betsey on the way home.
He knew he had treated Vivien Leigh so rudely because he was irate with Mayer and wanted to send the Metro head some sort of tough and ballsy response, something consistent with his pious declaration about enlisting. He slept poorly that night.