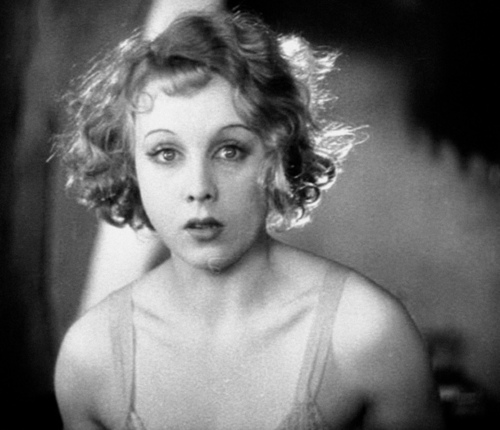 Consider this a new feature here at the vivandlarry.com blog.  I'm going to write about my classic-film-going experiences here in London; not films I watch as part of my course, but films I see at the BFI or elsewhere on my own time for fun!
Halloween always brings a handful of classic horror films back onto the big and small screens.  This Halloween, I went with my friend Riikka to see Alfred Hitchcock's last silent film/first sound film Blackmail at the Barbican Centre.  The film stars Anny Ondra as a saucepot named Alice who ends up murdering a suitor after he tries to rape her.  Her boyfriend, a detective at Scotland Yard, finds one of her gloves at the crime scene–a piece of evidence that would prove her involvement.  The couple is then blackmailed by an ex-convict who saw Alice that night.  Also appearing in the film are Charles Paton and Sara Allgood (whom fans of Vivien Leigh may remember as Emma Hamilton's silly mother in That Hamilton Woman).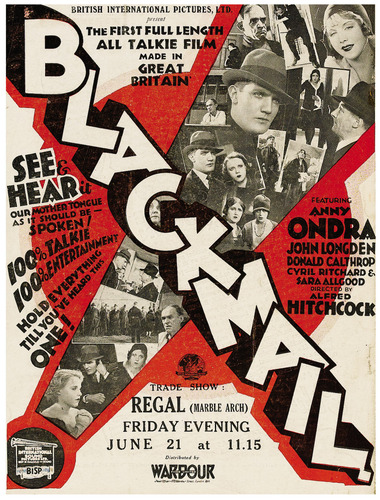 Blackmail was the last film Hitchcock directed in the 1920s, and was also filmed for sound around the same time, as talkies were just coming into existence.  Like many early films of directors who would turn out to be the best in the business, Blackmail was very popular at the box office, but not so much with critics.  However, the film uses techniques and motifs that would later become standard in Hitchcock films: staircases, chase scenes, people falling off buildings, etc. It also featured several well known locations in London such as the British Museum and Whitehall (complete with view of Trafalgar Square).
Currently, the British Film Institute (BFI) is raising money to restore all 9 of Hitchcock's remaining silent films, with Blackmail getting one of the first digital make-overs.  The print was gorgeous and crisp.  Audience members also got a huge extra treat:  the BBC Symphony Orchestra played Neil Brand's complete new score for the film live on stage while the footage ran behind them.  It was extraordinary!  Usually silent films are accompanied with a guy and his piano, but this was the real deal.  Brand, an expert in scoring silent films was inspired by the music of frequent Hitchcock collaborators Bernard Herrmann and Miklos Rozsa.  I think the most mind blowing thing for me was that the orchestra managed to keep exactly on track with the film, without being able to see the images in front of them.  The live music really added an extra dimension of excitement to the film and made it seem very of-the-moment.
I wouldn't be lying if I said this was the best cinema-going experience of my life up until this point.  It was absolutely fabulous!