Wednesday December 15 marks the 71st anniversary of the start of the 3 day Gone with the Wind premier in Atlanta, GA.  To mark the occasion, I thought it would be interesting to get some information about Vivien Leigh and Laurence Olivier at the premier.  So, I'm happy to introduce our guest blogger, Denise.  Denise is a freelance writer and marketing consultant based in NC.  She is the administrator for a Facebook fan page, GWTW…But Not Forgotten and devotes her free time to studying the book, film, and the people who were behind it all.  She is a fountain of GWTW knowledge and I encourage you to join her facebook page for daily trivia, photos, and other goodies related to everyone's favorite Civil War epic.  Thanks, Denise!
————————-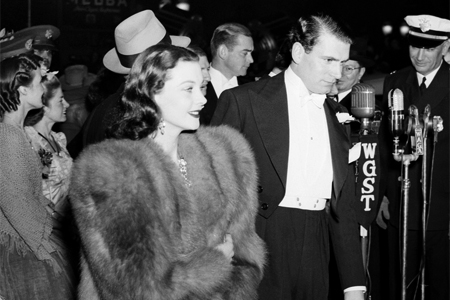 When David O. Selznick undertook the mammoth task of translating Margaret Mitchell's 1037 page masterpiece into a workable script – he didn't seek to achieve mere adequacy.  Everything had to be bigger, better, and grander than anything that had ever graced the silver screen.  From the sweeping titles to the magnificent costumes to the extensive script revisions…mediocre was not in his vocabulary.
And so too were Selznick's plans for the premiere for Gone With the Wind.  Originally scheduled to coincide with the anniversary of the Burning of Atlanta (November 15), production delays caused the premiere to be pushed back to December 15, 1939 and would be hosted at the real-life location of Gone With the Wind's story – Atlanta, GA.  This was an unprecedented move to premiere a film outside of Hollywood or New York.
The grand event would be the very definition of Hollywood glamour and the three days of festivities would include receptions, luncheons, the Atlanta Junior League Gone With the Wind Ball, a benefit dance to support the Atlanta Historical Society, and of course, the movie premiere.  In attendance would be notable names such as Margaret Mitchell and her husband John Marsh, David and Irene Selznick, Clark Gable and Carole Lombard, and of course, Vivien Leigh.
… Continue reading