Vivandlarry.com fan Shiroma from Australia has had the pleasure of visiting the San Ysidro Ranch in Santa Barbara, CA–the site where the Oliviers were married in 1940.  San Ysidro is a very she-she luxury resort today and often attracts A-list celebrities.  In the Oliviers' day, the Ranch was owned by actor Ronald Coleman and his wife Benita.  Larry and Vivien, wanting to wed in private and doing their best to keep it from the press, were urged by the Colemans to get married outside of LA.  With Katharine Hepburn and Garson kanin in tow, Larry and Vivien drove up to Santa Barbara and were married just after midnight on August 30, 1940.  They honeymooned on the Coleman's yacht out at Catalina, off the coast of Long Beach.
Shiroma now shares her story (and photos) of walking in the Oliviers' footsteps with vivandlarry.com.  Thanks, Shiroma!
And as a side note, Santa Barbara s a beautiful town, and highly recommended for California visitors.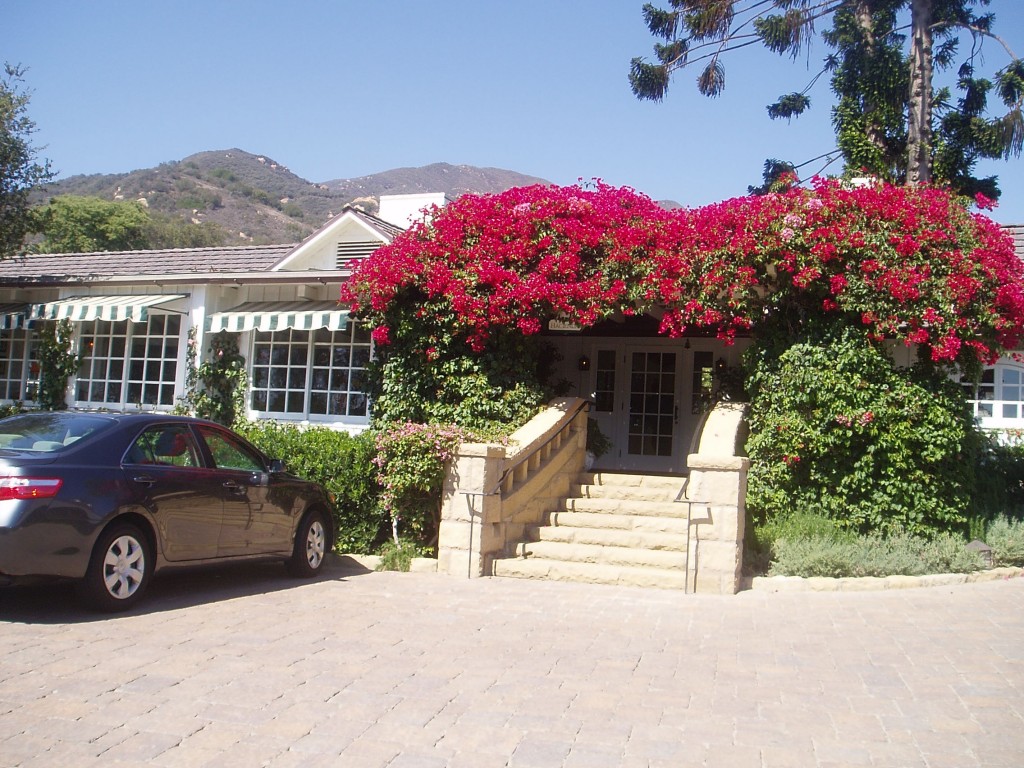 I think I've been obsessing over Vivien since I was 8 and saw her mesmerising face in the book "Rhett Scarlett and a Cast of Thousands." I don't purport to be an expert nor a typical fan. The only things in my home that would give a hint to the obsession is a wall dedicated to her with framed black & white pics and a few books lovingly dog eared and taking pride of place on the old book shelf. I don't have any collection and have no desire to buy anything on e-bay about her, although I do get excited when I see fellow fan's collections, taking comfort in knowing her things are in good hands.
My own particular obsession takes the form of having a desire to visit "places" that have any kind of connection to her and her life. I read bios and underline the "place"  it occurred more than the substance of the writing. Maybe I feel that in these places perhaps a small part of her spirit still exists. After all, isn't that what we as fans try to keep alive in our own way?
Now that you have the reason and background to my wanderings I can start on what this blog was supposed to be about. I do fear I have the need to explain myself first in case you think that I am quite mad.
Anyway, on one of our holidays I was lucky enough to visit Los Angeles. Ever since I started obsessing over Vivien Leigh and then read about San Ysidro Ranch in Santa Barbara in a luxury hotel magazine one of my dreams was to visit it.
San Ysidro is one of California's most exclusive retreats. This award-winning hotel is nestled in the Montecito foothills (it was voted best American Boutique Hotel by Forbes Traveller in 2009). In the 1800's it used to be citrus ranch before it became a guest ranch. In the 1930's it was owned by Alvin Weingand (hotelier and former Senator) and the actor Ronald Coleman.
To us Vivien fans it is where she exchanged vows with Laurence Olivier on August 31st 1940. To others, it is probably more noted for being the place where JFK and Jackie O. honeymooned, having a restaurant that is a favourite of Oprah and where John Huston spent three months while writing his script for The African Queen.
The drive up to Santa Barbara is a beautiful one and one I will cherish in my memory…made more memorable seeing it was the first time we had driven on the left hand side.  I remember how I recalled the events that led up-to their nuptials there. When their divorces became final in August of 1940, they applied for a licence outside of LA to keep the press at bay. They decided on Santa Barbara prompted by their good friend Ronald Coleman.
The Colemans in fact helped organise everything including the buying of the ring, which Benita ordered in her name and seeing that they co-owned San Ysidro it was decided that they would wed there and honeymoon on their yacht "Dragoon" off Catalina.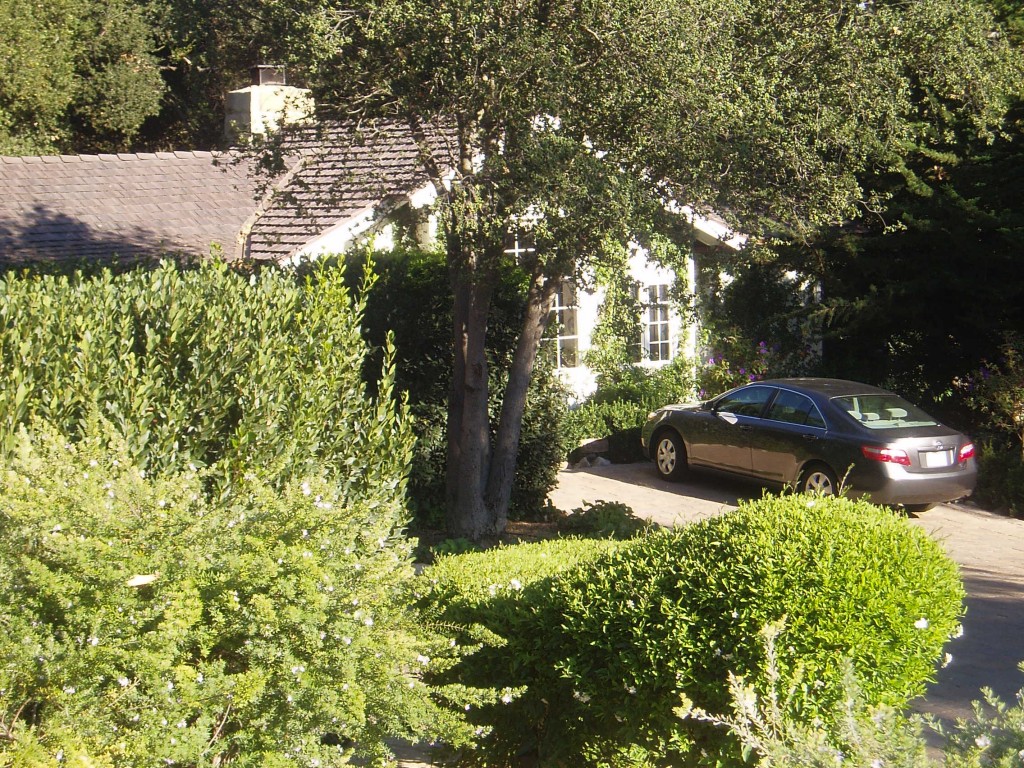 Garson Kanin was best man and Katherine Hepburn who he was dating at the time was asked as well. I recalled how I read that Vivien and Larry had fought all the way up since Larry had taken a wrong turn. Garson thought that the whole scene was a tad weird seeing that they were on their way to their wedding, and Hepburn recalled that the conversations were a bit racy.
It's also written that once arriving at the ranch Larry asked for the nuptials to be held on the terrace facing the rim of the mountains so that they could face England.  San Ysidro is very private and it took a while before we actually found it. No wonder it is used as a haven for a lot of the famous still. I was not sure exactly where the location of the terrace was but it was the first place I wanted to see.
I assumed it's outside the Hacienda at the back where there is a beautiful lotus pond and the Montecito Mountains look down majestically at you. On the other hand it could've been on the veranda at the front but then the mountains are not in view.
At the reception desk inside the Hacienda we were served home made lemonade and whilst checking in I asked the servicing attendant if she knew where the nuptials might have taken place. My heart plummeted when she asked me who they were?  It was the one thing that made the wrong impression on me. This employee obviously had not even bothered to look at the framed pictures that hung on the wall inside the Hacienda, or had never been told about it's history. My disappointment would be further confounded later that evening but I'll get to that later.
There is in front of the reception desk framed black and white signed photos of David Niven, Fred Astaire and Sir Winston Churchill…all of whom had graced this beautiful abode. And on the old wooden coffee table is a rather worn out looking scrapbook holding newspaper clippings, one of which is about Vivien and Larry's nuptials there.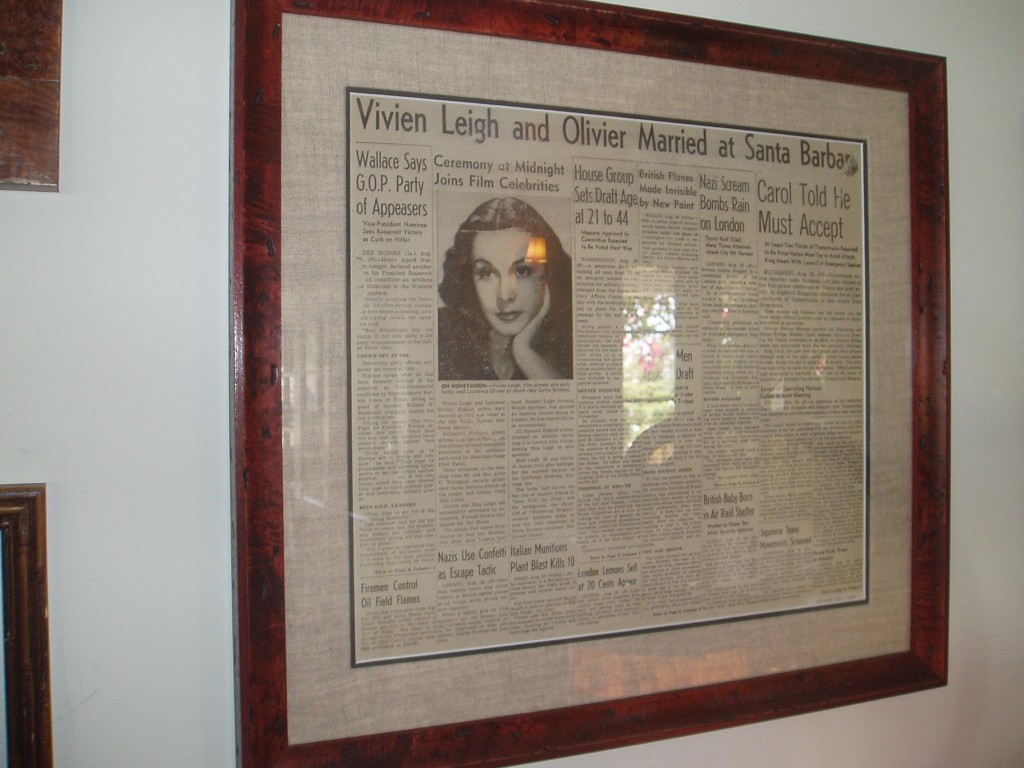 In the library area a photo of JFK and Jackie O. takes pride of place and in the corner there was another newspaper clipping of Vivien and Larry that is framed.  We were taken to our cottage in a buggy.  Ours was the Lavender Cottage. An exclusive number of cottages built in classic bungalow style are the Ranches' signature accommodation.  They all wind along it's creek and tree lined path.  In the evening we had booked dinner at it's famed restaurant "The Stonehouse" and as my husband is an Executive Chef for a French Hotel chain we were given a guided tour of the Ranch by it's Chef….an opportunity we took without hesitation. Stories were told about the ghost that resides inside the kitchen (apparently a field hand back in the old days before it was a hotel was burnt alive there) whilst he showed us the in and out of the huge old kitchen. A well explained tour of the vegetable and herb patch was given whilst he chose the right ingredients for the night's menu. We also saw the lovely cellar room that is used by Catherine Zeta Jones and Michael Douglas as their private dinning room.  He talked about the staff policy when serving famous people which was really interesting and which prompted me to behave myself, not take any pictures or make a fuss when way and behold in walked John Voight for dinner (that's Angelina Jolie's father btw).
I do have to admit that the camera in my possession felt really uncomfortable during my stay as it looked like I was the only one with one. Every time I took a photo I felt like I may be encroaching on someone's privacy and worried that I may be looking like I was overwhelmed by it all.
The Chef knew a lot about the Ranch and it's "old" history. The time and personalised effort he took with us was very much appreciated. We will always remember his exceptional meal that he made especially for us. The only thing I can complain about was when he asked me " what has brought you here to San Ysidro all the way from Australia?" When I said that it was my interest in Vivien Leigh and Laurence Olivier he said the unthinkable: "Who?"
In hindsight I should probably have provided some constructive feedback to the Ranch Management that maybe they should rethink their employee induction programs if they have such a thing because it really did dishearten me.
I'm glad to say that the magical ambiance of the place, particularly at that time of the night, quickly dispelled the disappointment I had felt. The perfect night weather, the sweet smell of lavender and wisteria, and even fairy lights sparingly hung on trees added to the most memorable experience that is still clear in my mind today.
So after our lovely meal outside under a wisteria covered pergola, we strolled up the path towards our cottage. It was a perfect night. I could not have asked for more perfection.
Did I feel any of Vivien's essence or spirit there? No, not in the slightest. I took heart in thinking they were probably only there for a maximum of an hour. I have read that it was all done very quickly and they rushed to San Pedro yacht harbour to get on with their honeymooning on the Dragoon.
But on our stroll back towards our cottage, I did look up to the night sky with it's full moon and remembered that August night back in 1940. There was one word that came to my mind: "Bingo!"