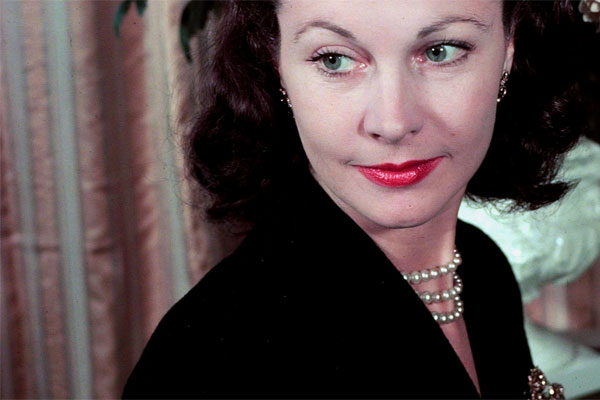 The Old Vic Company with Vivien Leigh and Laurence Olivier has given the New Theatre the national character of Drury Lane in Nell Gwynne's Day
News Review
February 10, 1949
This evening (Thursday) the Old Vic has another first night at the New Theatre.
After a curtain-raiser – Anton Chekhov's Proposal – the serious business of the evening will begin: Jean Anouilh's modern dress version of Sophocles' tragedy, Antigone, with Vivien Leigh as the highborn Cadmean maid and Laurence Olivier as Chorus.
At first by purring beauty, but increasingly by merit and then by marriage, Vivien Leigh has become part of the finest theatrical constellation in the world.
"I've been awfully lucky," she said thoughtfully last week, adding with a laugh: "I'm half-waiting for some blow to fall."
At 35, Vivien Leigh is a star by technique, and some say by temperament. But none of the quirks of a prima donna accompanied her quiet insistence on a softer lace cuff when she was being costumed for Sheridan's Lady Teazle. Miss Flora Campbell, of Hardy Amies, in Saville Row, where she gets most of her clothes, thinks "she's delightful to deal with."
Petite, she weighs 8 stone, has 34-in. bust, 22-in. waist, 35 ½-in. hips. Miss Leigh drapes her 5 ft. 3 ½-in. in voluminous mink ("Call is sable. I won't mind"), in which she sparkles like a white diamond. There are red lights in her hair, green lights in her eyes.
She was born in Darjeeling, India, on November 5 1913, and was christened Vivian Mary. Her father, Ernest Richard Hartley, was an English stockbroker of French descent; her mother, Gertrude Robinson Hartley, was Irish.
Wherever they went in those first five years they took young Vivien. But in 1918, a sensitive, imaginative child, she was boarded in at Roehampton's Sacred Heart Convent, where she carried the fairy's wand in A Midsummer Night's Dream.
Only Vivian seemed to realize history had been made. She solemnly announced her intention of becoming a great actress. 'I can't remember ever wanting to be anything else."