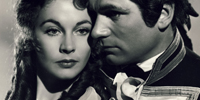 The port of Calais, at the beginning of the 19th century. A shabby woman, no longer young and down on her luck, enters a wine shop and steals a bottle from one of the racks. She is caught by the police and thrown into gaol, where she is befriended by the other female prisoners. Claiming to be That Hamilton Woman who was once famed throughout the courts of Europe for her beauty – and notorious for her affair with the British naval hero Lord Nelson, she tells them the story of her rise and fall, beginning with her arrival in Naples in 1786, at the British Embassy. (screenonline)
Cast:
Vivien Leigh … Emma Hamilton
Laurence Olivier … Horatio Nelson
Alan Mowbray … Sir William Hamilton
Henry Wilcoxon … Captain Hardy
Gladys Cooper … Fanny Nelson
Production Notes:
Directed by: Alexander Korda
Written by: R. C. Sherriff, Walter Reisch
Produced by: Alexander Korda/London Films
Distributed by: United Artists
Film location: General Service Studios, Hollywood, California
Premiered: April 30, 1941 (USA) / August 2, 1941 (UK)
Behind-the-scenes:
• That Hamilton Woman was the third and last film Vivien Leigh and Laurence Olivier starred in together. Producer and director Alexander Korda had been in Hollywood finishing his Technicolor epic The Thief of Bagdad when war broke out in Europe, and he was accused by many in the British film community of abandoning his adopted country for Hollywood.  In an effort to prove that England was still number one in his heart, Korda needed a film that would prove his loyalty, allow him to put on the full spectacle his films had become synonymous with, and, hopefully, rouse then-neutral America into sympathizing with the British cause.  The story of England's great Naval hero, Horatio Nelson, and his infamous love affair with Emma Hamilton was the perfect vehicle to encompass all of these qualities.
[DDET (Read more behind-the-scenes info)]
The film's leading stars had just lost all of their savings in a failed Broadway production of Romeo and Juliet, and desperately needed money to bring their children over from England for the duration of the war, as well as to afford passage overseas for themselves.  Korda stepped in in the knick of time with the offer to play the great historical lovers in his new film.  The newly married Oliviers were hesitant at first, but took the opportunity, later citing the making of That Hamilton Woman as enjoyable due to the camaraderie of the cast.
Although it was made in Hollywood, That Hamilton Woman found itself between a rock and a hard place.  Money was tight and the film had to be shot in only six weeks.  On top of this, Korda, Sherriff and Reisch had to contend with Joseph Breen and the Production Code, which sought to censor any content deemed immoral in any way.  As the film is blatantly about sex and class consumption as much as it is about England's fighting spirit, Korda's team had to try and work around these rigid rules.  One of the most obvious ways in which the film conforms to Breen's ideas of decency is the use of the flashback.  Korda did not plan on having Emma's story told through flashback, but Breen would not hear of a sexual woman living such a life and not paying the consequences.  It was not enough that Emma loses her lover in the end; she had to be further punished by ending up penniless, old, and ugly (even though this was the fate bestowed on the real Emma Hamilton).  Thus, the flashback was tacked on at the end of production.
Another element of the film that Korda had trouble with was the overt message of pro-British propaganda.  Though it was entwined in a true historical story, Nelson's speech to the Admiralty about wiping out dictators took things a step too far. Members of the British government, particularly Winston Churchill who claimed That Hamilton Woman as his favorite film, appreciated Korda's efforts.  Not everyone shared this enthusiasm.  Some British critics accused it of being too obvious, and in America, some people were so upset about the film's message that a Senate committee was formed to investigate Korda on account of trying to incite America into war.  The punishment, if found guilty, would have been career humiliation and possible deportation.  The case was dropped and Korda was saved embarrassment when the Japanese bombed Pearl Harbor in December 1941.
Vivien Leigh got top billing in the film due to her monumental success in Gone with the Wind, but some critics of the time failed to appreciate her interpretation of the coquettish courtesan.  The differences in opinion about this particular film among American and British critics, and even amongst "quality" critics, who were usually birds of a feather, illustrates how varied notions of taste were among cinema critics at the time. It also shows that British critics did not have a firm grasp on the workings of the Hollywood studio system, and vice versa. Though Vivien Leigh's performance is more lively than Olivier's purposefully one-dimensional Nelson, Leigh's characterization of Emma has been somewhat relegated to the general criticism of the melodramatic genre.  Today, That Hamilton Woman has been re-assessed in a different, more positive and appreciative light by film scholars and historians, particularly by British scholar Ian Christie who provided the commentary track on the Criterion DVD edition, and Molly Haskell who wrote the booklet essay.[/DDET]
External Links:
That Hamilton Woman: Real Love/Reel Love — Criterion Collection
That Hamilton Woman — BFI screenonline
Reviews:
TIME magazine | March 31, 1941
One of the spiciest scandals in British history occurred during the Napoleonic Wars: the romance of the great one-eyed, one-armed sea dog, Horatio, Lord Nelson (Laurence Olivier), and the frivolous Emma, Lady Hamilton (Vivien Leigh), wife of Britain's Minister to the Court of Naples. Ostensibly, this British-bred, Hollywood-made film tries to tell it in epic tones. Actually, with the subtlety of a sock on the jaw, it is more concerned with informing U. S. cinemaudiences of the parallel between Britain's struggle against Napoleonic tyranny and her current tangle with Hitler.

Grappling with history, this Alexander Korda production of an R. C. Sherriff-Walter Reisch screen play moves like the flow of molasses. Possibly because the narrative is a series of flashback recollections of Lady Hamilton, reclining in prison during her alcoholic dotage, its ponderous plodding can be attributed to the senility of the narrator. All Lady Hamilton offers in her two-hour tale is an extravagant picture of court finery, a romantic rehash of the exploits of the British fleet under Nelson, a fuzzy sketch of Nelson himself, a dazzling portrait of her own staggering beauty. There is no more feeling of life than in a billboard ad.

For anyone who left Gone With the Wind believing that Vivien Leigh was an accomplished actress, That Hamilton Woman will come as a nasty shock. While undemonstrative Husband Olivier mumbles his lines in his gullet or grimaces slightly to keep pace with his blind eye and scarred forehead. Miss Leigh changes the key completely by winking, pouting and fanning the air like a signalman. Her dramatic progress has left her only a gender's distance from Mickey Rooney. The picture provides the sort of lethargic Mother Goose history which does not make movies, just monumental boredom.
The Daily Telegraph | by Campbell Dixon | 1941
A poor English drab, caught stealing a bottle of wine in France, tells her story to a down and out stranger.  Time moves back, and in the Naples of 1786 we meet the young and radiant Emily Hart, fobbed off on the English Ambassador by his scapegrace nephew Charles Greville.

She learns the truth, weeps a while and mends her heart.  Was it ever broken? Emily was famous for her "attitudes"–plastic poses in which she played classic characters–and one is never quite sure when she is striking one. It is characteristic of the time and place that she ruled the Embassy and became a great favorite in Neapolitan society, five years before she and William Hamilton went through the formality of marriage.

A title, the glamour of the Embassy, bosom friendship with a queen–not bad for a Cheshire blacksmith's daughter with a variegated past.

Mr Korda's Success
Enter a Naval captain in a hurry, and one of the great love stories of history is under way. Mr. Korda in "Lady Hamilton" (Odeon), tells it very skillfully; except for the hardy comparable "Ghost Goes West," it is his best picture since "Henry VIII." The atmosphere and characterization, without strict accuracy, are not too unbearably glamourized; subordinate roles are well-played by Sara Allgood, Alan Mowbray, Henry Wilcoxon and Gladys Cooper, and the Battle of Trafalgar makes a spectacular and moving climax.

We end with the penniless old woman: let us hope her memories were worth a year in prison and a death in exile as miserable as Brummell's or Wilde's.

Her Best Performance
Vivien Leigh is perhaps too petite, too obviously a creature of fire and air, for Lady Hamilton, whose buxom charms have been etherealised by Romney: but it makes no matter. Emma's fascination and gay extravagances–these she recaptures brilliantly, while sparing us some of the gush that emerges in the letters. This is easily the finest performance Miss Leigh has given us, and it confirms her position among the first actresses of the screen.

As for Mr. Olivier's Nelson, I can think of no other actor likely to suggest as well the genius, the nervous intensity and the fire that burned in this son of a commonplace Norfolk parson. Greville and Keats, Marlowe and Nelson, Shelley and T.E. Lawrence–where, I wonder, does the world get the notion of the phlegmatic Englishman?
The Observer | by C.A. Lejeune | August 3, 1931
Mr. H.C. Bailey, in his detective novel, "The Little Captain," has a light-hearted passage in which he describes the premier of a super-film on the life and death of Nelson. At the climax, if I remember rightly, a slim girlish figure in naval uniform clasps her dying admiral in her arms while he whispers softly, "Kiss me, Emma."

Some touch of the kind, I feel, would add a much-needed liveliness to Alexander Korda's "Lady Hamilton, which you can see this week at the Marble Arch…

Since human flesh and blood could not long endure the sight of lovely Miss Vivien Leigh made up as a quayside trull, the bulk of the film shows us Scarlett Emma Hart exquisitely taking the wrong turning. We see Miss Emma at eighteen, trustful and deluded. We see her sold to the british minister at Naples, Sir William Hamilton, in return for the payment of a gambling debt. We see her lonely and nymphlike in her great bed, on the morning when–we know, but she doesn't–the good ship Agamemnon is bringing one Horatio Nelson to Naples. Later we see him, convalescent after the Battle of the Nile, in that same bed, lonely, too, you must understand, but hopeful, decidedly hopeful.

For and errant woman whose sins have gone down the centuries, Miss hart, Mr. Korda's Lady H. behaves, it seemed to me, quite beautifully. We see her as a decorous wife, an obedient daughter, and a devoted mother. We see her as diplomat, patriot, lover, and little home woman. We see her being pretty nice even, to Lady Nelson. Except for a small scene at the gambling tables with Horatio and a hint of her mother's fondness for the bottle, there is nothing save one's knowledge of the Wages of Sin, to suggest why lady H. became a harridan.

I shouldn't myself class "Lady Hamilton" as one of Mr. Korda's great successes. Graceful and elegant it undoubtedly is. Settings and groupings of figures have great decorative taste. There is one shot of Mr. Olivier as the dead Nelson–a headpiece like an italian study for the Crucifixion–that is superbly moving…

But all its minor graces don't somehow add up to a major achievement. Perhaps Mr. Korda was bogged by his moral obligations. Perhaps he is just three thousand miles too far away from England to be able to make a true film for to-day about England and the English people. It is my impression that the film would have been a better job if it had stuck more tot his man Nelson and bothered less about that woman Hamilton. These are not days when we have much patience for looking at history through the eyes of a trollop. And I am not at all sure that English people, who have been fighting for two years for something they like to call an ideal, will care very much for the implication that the future died with Nelson. So there's no then, is there? So there's no after? Come over here. Mr. Korda, and watch the future being made.
The Sunday Times | by Dilys Powell | 1941
Did Nelson apply the word Dictator to Napoleon? I don't know, and I have always thought that the pastime of spotting the historical error in films was overrated. I mention the use of the word in 'Lady hamilton" merely because the parallels between the Napoleonic Wars and the position to-day struck me as too persistently implied. The vanity of appeasing Dictators, the ambition of one man to rule the world, the british Navy as the only bulwark between Europe and slavery–all true, all applicable in the context, no doubt of it, and yet in the romantic maelstrom of Nelson's relations with Lady Hamilton the phrases seemed a little too dutifully inserted.

This is not to say that the theme of the film–in some ways a laudable piece of work–is all passion and chaise lounges. Far from it: the background of European events is tactfully suggested even in the love scenes, and at the climax history itself holds the screen. Nelson's first visits to Naples, his return in triumph from the Battle of the Nile, his position after the Battle of Copenhagen, his recall to duty–all is set out without unnecessary romanticising; Trafalgar is presented in some detail, and thought I was never one for costume battles in the cinema, I must admit that this was realistic enough. Laurence Olivier's performance as Nelson, indeed, is within its conventions good throughout, and Vivien Leigh, though in physique she is not one's idea of Lady hamilton, plays with vivacity and intelligence. There are some beautifully composed shots (cinematographer, Rudolph Mate); and, in short, "Lady Hamilton" is a piece with admirable parts which through some weakness in cohesion, perhaps, on some failure of truth to human nature rather than to cinema romance, falls short of being a good film.
Related Photos:
Click the image below to activate lightbox.
More (log-in required):
Photos
|
Screencaps