My departure for London is coming up fast!  In 3 weeks I'll be moving back home, which mean I have a lot of organizing and packing to do. So, I am having a little online yard sale to downsize my collection.
I have a HUGE stack of photography books (mostly old Hollywood and fashion) that I've collected over the past 6 years, which I won't have room for at my parents', and frankly, I don't really need them anymore.  I would love to pass these on to someone/people who will really appreciate them.  All of these contain photos of either Vivien Leigh or Laurence Olivier.
If you are interested, please email me at vivandlarry@gmail.com with the books you want and your location, and I will send you a paypal invoice.  All books will be shipped book rate.  Shipping included in listed price.
All proceeds from this little yard sale are going toward my grad school savings fund.  Thanks for looking!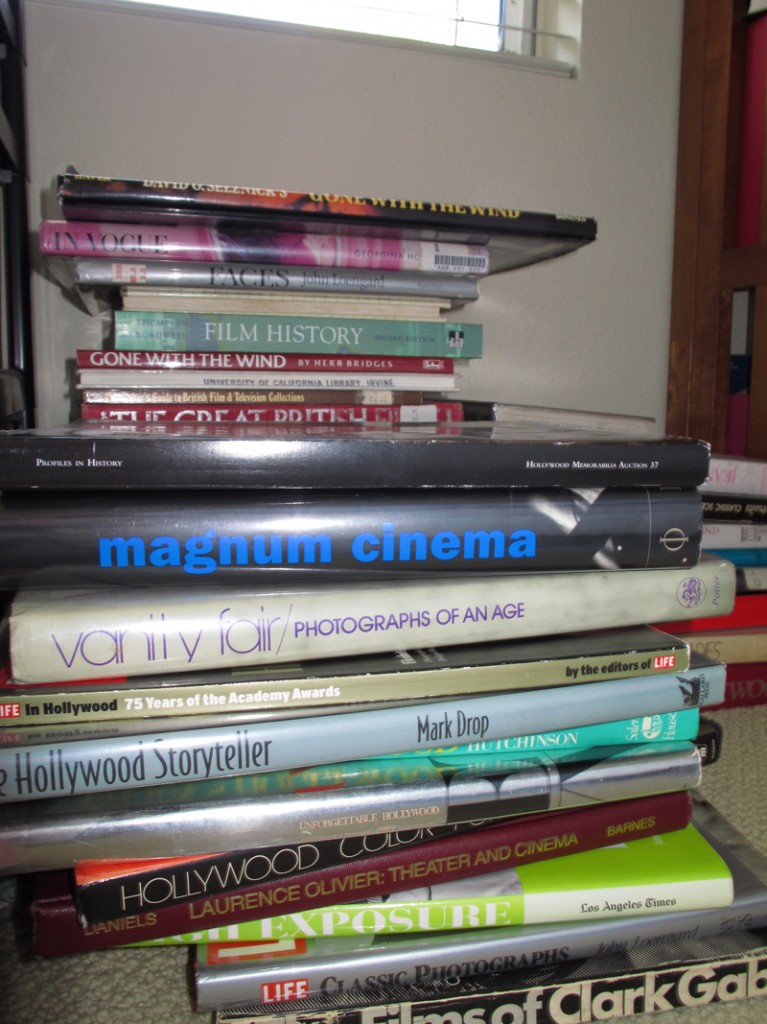 *Note: I have already sold/given away some of the books in this photo.  The ones that I still have available are listed below.
+ A Japanese Vivien Leigh book (text is all in Japanese, but there are quite a lot of photos) | new | $8
+ Frankly, My Dear: GWTW Revisited by Molly Haskell | new but the dust jacket has a fold down the center of the spine | $8
+ David O. Selznick's Gone with the Wind by Ronald Haver | used–oversize | $12
+ Life in Hollywood: 75 Years of the Academy Awards (with Liz Taylor on the cover) | used (bought new) | $7
+ The Hollywood Storyteller by Mark Drop | used | $7
+ Vanity Fair Photographs of an Age 1914-1936 | used | $14

+ In Vogue 75 Years of Style by Georgina Howell | used–great condition | $20
+ LIFE Faces by John Loengard | used | $10
+ A Photographer's Scrapbook by Louise Dahl-Wolfe | used–rare | $12
+ The Films of Clark Gable by Gabe Essoe | used | $7
+ LIFE Classic Photographs by John Loengard | used | $10
+ Laurence Olivier Theatre and Cinema | used | $8 —SOLD
+ Hollywood Color Portraits by John Kobal | used–great condition | $17
+ Niven's Hollywood by Tom Hutchinson | used | $8
+Vivien Leigh Paper Dolls by Tom Tierney | new | $8