Yesterday kicked off the opening games of the 2010 FIFA World Cup, a tradition that started in Uruguay in 1930. Personally, I could not be more excited! The World Cup is my favorite sporting event. There's something so beautiful, powerful and graceful about the glorious game. I've always been Anti-American when it comes to soccer (or football, as everyone else on the planet calls it), simply because in Europe the pace is so much faster and exciting than in America. I's also like to add that perhaps my enthusiasm stems from the fact that I played competitive soccer for about 13 years–through high school and college, and played in a youth tournament in the Netherlands when I was 16. I personally think our national team–though we have improved greatly in recent years–would be better if we farmed out our players to Europe (England, Spain) for the club season so they can get the experience of playing with the big boys. Tim Howard, our goalkeeper, knows where it's at. He spends his club season at Everton in England, and lo and behold, he's our best player.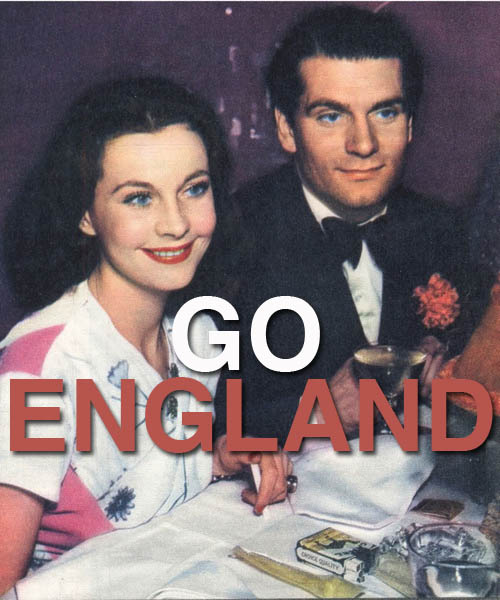 Today, the USA faced off against England for what had to have been the most anticipated match of the first round. I was supporting England, as usual, and was a bit disappointed with the fact that they couldn't seem to get the ball in the back of the net after Steven Gerrard's beautiful goal in the fourth minute. And I was A LOT disappointed with Robert Green's embarrassing fumble which allowed Clint Dempsey to get a courtesy goal. I hope you don't get shunned upon your return to your village, Robert Green!
What does any of this have to do with Vivien Leigh or Laurence Olivier? One fan wrote in to the vivandlarry.com formspring wondering if the Oliviers had been football fans, and I'd always wondered the same thing:

I hadn't recalled every reading anything in biographies about Larry or Vivien being fans, but I knew that England had won the World Cup back in 1966, and I had assumed that since they were British, they must have liked some sport that was popular over there.  A quick google search revealed that Laurence Olivier was indeed a football fan, and supported Chelsea FC, one of London's best Premier League teams.  Larry would sometimes be seen hanging out with Richard Attenborough in The Shed at Stamford Bridge during the 60s and 70s.
And there we have it: Laurence Olivier was a Blues supporter.