Hello, 2019! I hope you all had a wonderful holiday season.
The new year has brought a new look to this site. I like to freshen things up every few years and just felt like returning to a basic blog layout to make things more user-friendly. Instead of a static page of blog posts you should now be able to easily visit old posts by using the "older posts" link at the bottom of each page. The photo gallery still has the old layout but it should be changed over soon. I've also highlighted in the sidebar two things I'm currently hard at work on: Insatgram and the Viv and Larry Patreon. Please do take a minute to familiarise yourself with the new layout and let me know if you find any broken links or things that just aren't working.
Other than all of that, I'm still busy repackaging, cataloguing, and digitising the material in the Richard Mangan Laurence Olivier Collection. I'm currently on Box 5 (out of a still to be determined number) and wanted to share some of the goodies I've scanned since the last update. As of this writing I've fully catalogued 4 boxes and 415 individual pieces of ephemera.
Here are some highlights from Box 3, covering Laurence Olivier's stage career from 1934-1935. I hope you enjoy them as much as I do! Again, many thanks go out to the Viv and Larry patrons. Your generosity has enabled me to afford archival supplies to safeguard this ephemera. It is so appreciated.
Queen of Scots (1934)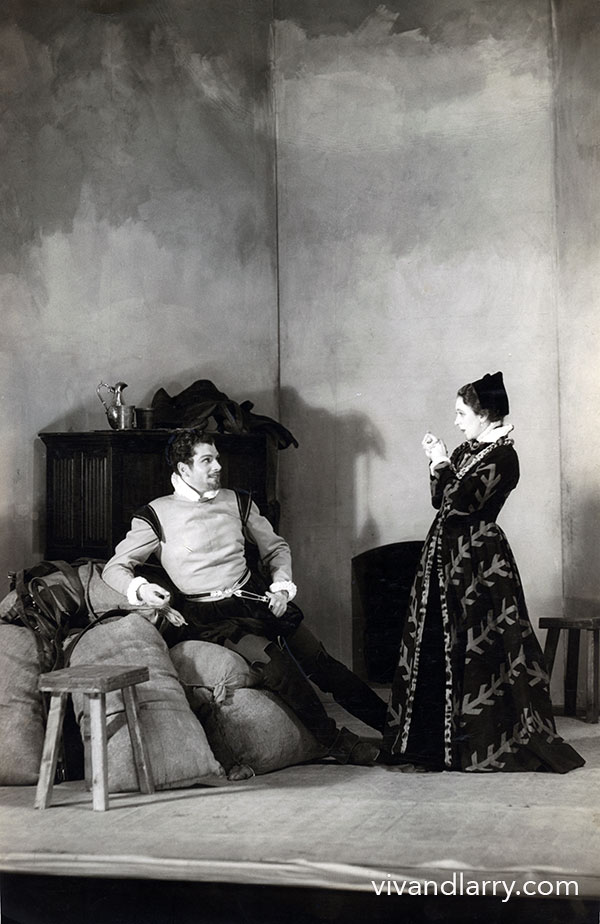 My interest in the history of photography actually sprang out of my interest in Vivien Leigh and Laurence Olivier. Through collecting, whether it be vintage memorabilia or old film and fashion books, I began to take notice of the men and women behind the camera. Bertram Park (1883-1972) is one such photographer who popped up during the early years of Laurence Olivier's career (Vivien Leigh's as well, but briefly). Park was married to fellow photographer Yvonne Gregory (who also shows up in this Olivier archive) and together in 1919 they established a studio Dover Street, London, along with a third partner, Marcus Adams. Along with portraits, Park and Gregory took many theatrical publicity photos for West End plays.
The Richard Mangan Collection contains a series of 8 publicity photographs by Bertram Park from the 1934 play Queen of Scots.
Theatre Royal (1934)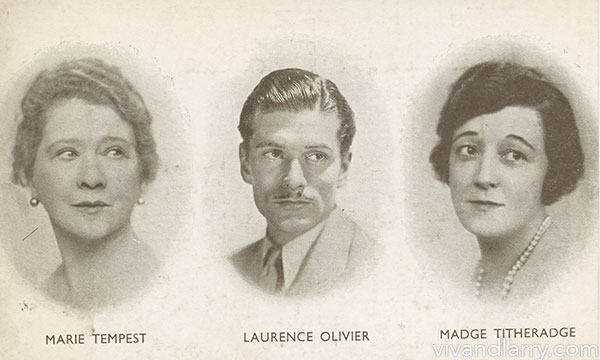 Theatre Royal was the play in which Vivien Leigh first spotted Laurence Olivier. The story goes that while in the audience for one particular performance, Vivien turned to a friend sitting next to her and declared that she was going to marry Olivier. It didn't matter that both she and Olivier were already married, to other people. What Vivien wanted, Vivien got.
But it's rather easy to see what attracted her to Olivier. The play American writers Edna Ferber and George S. Kaufman, tells the story of an eccentric acting family, modelled after the Barrymores. Olivier plays Anthony Cavendish, the John Barrymore character, complete with pointy moustache. His virility and athleticism, coupled with his good looks, made him an exciting on-stage presence. (Although he had a habit of putting himself in harm's way during performances — Herbert Farjeon reported that Larry broke his ankle during a stunt inspired by the film version — The Royal Family of Broadway, directed by George Cukor in 1930 — and was bedridden for a week.)
The Golden Arrow (1935)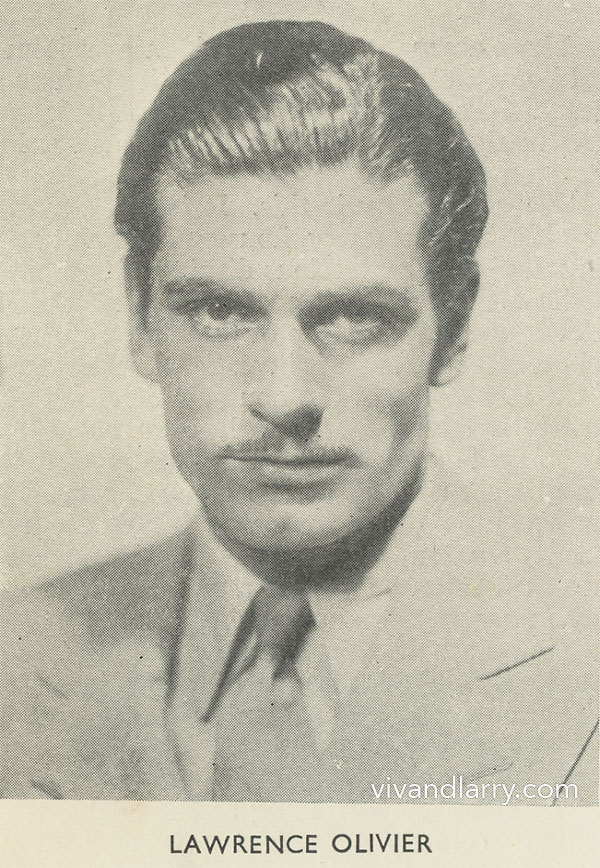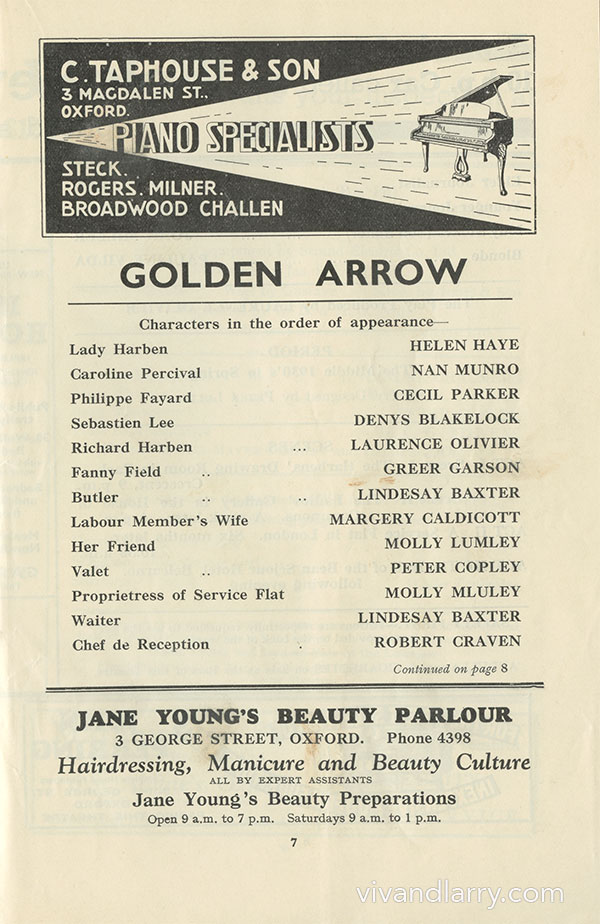 Romeo and Juliet (1935)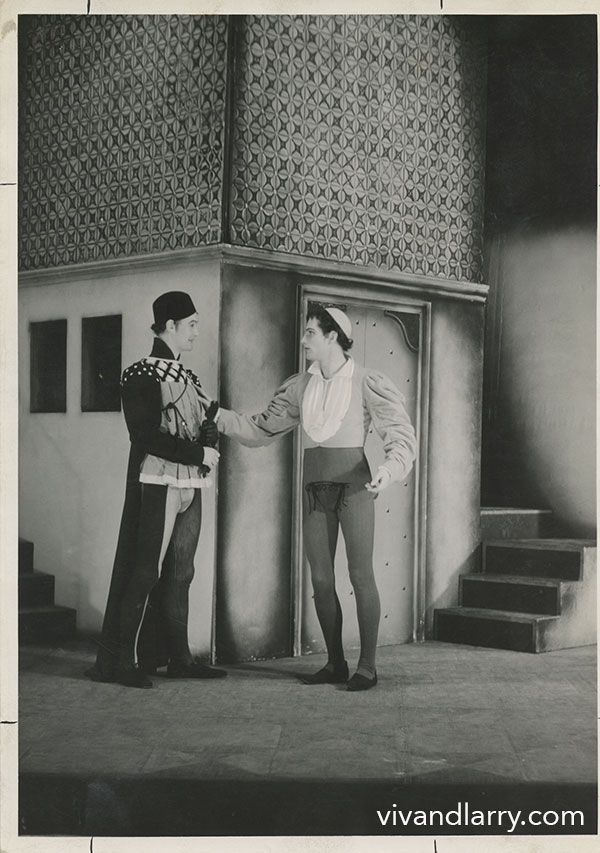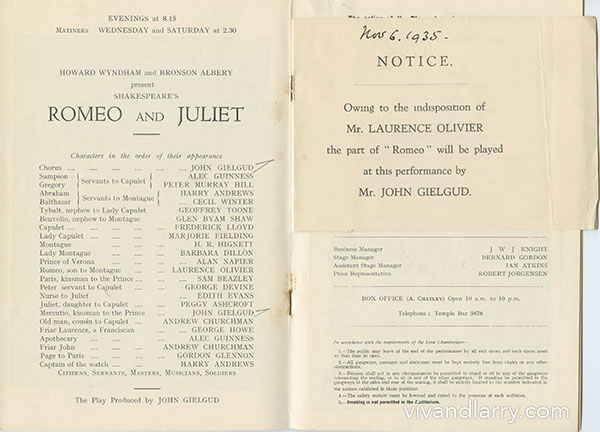 I love finding little slips of paper, ticket stubs, newspaper cuttings and other treasures tucked inside old books and programmes. This one, from November 6, 1935, includes a notice saying Laurence Olivier is indisposed and John Gielgud would play Romeo that evening. Not a bad trade-off!
The photo above is again by Bertram Park. This was one of the major productions of the 1935 season that Park and Yvonne Gregory photographed. The RMLO Collection contains a set of 19 original photographs from this play, most by Park, with the photographer's stamp on the back.
Stay tuned next time for highlights from Box 4 — when Vivien Leigh enters the picture!
---