A while back, my friend Tanguy, knowing my love for foreign epic amazingness, recommended I watch a film called The Leopard (Il Gattopardo), starring Alain Delon, Burt Lancaster, Claudia Cardinalle, and directed by Luchino Visconti.  I finally got it yesterday via Netflix, and decided to google it to see if I could find out any interesting facts.  Landing on the wikipedia article about the film, I was surprised to see this:
When Visconti was told by producers that they needed to cast a star in order to help to ensure that they'd earn enough money to justify the big budget, Visconti's first choice was one of the Soviet Union's preeminent actors, Nikolai Cherkasov. Learning that Cherkasov was in no condition, health-wise, to take the part, Visconti then set his hopes on getting Laurence Olivier, but he already had another commitment.
How many times have I read that Laurence Olivier was offered a part, or the director had him in mind, but he was doing something else at the time and so another actor ended up playing the character?  A lot.  The same goes for Vivien Leigh.
This got me thinking about Larry and Vivien's missed connections, i.e. parts that they were offered or planned to do, but it just didn't work out.  Here's a little list I put together: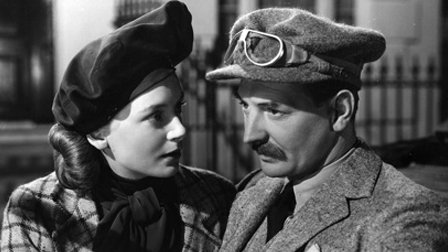 Clive Candy in The Life and Death of Colonel Blimp (1943).  Director Michael Powell, who had worked with Olivier on the 1941 film 49th Parallel, wanted him for the role of Clive Candy.  Larry was in the navy and couldn't get leave to do the film.  The part was eventually played by Roger Livesey.  Livesey actually played Larry's father in The Entertainer (1960), even though he was only a year Larry's senior.