Some of my favorite collectibles are vintage film star scrapbooks. Not only do they provide a rich record of (in this case) other people's lives or careers, but they give us a glimpse into the lives of the ordinary people who assembled them.
About 5 years ago, I purchased a scrapbook on ebay that was assembled from 1944-1946 by a young British lady named Joan Still. Joan was an avid theatre-goer and a big fan of Vivien Leigh and Laurence Olivier. She went to nearly every play they performed during this time, despite only being able to afford a standing place or stall seats (as shown in some of the ticket stubs). Along with playbills, Joan clipped stories featuring the Oliviers and other prominent British stars of the time out of newspapers and magazines. Like a lot of theatre fans today, Joan also waited by the stage door to see her favorite actors and have her playbills autographed. I found an extra Olivier signature when flipping through a Henry IV playbill!
What emerged from Joan's hobby is a historical primary source documenting British popular culture and events that shaped the world during the 1940s. Let's take a stroll down memory lane, shall we?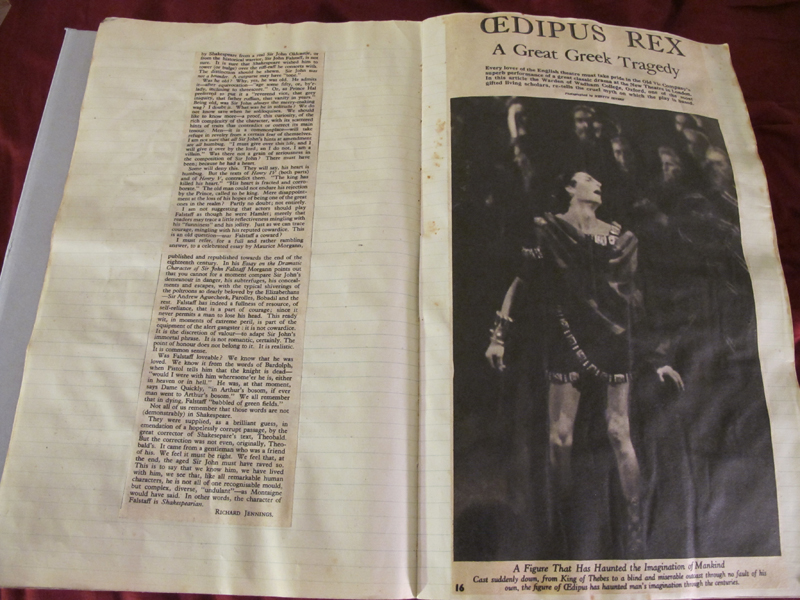 Laurence Olivier really came to prominence on the London stage during the 1944 Old Vic season when he rocked the West End with his performance as Richard III. Along with Shakespeare, he played Sergius in George Bernard Shaw's Arms and the Man, and the Button Moulder in Henrick Ibson's Peer Gynt. The clipping above shows Larry in another star turn as Oedipus in the 1945 season.