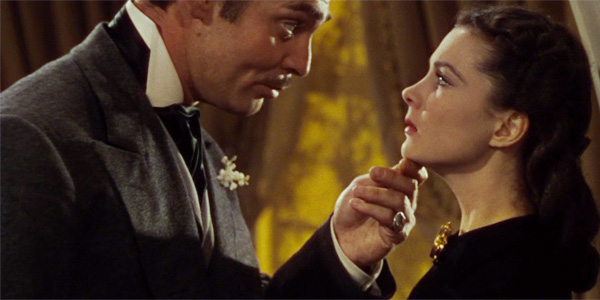 I always love reading about other people's cinematic classic film viewing experiences. Some films were simply meant to be seen in the cinema, as is the case with Gone with the Wind. Last weekend, GWTW was screened at the magnificent Egyptian Theatre on Hollywood Boulevard. This venue, home to the American Cinematheque, is a haven for film nerds in the movie capital and has a special place in my heart. So, when I learned a couple of my friends were meeting up and going to the screening, I immediately invited one of them to write about her experience for vivandlarry.com. Luckily she said yes!
Marissa recently relocated from New York to Los Angeles where she is currently enrolled in the Archival Studies graduate program at UCLA. This past May, she attended A Weekend with the Oliviers, the event put on through vivandlarry.com in London. Over in LA, as someone who has always loved film and film history, Marissa is enjoying all the city has to offer.
++++
No other film has made more of an impact on my life or means as much to me as Gone with the Wind, and just as I'll never forget watching it for the very first time when I was eleven, I'll never forget the experience of seeing it for the first time on the big screen. This is something that I had hoped to do for a long time and was able to experience last Saturday.
I had the great fortune to see Gone with the Wind at the beautiful and historic Egyptian Theatre. The grandeur of the theatre is a sight to behold in itself. Kendra, a very thoughtful friend, put me in contact with her friend Mark and I was able to share the experience with him and his friends, which made the viewing all the more enjoyable.
Before the film was shown, the programmer said that our socks would be knocked off and he was right. Viewing the digital print and hearing Max Steiner's score at the Egyptian Theatre added even greater depth to the movie. Being part of a large audience was truly a unique experience that enhanced and heightened moments of humor and tension.
There are so many exceptional elements that come together seamlessly to make Gone with the Wind so very special, but above all it's the brilliant performances by Vivien Leigh, Clark Gable and the rest of the cast that always mesmerize me. The experience of seeing it on the big screen was even better than I imagined and, as always, when watching it, I didn't want it to end.
++++
If you've had a chance to see a Vivien Leigh or Laurence Olivier film on the big screen and want to share your experience with other fans, feel free to get in touch.
Check out more Cinema Experiences here.