The Oliviers' Friends page at vivandlarry.com has been sadly dismal since the launch of this website. Part of it is my admitted laziness in updating new pages, but another part is also due to the fact that for some time I've been thinking of the best way to go about constructing said page. Just today, I figured it might be easiest to profile their famous friends here on the blog, and then link to these posts on the main website. How about it? Sounds good to me.
Let's get to it, then!
March 1 marked the centenary of one of my all time favorite actors and personalities, David Niven. James David Graham Niven was born in London to a rather wealthy family. He was the youngest for four children and always a bit a troublemaker and a clown. After being sent to reform school owing to being expelled from Heatherdown and ruining his chances at being admitted to Eton, David found himself at the prestigious military school, Sandhurst, and then went into the Scottish Highland Light Infantry. He grew bored of the military after a few years and came to Hollywood in 1934. In his book, The Moon's A Balloon, David recalls getting his first break in Hollywood with the help of none other than Clark Gable. How did this happen, you may ask? One of David's first jobs upon landing in southern CA was helping out on fishing boats at Balboa (near Newport Beach, for my fellow OC neighbors). He claimed that Clark often went out on fishing trips on the boat he was working on, and took David under his wing. One of his first roles was a non-speaking part in the 1935 Academy Award-winning swashbuckler Mutiny on the Bounty, starring Gable and Charles Laughton.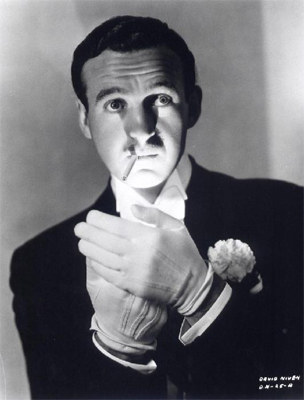 David became friends with Laurence Olivier and Vivien Leigh in 1938 while filming Wuthering Heights for Sam Goldwyn. It was a friendship that would continue back in England during the war, and last the rest of their lives.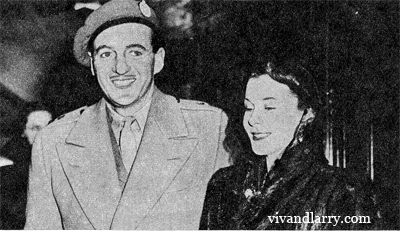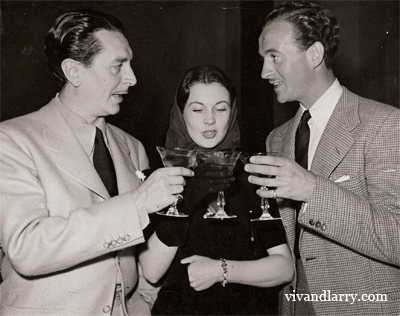 David was one of the first of the British actors in Hollywood to go back to the UK and enlist. In 1940, he had a true whirlwind wartime romance when he met and married Primula (Primmie) Rollo. The couple had two children, David Jr. (one of Vivien Leigh's many godchildren) and Jamie.   In his autobiography, The Moon's a balloon, he wrote of how good his famous friends were to Primmie, how Vivien and Primmie used to go furniture shopping together in Windsor, etc.  Sadly, Primmie was killed in a freak accident at Tyrone Power's house in Hollywood in 1946.  During a game of hide and seek, Primmie opened a door she assumed led to a closet, but it turned out to be concrete steps down to the cellar.  She sustained head trauma during her fall and passed away in the hospital.  It was a life changing event for David, who spiraled into a deep depression and wrote about trying to commit suicide.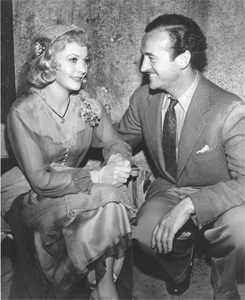 Not long after Primmie's death, David married Hjordis Tersmeden, a Swedish model.  Though they made an excellent looking couple, and though he never mentioned anything negative about her in his own book, the recent authorized biography by Graham Lord (Niv) painted a different picture of their relationship.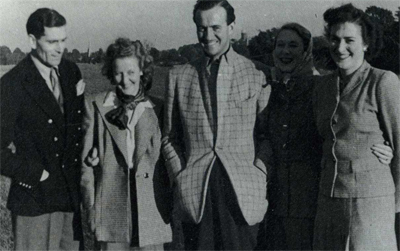 Despite the tragedies in his life, David became an A-lister in Hollywood, making many successful films including A Matter of Life and Death, Bachelor Mother, Casino Royale, Separate Tables (for which he won an Oscar),  Around the World in 80 Days, and The Bishop's Wife.  But my favorite thing about David, aside from his many fabulous movies, is his sense of humor.  He once said, "Keep the circus going inside of you, keep it going, don't ever take things too seriously.  It will all work out in the end."  I feel like he had a witty quip for every situation.  Take this one for example:  when a streaker ran across the stage at the Academy Awards in which David was presenting, he candidly said "Isn't it funny to think that the only laugh that man will ever get is by stripping down and showing his shortcomings."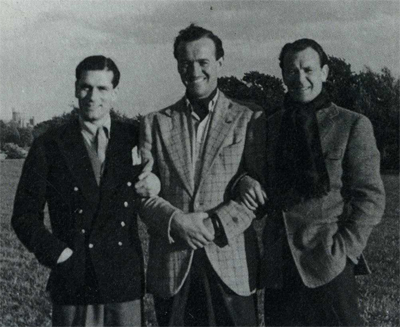 Laurence Olivier and Vivien Leigh adored David Niven, and he loved them in return.  After Vivien died, David wrote of how good a friend she was and how he admired her.  When David died, Larry said that of all the people who had gone before him, he'd miss David the most.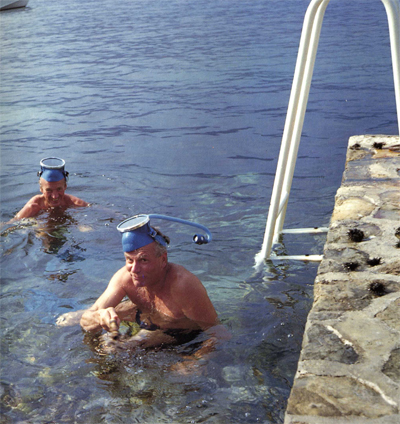 David died in 1983 from Lou Gehrig's Disease at his chalet in Switzerland, but his spirit has never really left us.  His humor and presence are still very much alive in his films and the books he wrote.  If you haven't read The Moon's a Balloon or Bring on the Empty Horses, I'd really recommend both of them.  They're sure to keep you up laughing into the wee hours of the night.
In 2009, I had the opportunity to speak with David Niven Jr. via phone about his dad and the Oliviers for a project I'm working on.  He was so sweet, and has the same sense of humor his dad had.  All in the family, I guess!
Hat's off to you, David Niven, you were a gem.