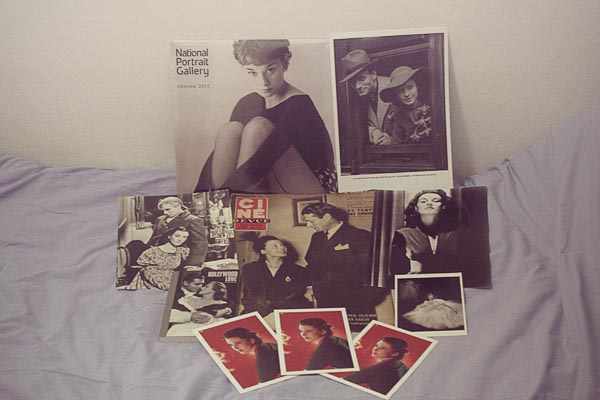 It's the most wonderful time of the year!
In honor of the holiday season, I've decided to host a new contest here at vivandlarry.com, and I'm really excited because the prize is definitely the best yet! One lucky fan can win the entire gift package pictured above!
The loot
A 2012 wall calendar from the National Portrait Gallery featuring famous portraits of classic film stars Vivien Leigh, Charlie Chaplin, Tallulah Bankhead, Dorothy Dickson, Tilly Losch, Claire Bloom, Ava Gardner, Elizabeth Taylor, Dirk Bogarde, Douglas Fairbanks Jr and Gertrude Lawrence, James Mason and Audrey Hepburn
Three glossy stills of Vivien Leigh and/or Laurence Olivier
Four postcards (three of Vivien Leigh by Madame Yvonde and one from Waterloo Bridge by Laszlo Willinger)
A book of postcards from the National Portrait Gallery "Glamour of the Gods" exhibition
A copy of the June 1951 issue of French magazine Cine Revue featuring Vivien Leigh and Laurence Olivier on the cover
How to enter
To enter this contest, please create a free account and  join the Vivien Leigh and Laurence Olivier bubble at Bublaa, a new social networking tool that I'm trying out for this site. The page is in the running for the current Bubble Race hosted by Flowbar and I think we can win it! After joining, be sure to leave a comment here letting me know.
As usual, you can earn an extra entry by promoting  vivandlarry.com on your Facebook, Twitter or Tumblr (don't forget to mention this in your comment).
The contest ends on January 21, 2012
and is open to fans worldwide. The winner will be picked at random using the
Random Number generator
and contacted by e-mail.
Good luck and Happy Holidays!