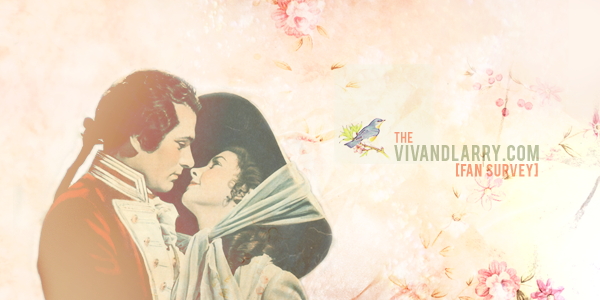 "Who are you, really? What were you before?" — Rick Blaine in Casablanca
I've been doing a lot of reading about blogging lately–both in books and on other people's blogs–looking for inspiration and ways to enhance vivandlarry.com. This website focuses on a niche subject within an already niche market, and as such, there is a unique and special group of highly knowledgeable and enthusiastic people who visit.
I thought it would be fun to get to know you (yes, YOU) a little better. I've written plenty about me, but I'd love to know more about the Vivien Leigh and Laurence Olivier fanbase! As we know from the Vivien Leigh and Laurence Olivier facebook page, Viv and Larry fans come from all corners of the globe and represent a variety ages. Here's your chance to tell others about yourself and get to know your fellow fans! It will also help me with some stats for improving the site.
Simply copy and paste the following questions along with your answers into a comment on this post and roll on my friends 🙂
About You
1. Your name:
2. Where are you from?
3.  Do you have a website or blog (post the link)?
4. How did you become interested in Vivien Leigh and Laurence Olivier?
5. What is your favorite Vivien Leigh film?
6. What is your favorite Laurence Olivier film?
7. Are there any films of either Vivien or Larry's that you really want to see but haven't had the chance?
8. Who are your other favorite actors/actresses?
9. Do you collect any classic film ephemera?
You + vivandlarry.com
10. How did you hear about vivandlarry.com (google search, word of mouth, etc)?
11. What is your favorite part of the site?
12. How often do you read the blog posts?
13. Do you read the blog posts even when they don't focus on Vivien Leigh and Laurence Olivier (i.e. Cinema Experiences and Film Diary entries, etc)?
14. What else would you like to see on the site that isn't here already?
15. Are you following vivandlarry.com on any other social media outlets (twitter or facebook)?
16. How likely are you to point others in the direction of this website?