A couple of years ago, London's National Portrait Gallery mounted a major exhibition in partnership with the John Kobal Foundation titled Glamour of the Gods, a photographic retrospective paying tribute to some of the greatest portrait photographers in Hollywood history. Among those included were Laszlo Willinger, George Hurrell, Robert Coburn, and perhaps the greatest of them all, Clarence Sinclair Bull.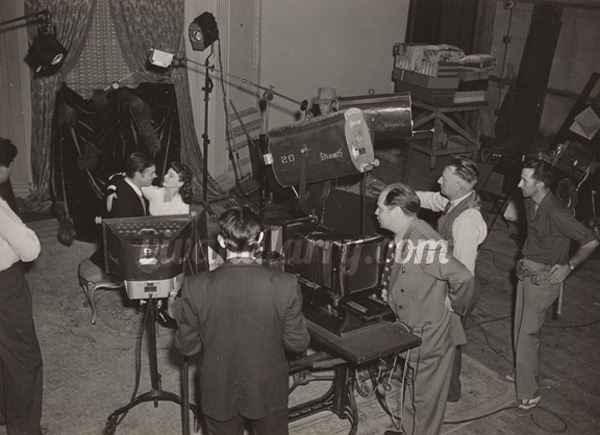 Clarence Bull (center, to right of camera) photographing Clark Gable and Vivien Leigh for Gone With the Wind. Notice the famous red ostrich feather dress designed by Walter Plunkett being used as a backdrop.
Born at the end of the 19th century, Bull became fascinated with photography when his aunt brought a camera to the family cattle ranch in Montana. While in hospital recovering from a hip operation, Bull was visited by a local artist called Charles Marion Russell, who encouraged the eager young boy to get "one of those Kodak cameras and let it exercise your fingers while you work on [capturing beauty with] your heart!" Bull later wrote, "I had to get that Kodak or bust," and paid for the device, a pack of film, and printing paper by working at his father's general store after school and riding around the town on horseback, delivering copies of the Saturday Evening Post to eager readers, among other entrepreneurial activities.
Bull got his break in Hollywood as an assistant cameraman on the Charles Brabin film Breakers Ahead (1918) at the newly-formed Metro studios. He then worked for Thomas Ince at Triangle Pictures (the studio in Culver City later housed Selznick International and Desilu), and for Samuel Goldwyn when Triangle was absorbed.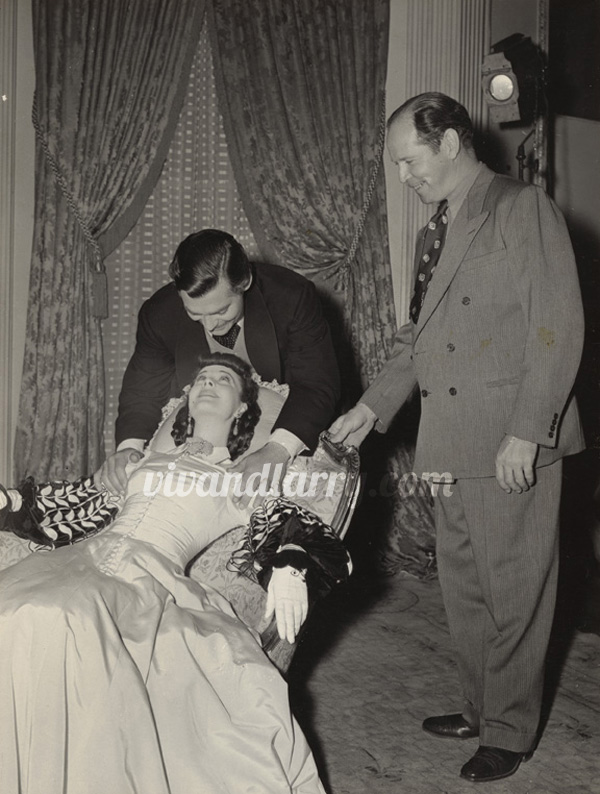 As head of the stills department at Metro-Goldwyn-Mayer, the studio that boasted "more stars than there are in heaven", Bull worked under chief publicist Howard Strickling and was responsible for turning stars into icons. He estimated taking over 10,000 images in his 30 years at MGM. In his introduction to the book The Man Who Shot Garbo: The Hollywood Photographs of Clarence Sinclair Bull, NPG Senior Exhibitions Advisor Terence Pepper explains the significance of Bull's work:
Clarence Sinclair Bull was one of the great masters of the Hollywood portrait. As head of the stills department at MGM for over thirty years, he helped to pioneer the art and craft of the film studio gallery portraitist. These images, once regarded merely as anonymous publicity photographs, have now been re-evaluated for their crucial role in both the creation of cinema iconography and the history of twentieth-century portrait photography…

Known as Garbo's personal photographer, Bull was in demand to enhance the images of all the studio's top stars. He met Clark Gable on his first day at MGM and quickly established a personal as well as long-term professional relationship as he did with Johnny Weissmuller and many of the other stars. Working at the studio for a number of years gave Bull the opportunity to become familiar with the studio's stars and the images they wished to project on screen, so that he was able to translate these images into characteristic and definitive portraits.
In 1939, Bull was put in charge of taking the promotional portraits for David O. Selznick's Gone With the Wind. (MGM wrangled the distribution rights from Selznick as part of the deal to loan out their top male star, Clark Gable, for the lead role of Rhett Butler.) He was a master at contributing to Hollywood myth-making, and the story he told biographer Lyn Turnabene about the first meeting between Clark Gable and Vivien Leigh reads like it's been drenched in stardust:
"We had been waiting for over an hour for Vivien Leigh (there was miscommunication about the time of the shoot)…the shots were in costume. Clark was pacing back and forth… 'I couldn't make love to that dame now if she were the most beautiful woman in the world!' And then, a rustle of silk, the sweet smell of lilacs and there was the most beautiful woman in the world, standing behind him, touching his shoulder, whispering like a summer breeze… 'I quite agree, Mr. Gable. If I were a man, I'd tell that Vivien Leigh to go right back to merry old England and fuck herself.'"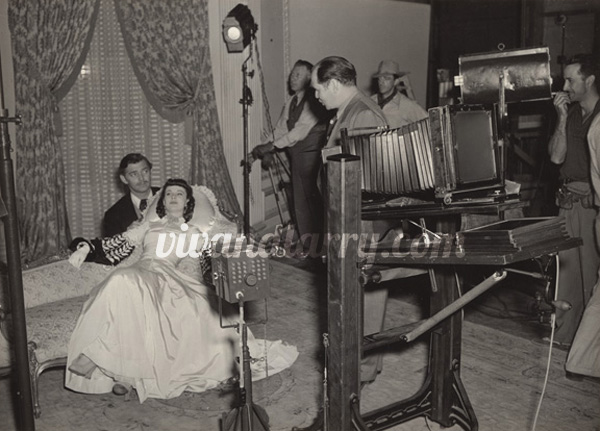 Clark Gable seems unsure of Bull's direction in this shot
"I felt like a sort of mouse – standing by for a lion," Katherine Hepburn related when describing her first sitting for Bull. "He came – he was easy – he was sweet – he was distant. Listen – so was I – I was easy – I was sweet – I was distant. We never got to know each other – but I knew that he liked working with me – and I knew that I liked working with him. [sic]" Terence Pepper writes of Bull's fatherly manner, and describes an incident when the photographer locked Laurence Olivier and Vivien Leigh in his gallery after one of her portrait sessions for GWTW so that they could settle a misunderstanding between them without anyone intruding. It was this ability to connect with his subjects on a human level and to make them feel at ease on a professional one endeared Bull to the hundreds of famous faces who sat before his camera.
The pictures in this post were loaned to the NPG from the Kobal Foundation for "Glamour of the Gods", but were not exhibited. The photos themselves were taken in the Portrait Gallery at MGM studios in Culver City (likely by GWTW set photographer Fred Parrish), rather than on the actual set of GWTW at Selznick International. They show Bull directing Gable and Leigh and employing his "skill at portraying the sexual chemistry of screen-matched couples – the positioning, the body language and the expressions of people whose primary romance is before and with a camera."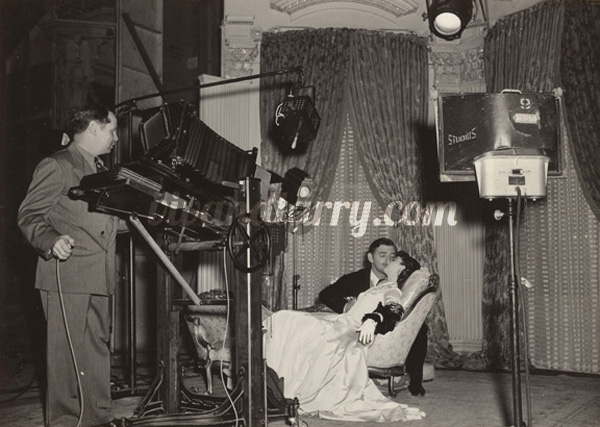 All photos in this post © John Kobal Foundation and shared by permission
 ♠ ♣ ♠ ♣ ♠