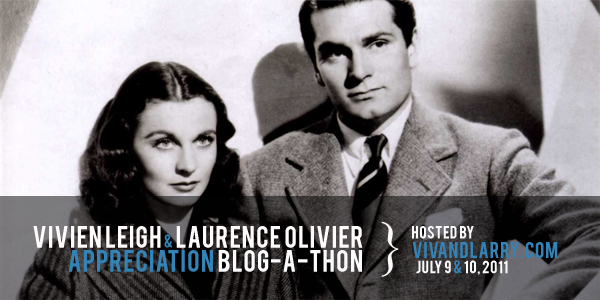 One of the things I've enjoyed most as a blogger is participating in classic film blog-a-thons. You may remember the Film Preservation blog-a-thon hosted by Ferdy on Films and the Self-Styled Siren, or the Japanese Cinema blog-a-thon to raise money for disaster relief. Tomorrow I'll be taking part in the 1939 blogathon hosted by the Classic Movie Blog Association and YAM magazine, and in June the Queer Film blog-a-thon hosted by Garbo Laughs. This morning I thought it might be really fun to organize a blog-a-thon to celebrate none other than our own Vivien Leigh and Laurence Olivier.
That said, I'd like to introduce the Vivien Leigh & Laurence Olivier Appreciation Blog-a-thon! The goal is to celebrate Vivien Leigh's and Laurence Olivier's films and their lasting impact on popular culture. I've chosen the dates to correspond with the anniversaries of both their deaths (July 7 and July 11th, respectively). This will be a great way to show some love for the Oliviers, as well as to become more familiar with the film blogging community at large.
When: July 9-10, 2011
Where: The internet! Hosted by vivadlarry.com
Rules: This blog-a-thon is open to all film bloggers (and readers) around the internet. You can write about their films, theatrical contributions, your love of their beauty, fashion, etc., any aspect of Vivien Leigh's and/or Laurence Olivier's careers or lives. As per the usual blog-a-thon protocol, posts should be made to your own blog on the dates listed above, and a running list of links will be posted here at vivandlarry.com. Note: You do not have to write about a film that starred both Larry and Vivien. If you just want to write about Vivien, or just Larry, that's totally fine.
One other thing: Although participants are welcome to write about any film or aspect of Vivien and Larry's lives, it would be great if we can get posts about a variety of films rather than just the ones that are the most popular today such as Gone with the Wind.
Also find it on: Facebook
Not sure which films Vivien Leigh and Laurence Olivier starred in? Check out their imdb profiles below:
If you'd like to participate as a blogger, do let me know by leaving a comment on this post!  Below you can find some banners (250 x 150) to put on your own blog!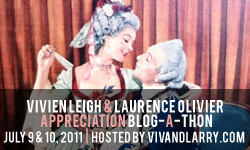 Participating Blogs: