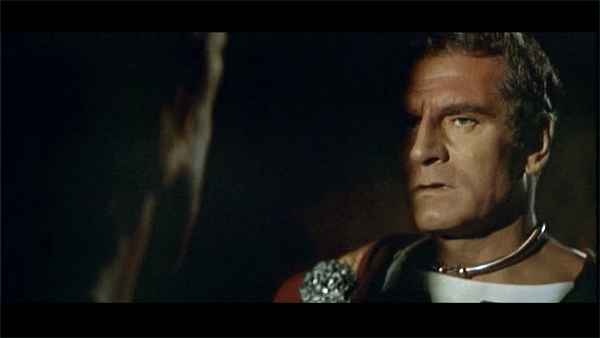 As many of you know, Turner Classic Movies hosted its second annual TCM Classic Film Festival a couple weeks ago in Hollywood. They screened two Vivien Leigh and/or Laurence Olivier films: A newly restored print of A Streetcar Named Desire (Elia Kazan, 1951) and Spartacus (Stanley Kubrick, 1960). Unfortunately, I couldn't be there, but luckily some of you were able to attend and report back on how amazing it was!
Kristen Sales has a BA in Film and Media Studies from the University of California Irvine (which happens to be my alma matter; small world!). She is a big fan of classic films and regularly contributes to FilmFracture and has her own blog, Facbook page and Tumblr dedicated to the wonderful world of film and her own writings on the subject, all titled Sales on Film. Kristen got to sit in on the TCMFF screening of Spartacus, which was introduced by film legend Kirk Douglas and TCM host Robert Osborne. Luckily for us, she was willing to write about the experience for vivandlarry.com! Thanks, Kristen!
At 94, Kirk Douglas is a genuine Hollywood icon. Anyone who watched this year's Oscars know what a feisty, delightfully loquacious man he still is. Douglas was the highlight of a rather dismal Academy Award telecast and all he had to do was show up and throw away the script. Few but Spartacus himself could get away with that. So, I was delighted to hear that Douglas would be attending the second annual TCM Film Festival to introduce Spartacus and join TCM host/classic film god Robert Osborne for a pre-feature discussion. The screening was held at Grauman's Chinese in Hollywood, the very same theater where the film premiered fifty years ago.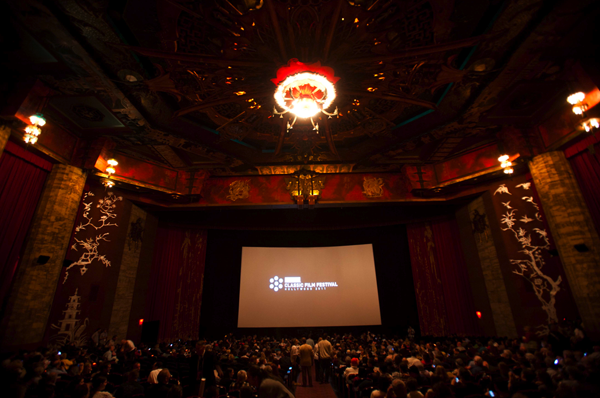 I expected Kirk Douglas to be vivacious and garrulous, but I did not expect the nonagenarian to practically sprint up to the stage to begin his conversation before the movie—but Douglas did just that. It's an awfully long way from the eaves of theater, up an incline, and halfway across the length of the largest cinema screen I've ever seen. The theater is vast and cavernous, as old and grand a paean to Classic Hollywood as still exists in that city. I get the feeling that only someone with as much history and stature as Kirk Douglas could zip right across that stage and settle into a two-minute standing ovation without seeming hasty or impatient. The man has a lot to say, and 1,100 film fans hung on every word.
"Did I answer your question?"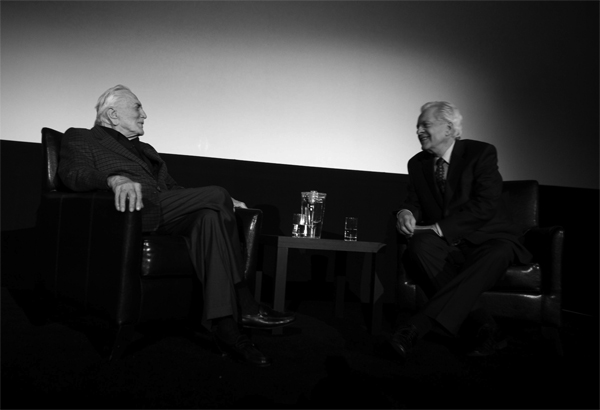 You don't interview Kirk Douglas; you just get out of his way. Robert Osborne is no slouch in that department, but for every question he pitched, Douglas had a five minute answer, at the end of every captivating story pausing for a moment to make sure he'd done the query justice: "Did I answer your question?" Got a huge laugh every time. The discussion lasted more than half an hour, but I wouldn't have minded sitting there all night. Topics ranged from Kirk Douglas' one-man show "Before I Forget" (filmed in 2009), to his personal favorite film of his career (Lonely Are the Brave), to the making of Spartacus.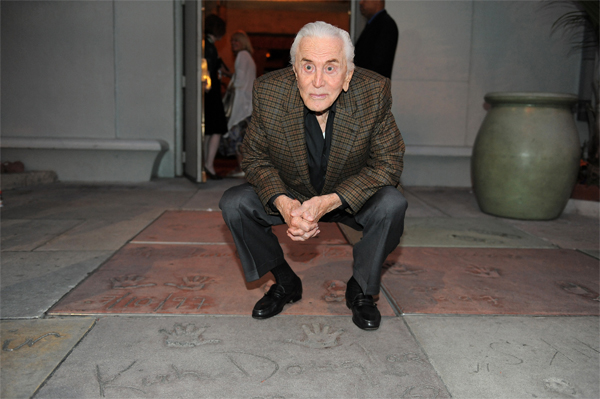 Douglas, who served as producer of the film, revealed that Anthony Mann was originally hired as director but was replaced with Stanley Kubrick after Kubrick was fired off of One-Eyed Jacks by Marlon Brando, who would go on to direct the film himself (the star's solo directing credit). The night's most emotional moment came when discussing screenwriter Dalton Trumbo. Trumbo, one of the Hollywood Ten who refused to name names to HUAC during the Hollywood blacklist, had not been credited by name on a screenplay since the 1940s (even though he had actually won an Oscar for writing The Brave One under a pseudonym). Douglas fought with Kubrick and the studio to get Trumbo's own name acknowledged in the credits. Douglas parlayed the considerable star wattage and audience appeal he had accrued in the 1950s into real bargaining power. Douglas' battle for Trumbo's on-screen credit is now generally acknowledged as effectively ending the stigma of the blacklist in Hollywood.
"I'm Spartacus!"
Usually I'm not a fan of digital projection as compared to seeing film on, you know, film, but in some rare cases a digital restoration is exactly what the doctor ordered. Save for the change in projection, the TCM Film Fest screening of Spartacus was screened exactly as it premiered in 1960, at the very same theater. The film was shown in its original 1960 roadshow format, which includes a musical overture and a fifteen-minute intermission. This is really the optimal viewing experience for Spartacus, a 200 minute epic shot in Technirama, a CinemaScope alternative, and then projected in glorious 70mm. No matter how sophisticated your home theater system, nothing can recapture the power and majesty of seeing Kubrick's epic masterpiece on the big (and I mean big!) screen, the way it was intended to be seen. Douglas plays Spartacus, a slave who escapes his imprisonment and organizes a slave uprising against the oppressive Roman army lead by general Marcus Licinius Crassus (Laurence Olivier). The ensemble includes Peter Ustinov as the oily slave trader Batiatus in an Oscar-winning performance, Tony Curtis as Atoninus, a poet and magician who joins the revolt, and Jean Simmons as Varinia, the fierce and beautiful slave woman who falls for Spartacus.
One of the most striking aspects of seeing Spartacus on the big screen is the film's brilliant use of sound design to create tension. The turning point of the film comes when Spartacus is forced by Crassus to spar with Draba (Woody Strode), an Ethiopian slave being training at the gladiator school where both men are held prisoner. Draba and Spartacus are forced to battle to the death, and must listen as two of their fellow gladiators fight—and one dies—before their own time in the ring. The two men are caged in a wooden crate as the duel going on just outside their point of view. Kubrick's camera stays on Douglas and Strode, unable to see—only to hear the clash of swords, the sound of sand shuffled underfoot, the grunts of the slaves fighting for their lives. Their cage then opens and the gladiators are thrust into the arena to battle for the perverse amusement of the military class and their petty bloodlusts.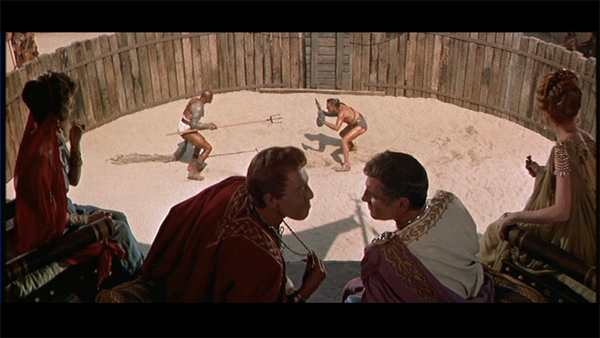 The emotional upheaval of the battle between Spartacus and Draba is so great— two noble warriors locked in battle that neither man wanted—it inspires Spartacus to revolt. The effect in the audience is the same. Kubrick and Trumbo mete out the tension in the sequence beautifully; it is a sad and thrilling physical spectacle that pits the audience's impulses and expectations—the knowledge that Spartacus must survive, the desire for Draba to escape death, and the baser desire to take pleasure, like Crassus, in the destruction of human flesh for sport—against each other, creating a sense of overwhelming emotion and a lingering ill-feeling at the futility of it all.
Spartacus is an incredible achievement in film. Touted at the time of its release as a "thinking man's epic," the film retains its spectacular luster fifty years later partly because of the emotional maturity and thoughtful social commentary of its story, and because of Kirk Douglas' powerfully compelling performance.
Spartacus will air on TCM August 14th at 4:30pm.
**Photos from the TCM Film Festival by Jordan Strauss // screencaps from the vivandlarry.com Gallery