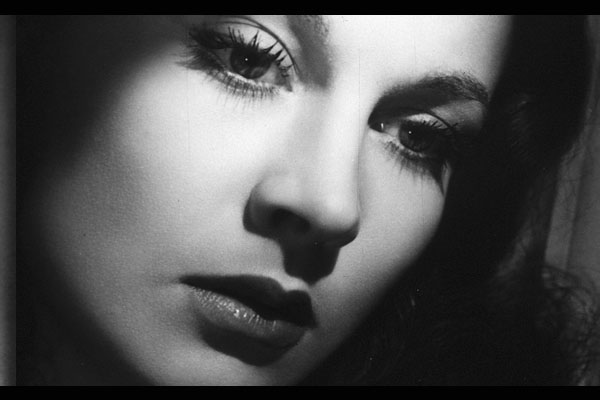 Five days until to the Vivien Leigh and Laurence Olivier Appreciation Blogathon starting this Saturday–sign up here to participate!
There is a much-anticipated new exhibition opening this week at the National Portrait Gallery here in London. Glamour of the Gods: Hollywood Portraits, Photographs from the John Kobal Collection will feature over 70 rare glamour photographs of Hollywood's biggest stars taken by the most greatest studio portrait photographers of the day. These included George Hurrell, Clarence Sinclair Bull, Ted Allen, Ruth Harriett Louise and others. There used to be a section here at vivandlarry.com called In Focus where I profiled various photographers who worked with Vivien Leigh and Laurence Olivier throughout their careers. The section no longer exists, but I thought, in honor of the new exhibition and upcoming blogathon, it would be fun to profile some of these masters of light and shadow again.

Laszlo Willinger took what I consider to be some of the most beautiful photographs of Vivien Leigh. He considered Vivien his favorite sitter. In the 1970s, John Kobal tracked down the Hungarian-born photographer who was living in Los Angeles:
Hungarian-born Willinger came to MGM in 1937 as part of the studio's last European sweep for talent before the outbreak of the Second World War. Hedy Lamarr and Luise Rainer were signed at the same time. At first Willinger was reticent about speaking of the past because he felt there was little interest in Hollywood of the 1930s and 1940s. Kobal convinced Willinger that he was interested and the two developed a friendship.

Willinger brought a fresh look to MGM and Hollywood photography — his prints have a crisp luminescence and his compositions often orient his subjects on the diagonal, which gives them a modern, European sophistication. "I tried to make a photograph as dramatic as possible," Willinger wrote in 1986, "by lighting dramatically." As he did with Hurrell, Kobal anxiously queried the veteran photographer about photographic practices. Willinger recounted to Kobal, "Loads of photos were taken and the negatives were sitting around, but they were never used because the stars vetoed them. Even though MGM's first lady Norma Shearer wanted Willinger to make all her portraits after 1937, and he did photograph her beautifully for Marie Antoniette (1937) and later films including The Women (1939), that didn't guarantee the road would be easy. "If Shearer liked 10 percent of a sitting," Willinger told Kobal, "you were going great. With Crawford you could figure 80 percent would be okay." "The one I liked best to work with was Vivien Leigh. She was a thorough professional."

Along with Leigh, Willinger photographed the new stars that MGM cultivated in the early 1940s to replace old timers such as Garbo and Shearer who were retiring or Crawford who was being forced out of the studio. Looking back on his career Willinger wrote, "I photographed what there ought to be." Stars hired by MGM in the 1940s such as Ingrid Bergman and John Garfield gave him pretty good raw material. So too did tireless cinema veteran Marlene Dietrich who came to MGM in 1944 to make Kismet. Willinger's portrait of her standing above him shows the great star had lost none of her authority with the camera.–(source)
Willinger photographed Vivien Leigh in 1940 when she was loaned to MGM to make Waterloo Bridge.