Back at the end of March, thousands of film nerds from around the US (and as far afield as Canada, Sweden, Norway and Scotland) descended upon Hollywood Blvd for the 6th annual TCM Classic Film Festival. I was lucky enough to be one of those nerds, making the pilgrimage to the film capital of America from the exotic and far away land of Sacramento.
I arrived on the afternoon of Wednesday the 25th and was immediately reminded of the one thing I hate about LA – the traffic. Don't get me wrong, I love LA for many reasons but the constant gridlock on the 405 and the 5 is not one of them. What is usually about a 30-40 minute drive from LAX to West Hollywood without traffic took me a good two hours. There's always the one mile-long stretch on the 405 just as you come to the 10 junction at Culver City where you end up crawling bumper to bumper. I blame the lack of sufficient public transportation in this glorious but sprawling city.
As a first-timer at the TCM Film Fest, I wasn't sure what to expect. Were the regulars nice? Were the fans crazy? How many films could I realistically see in one day? What about food? I forgot my phone charger – does anyone have a cable I can borrow? No, it's an iPhone 4S, I'm too lazy to upgrade at the moment. It turns out the answers were yes, yes but in a good way, four, In n Out Burger, and yes because the people manning the ticket desk at the Chinese Theater were all sorts of helpful (thanks, longtime V&L supporter Sari Navarro!).
I saw 11 films in total plus attended two talks at Club TCM. Here's the run down:
The Red Carpet
The opening night film this year was the 50th anniversary restoration of The Sound of Music. Unfortunately, only special guests and top-tier festival passholders were admitted into this screening. But part of me really wanted to see Julie Andrews in person, so I decided to brave the bleachers with fellow bloggers Jessica Pickens and Angela Pettys. It was about 85 degrees outside and pretty sweaty and uncomfortable. But Julie and Christopher Plummer were worth it, right? Back-of-knee sweat be damned! And the good people of TCM handed out free water bottles.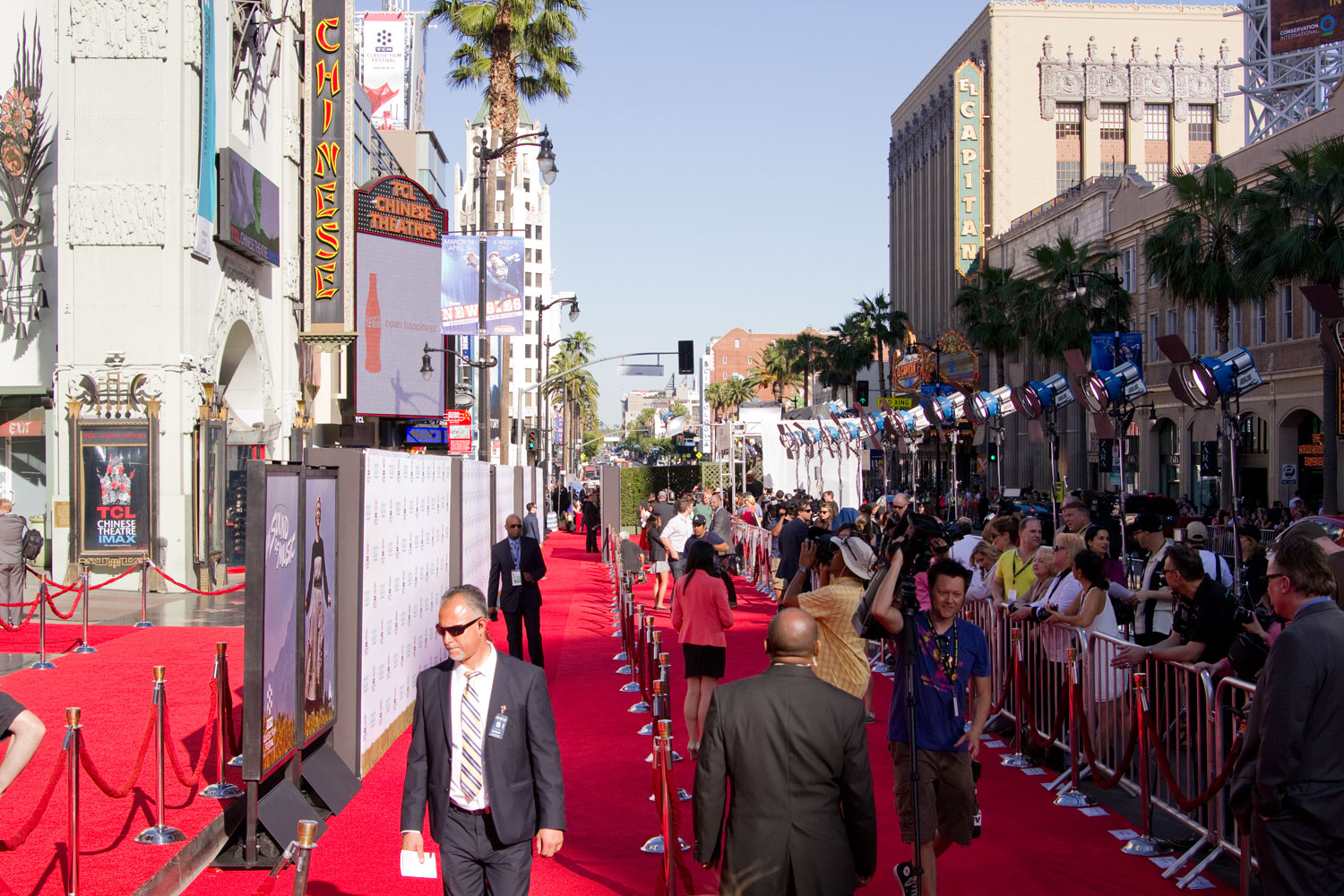 I'm sorry to say the red carpet bleacher experience was a let-down. Most of it was spent greeting passholder fans as they walked down to enter the cinema. On the plus side, we did get to see Shirley Jones (radiant in a turquoise pant suit), Norman Lloyd (100 years old and still kicking ass and taking names), Keith Carradine (remember when he played Doc Holiday on season 1 of Deadwood? I do! He seems like a nice guy), Diane Baker (gorgeous), and Robert Morse (so sweet and touched that people remember him). And then the big moment arrived: Christopher and Julie were in the house! They stopped to chat with the press and were then quickly whisked past the bleachers while bodyguard/assistant people shielded them with giant black umbrellas. Neither of them stopped to acknowledge us cheering fans in the bleachers. It was really disappointing.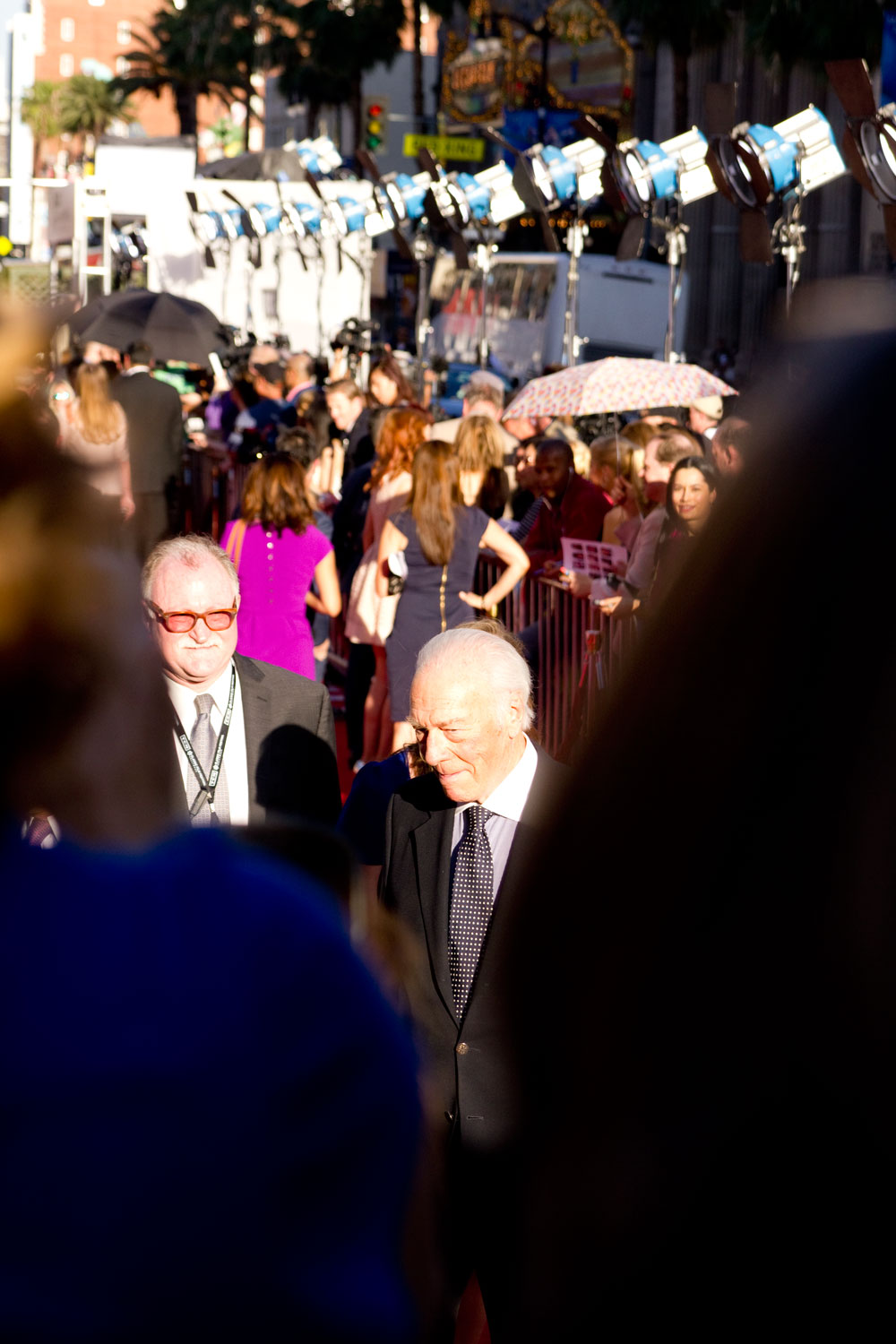 Christopher Plummer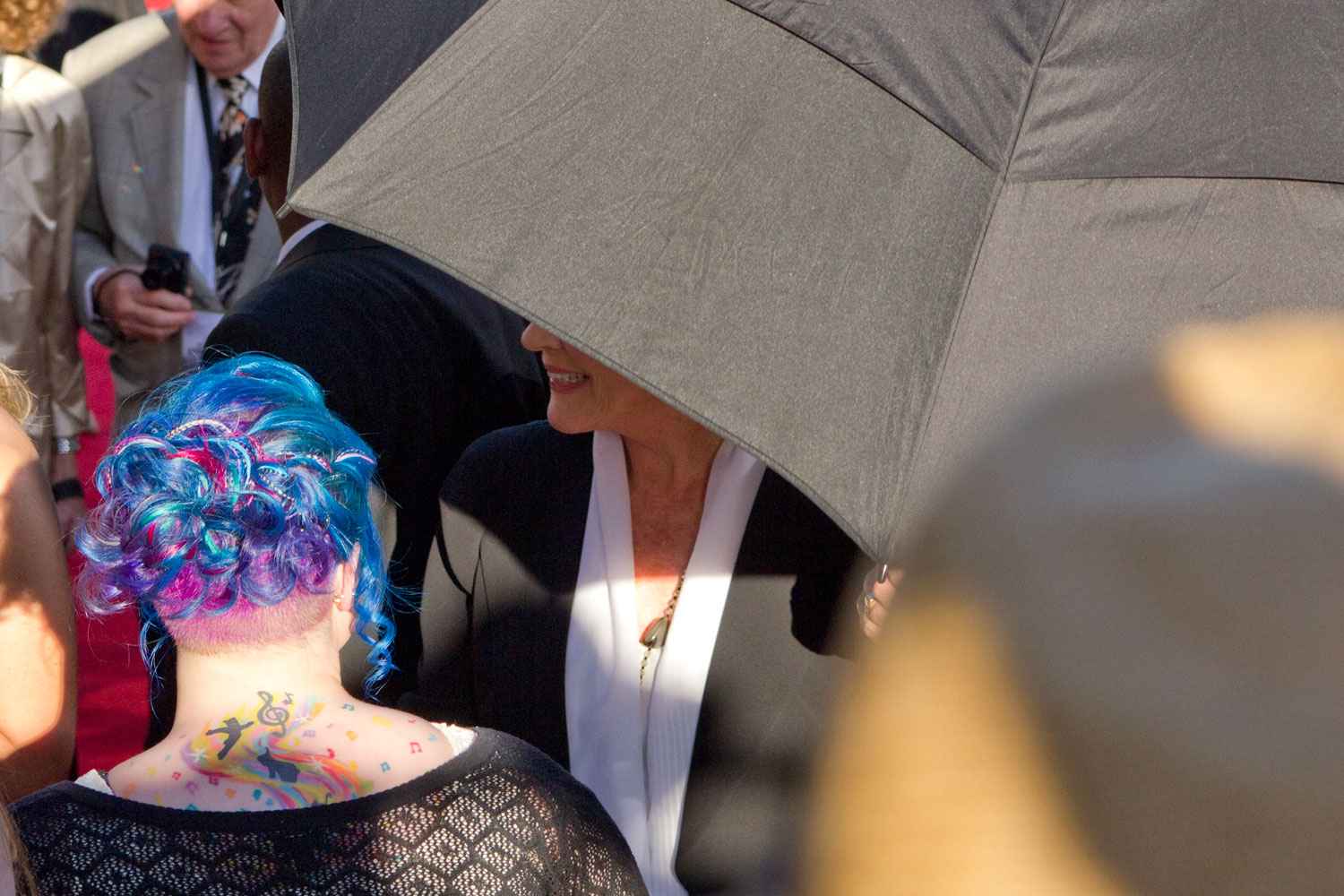 Julie Andrews' chin
For future reference, I'd recommend the red carpet event only if you've got a press pass to either interview the stars or attend the film. Well, at least I can say I caught a glimpse of Julie Andrews' chin!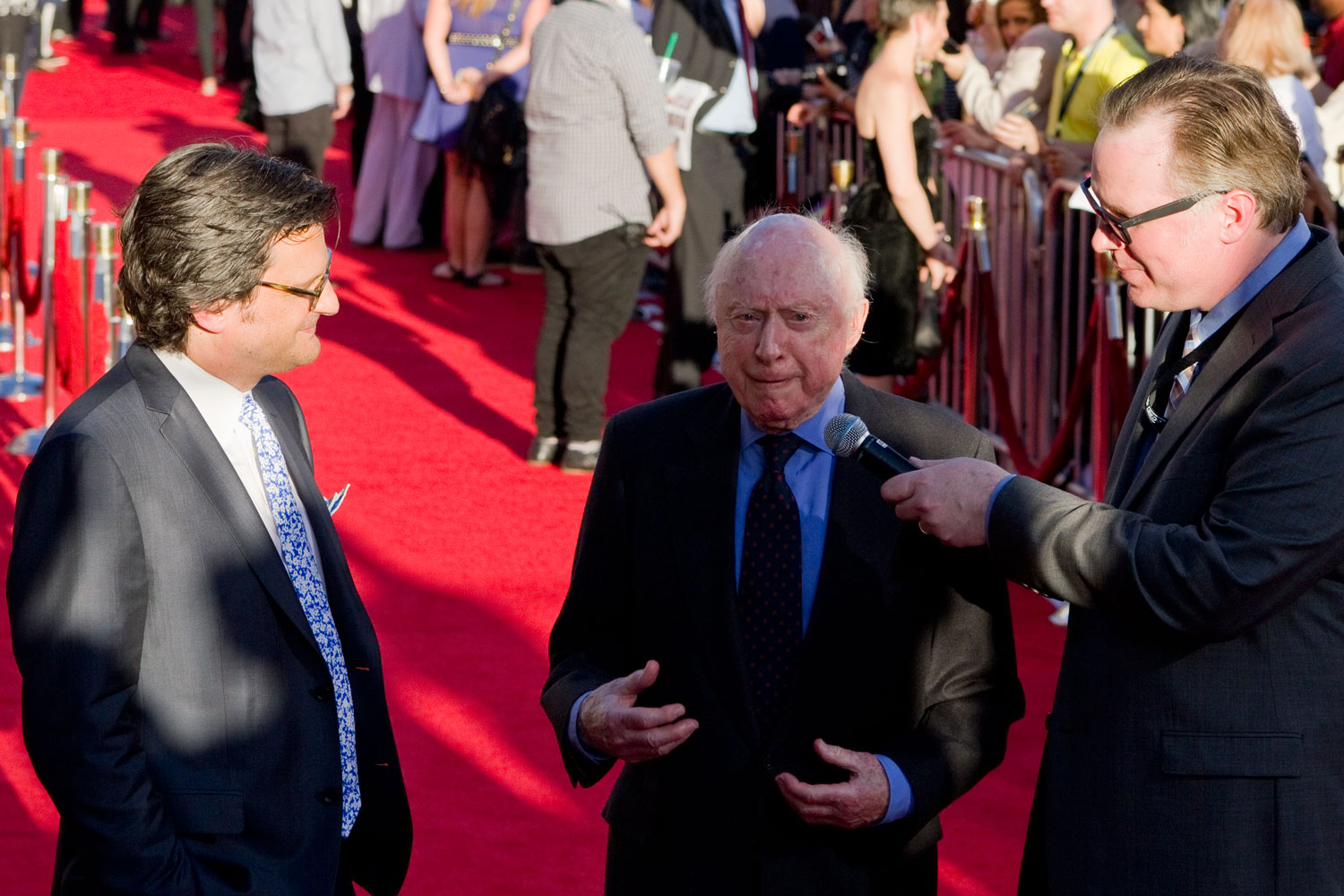 Norman Lloyd and TCM's Ben Mankeiwicz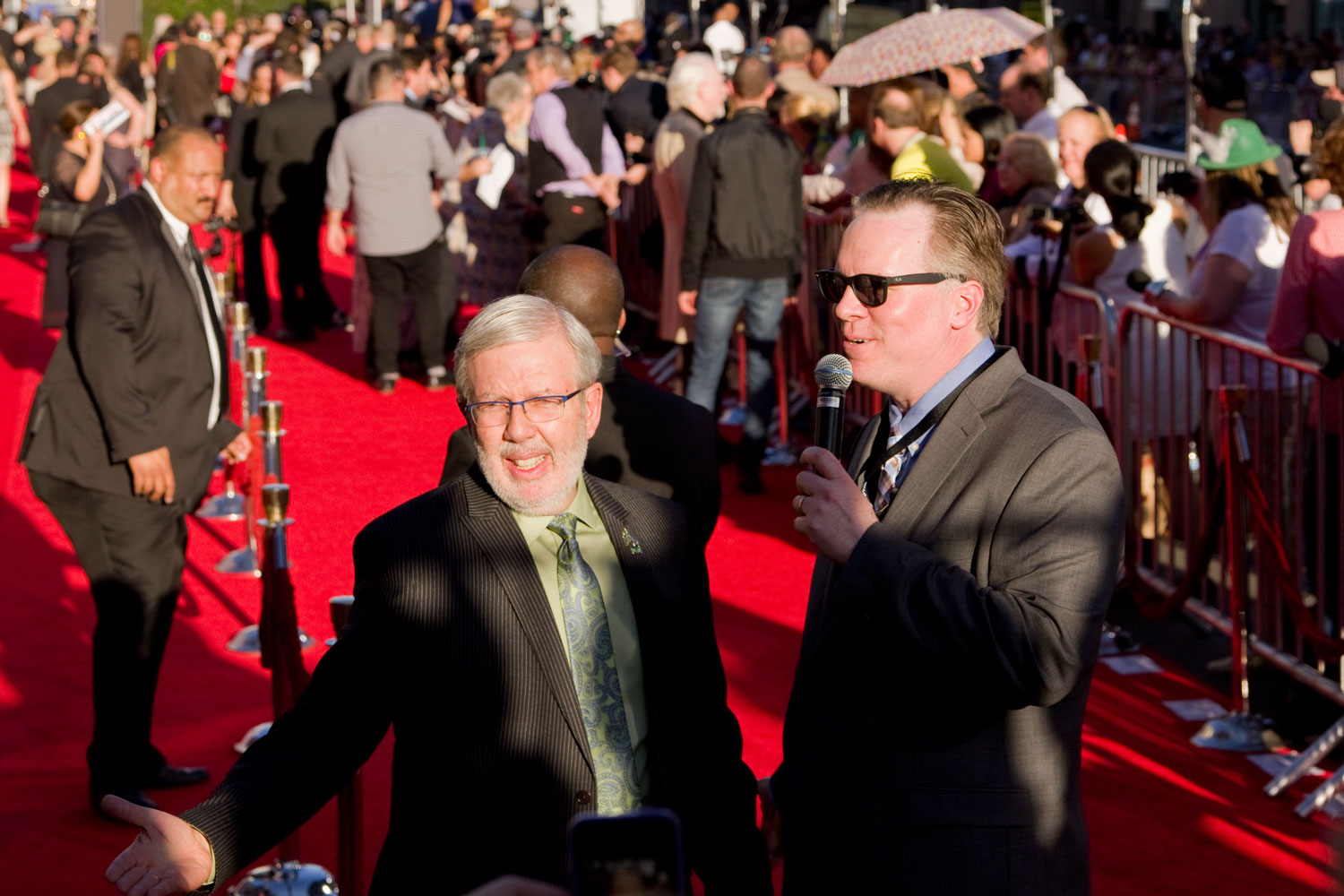 Leonard Maltin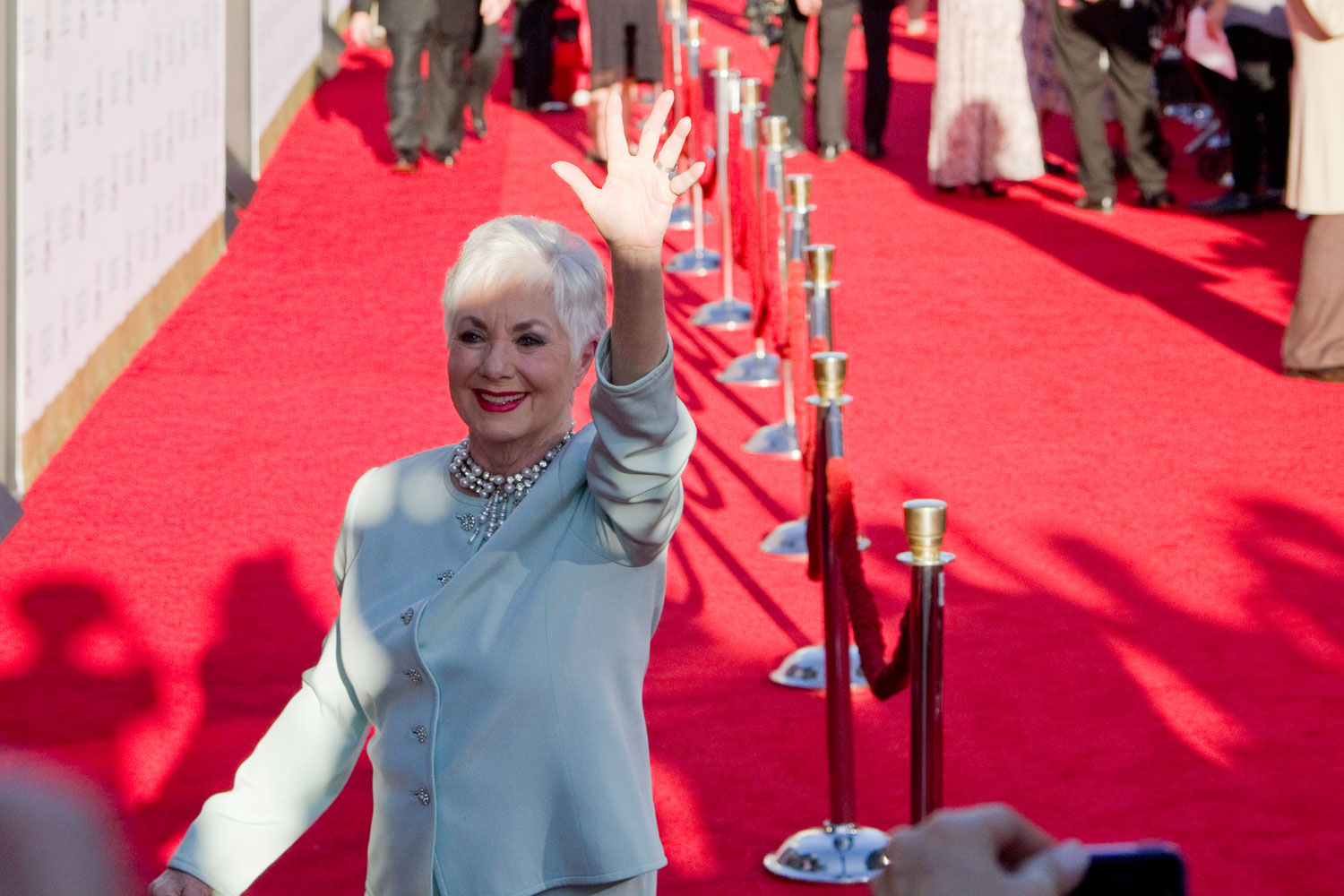 Shirley Jones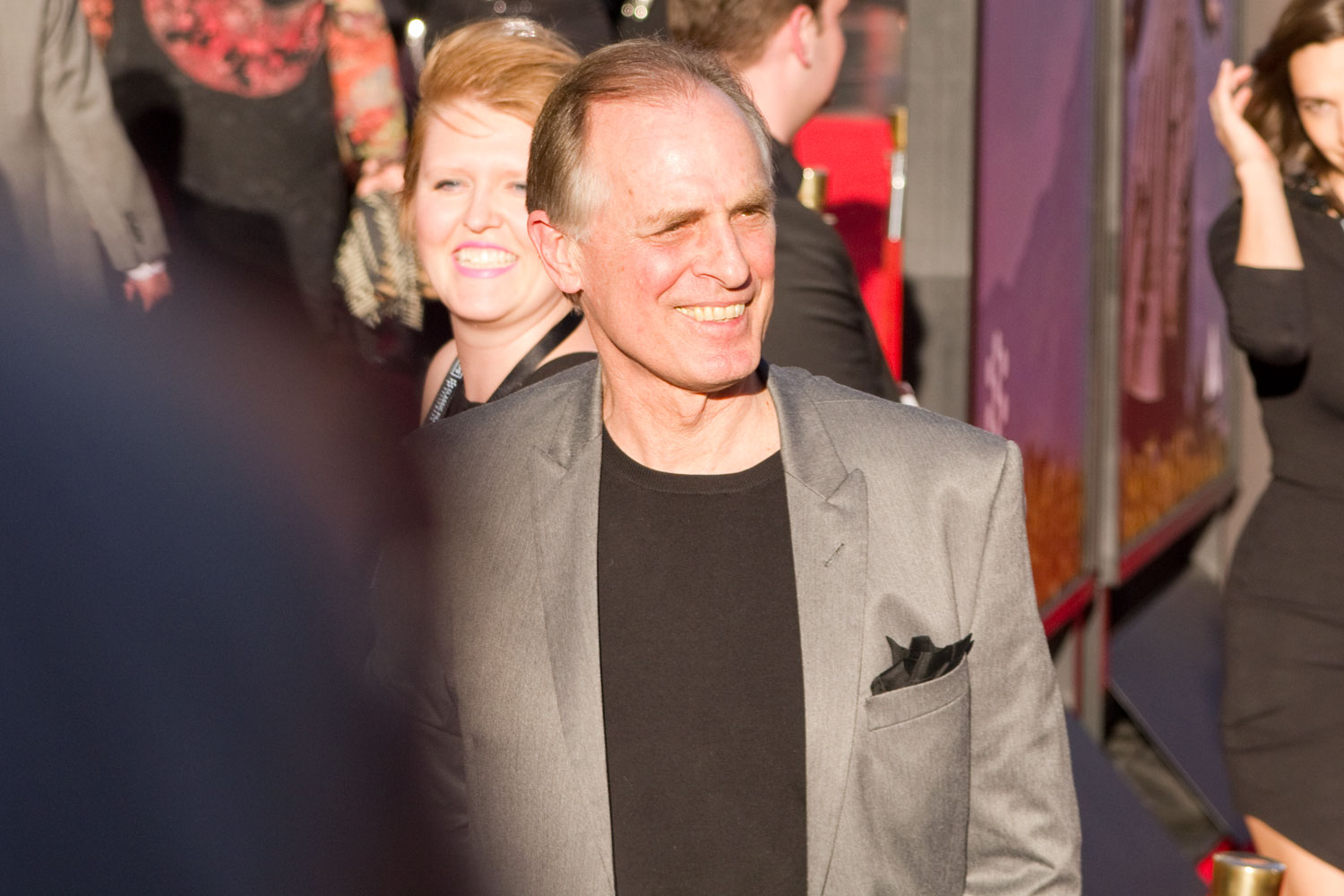 Keith Carradine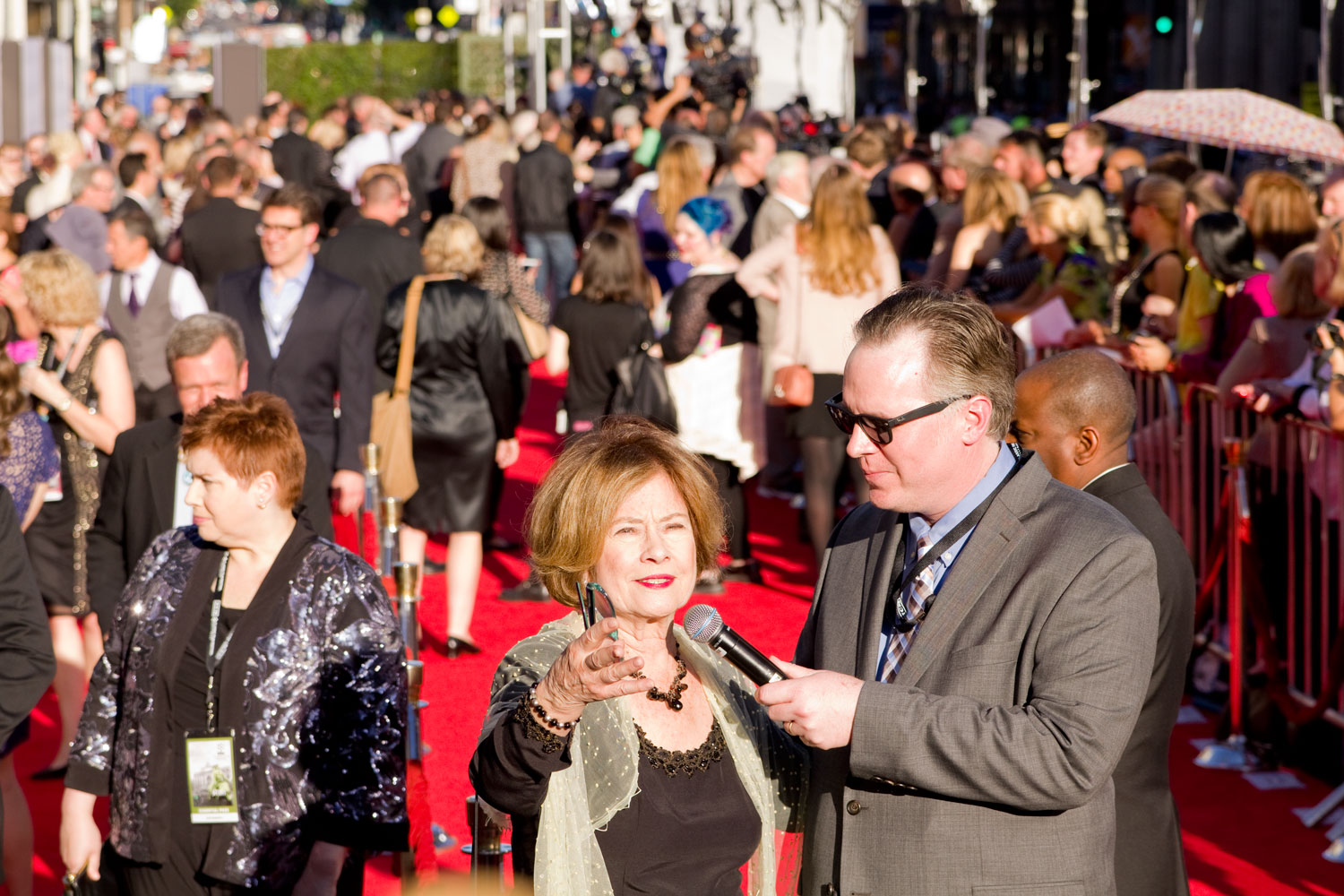 Diane Baker
The Films
My personal opening night film was Queen Christina. This was a first for me – my goal was to check out films I'd never seen before. It was followed by My Man Godfrey, which is one of my all-time favorites. Carole Lombard films on the big screen are too few and far between, so it was a real treat with a great audience and by far the better of the two films that evening. Unlike Garbo and John Gilbert in Queen Christina, the performances in and the overall pacing of Gregory La Cava's 1936 screwball comedy still hold up pretty well today.
Friday March 27 was the first full day of the festival. The theme this year was "History according to Hollywood." There are countless films that fit under this broad umbrella but TCM had the challenging task of curating a selection that spanned about 80 years of filmmaking and appealed to a broad audience. There were many people who complained online about some of the films that were chosen; we tend to adhere to the idea that the 1960s was the cut-off in terms of "old Hollywood" and that anything made beyond 1967 (or even earlier for some people) doesn't belong at a festival like this. But how do we even define "classic"? Because there were many films made during the studio era that haven't endured. Just because it's old, does that automatically make it a classic film? Maybe. Maybe not. The idea of a classic film is pretty subjective. I mean, Raiders of the Lost Arc is a classic in my book (as are the other Indiana Jones films – especially Temple of Doom. Haters to the left! – except that new one which I didn't care for at all). I saw it in a packed screening at the El Capitan and I loved it!
That said, I ended up veering from my original schedule and saw some films I hadn't planned on seeing. And it was great! The only thing I'm sad to have missed was Anthony Mann's little-known 1949 film Reign of Terror. I fully planned on going, but being a first-timer at this festival, I completely underestimated the tastes of my fellow festival-goers. Having met up with Cindy De La Hoz, my editor at Running Press, for a coffee beforehand,  I figured getting there 40 minutes beforehand would be plenty of time. I was wrong. I was so wrong. As I walked down the line and saw that many of my blogging friends had been queueing for a while, I had the sinking realization that I wasn't going to get in. And I wasn't the only one. It ended up being such a popular film that they screened it again on Sunday. Alas, I missed that one, too. Cindy and I ended up watching The Purple Rose of Cairo, which was a suitable consolation prize. It's my favorite Woody Allen film and it fit the History According to Hollywood theme to a "T".
Here are the other films I saw during the festival: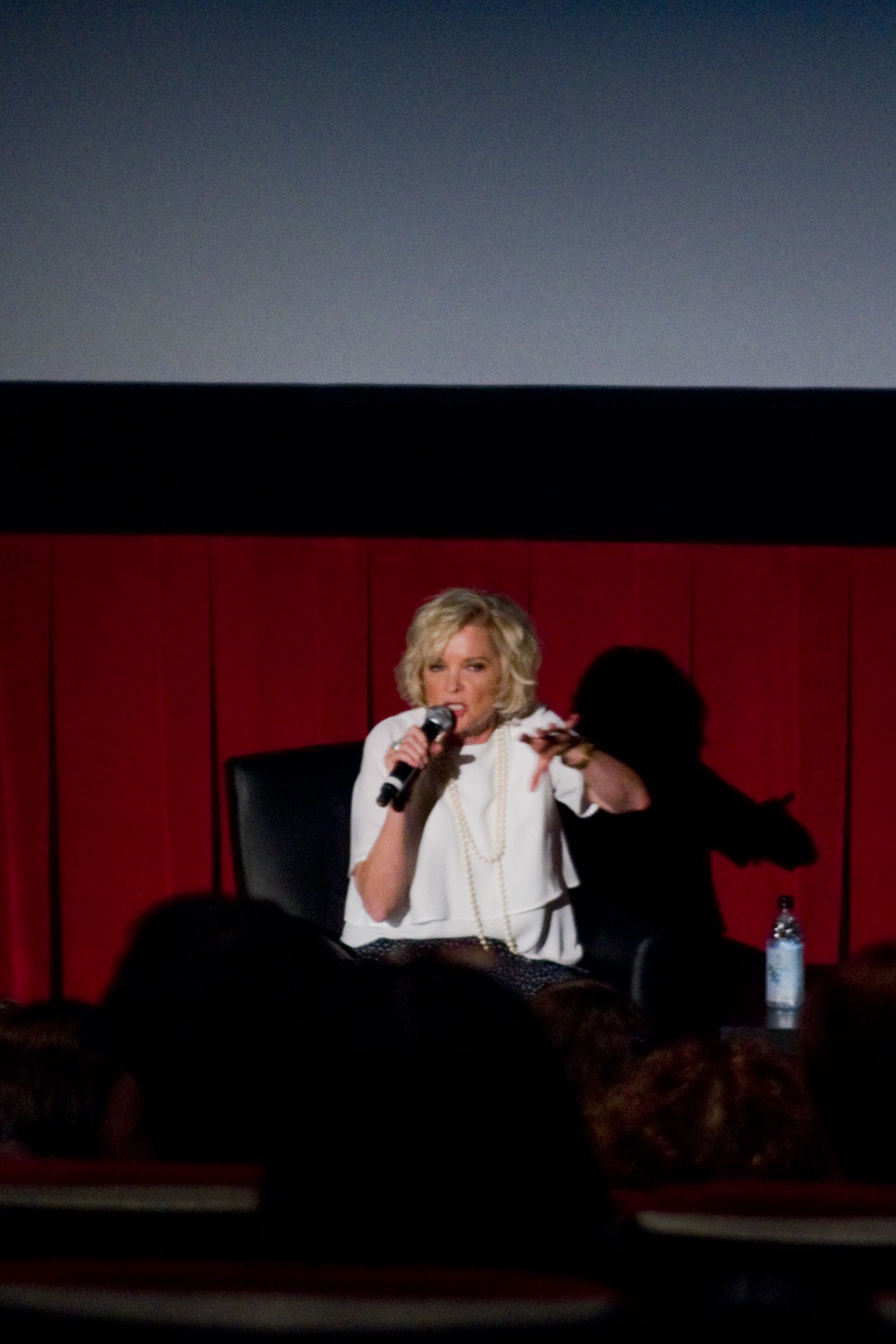 Broadway star Christine Ebersole introducing 42nd Street
+ Naughty, gaudy, bawdy, sporty 42nd Street – my friend Amy drove up from Orange County to watch this with me! She used to take dance lessons and so knew the songs but had never seen the film (neither had I). I thought it was a blast. Who doesn't like a good Busby Berkely number? Or a young Dick Powell? Or toe-tapping dance numbers? Would watch again.
+ Gunga Din – another first for me. I really enjoyed the film itself but the introduction by Craig Barron and Ben Burtt of the Academy of Motion Pictures Arts and Sciences made it even better. They gave a really informative presentation about the making of the film, including screening color home video footage of Joan FOntaine, Douglas Fairbanks Jr, Victor Mature and Cary Grant on the set, and traveling to northern California to scout out the locations used in the film. They did all of this while wearing pith hats. While parts of the film were rather uncomfortable to watch (most notably the title character being played by white actor Sam Jaffe in brown face), Barron and Burtt reminded us that Gunga Din, like many other films of the era, was a product of its time, and that to really enjoy it, we might have to remove our "PC hats" for a couple of hours. Good advice, guys.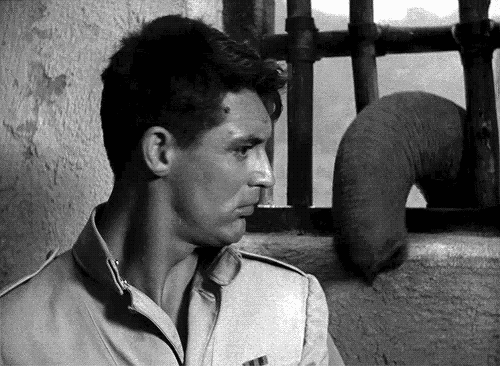 + An Affair to Remember – This is one of those iconic love stories that sucks you in and at the same time makes you want to smack the characters.. Aren't you asking why Terry isn't getting up from the couch and greeting you, Nicky? And Terry, why didn't you contact Nicky after the accident and tell him you didn't run out on him at your Empire State Building wedding?! What's wrong with you two? "If you can paint, I can walk!" *Melts into a puddle of tears in the audience*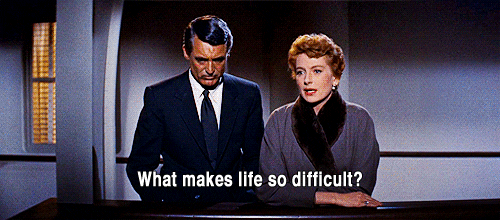 + Apollo 13 – We owned this on VHS when I was a kid and it's far from my favorite film so I wasn't planning to see it at the festival. But my other plan ran afoul and my friend Jeremy was in line, so I decided to join him and boy, am I glad I did! To introduce the film, everyone's favorite Jeopardy! host interviewed astronaut Jim Lovell live onstage right there in the Chinese Theater. Lovell, for those of you who have never seen Apollo 13 or don't care about space, was played by Tom Hanks in the movie. It was one of the most interesting and gripping interviews I've ever witnessed. I was literally on the edge of my seat as he talked about being on that spaceship when it blew up and having to steer his co-astronauts back to earth. The infinite concept of space in and of itself is one I have a hard time wrapping my brain around. So you can imagine how blown my mind was when Lovell described having a two degree window in which to steer the little module they were in. If they went too far to one side, they'd burn up in the Earth's atmosphere. Too far to the other side and they'd miss Earth completely and float out into the abyss forever. I can't imagine anything more terrifying. He was so calm about reliving that experience and I was sitting there going: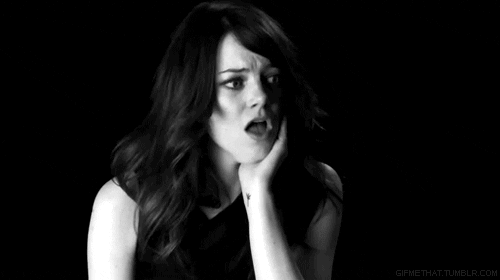 Bill Paxton also turned up.
+ The Grim Game – Harry Houdini + previously considered lost silent film + live orchestra accompaniment by the TCM Players = total geek moment for Kendra
+ Out of Sight – Sadly, this screening wasn't very full. I'm assuming that's because Out of Sight was made in 1998 and stars George Clooney and Jennifer Lopez (those last two things being why I'd never bothered to watch it before). But it turned out to be one of the best films I saw at the entire festival. It was introduced by TCM's Ben Mankiewicz, who claims it's one of his favorite guilty pleasure films (after watching it, I'd like to say "Come on, Ben. Nothing to feel guilty about here!"), and editor Anne V. Coates – my favorite celebrity at the festival (more on that in a bit). Coates chose this film along with Lawrence of Arabia to represent her work at the festival and after watching it, it's easy to see why. Coates is a brilliant editor and is especially known for editing sex scenes. Out of Sight may be one of the hottest films I've ever seen, and one even gets naked. It was a masterclass in creating sexual tension without resorting to nudity and exhibitionism. In addition to enjoying Steven Soderbergh's humorous crime drama as a whole, Out of Sight taught me two things: George Clooney was never better looking and Jennifer Lopez is actually a really good actress, something many of us tend to forget in lieu of her pop career and string of subsequent mediocre film choices.
+ Earthquake – Ava Gardner? Charleton Heston? Monical Lewis? Awful 1970s disaster film? Sign me up! I joined Amy, Lara and Kristen for this poolside screening at the Hollywood Roosevelt. There was alcohol and a veggie platter. We laughed. A lot. There was a very long-winded intro by Illeana Douglas and Richard Roundtree. My favorite part was when Roundtree spoke about how wonderful it was to work with the great David Niven and how funny he was. My ears perked up. David Niven's in this film? It's going to be brilliant. Well, it turns out that David Niven actually isn't in the film. Rather, it's some guy called Kip Niven who probably isn't even related to David. But you know what? I'm glad Mr Roundtree has memories of working with David Niven, because that's how I'd want it to be too, even if that memory was false. Also, Ava Gardner's performance in this film was the greatest! So camp and fun! She apparently did her own stunts so we were hoping she'd ride away into the sunset on Richard Roundtree's motorcycle. Alas.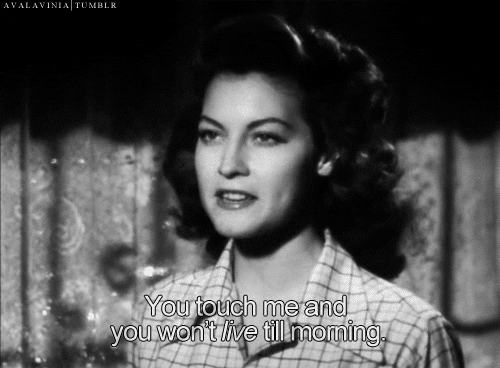 The Special Events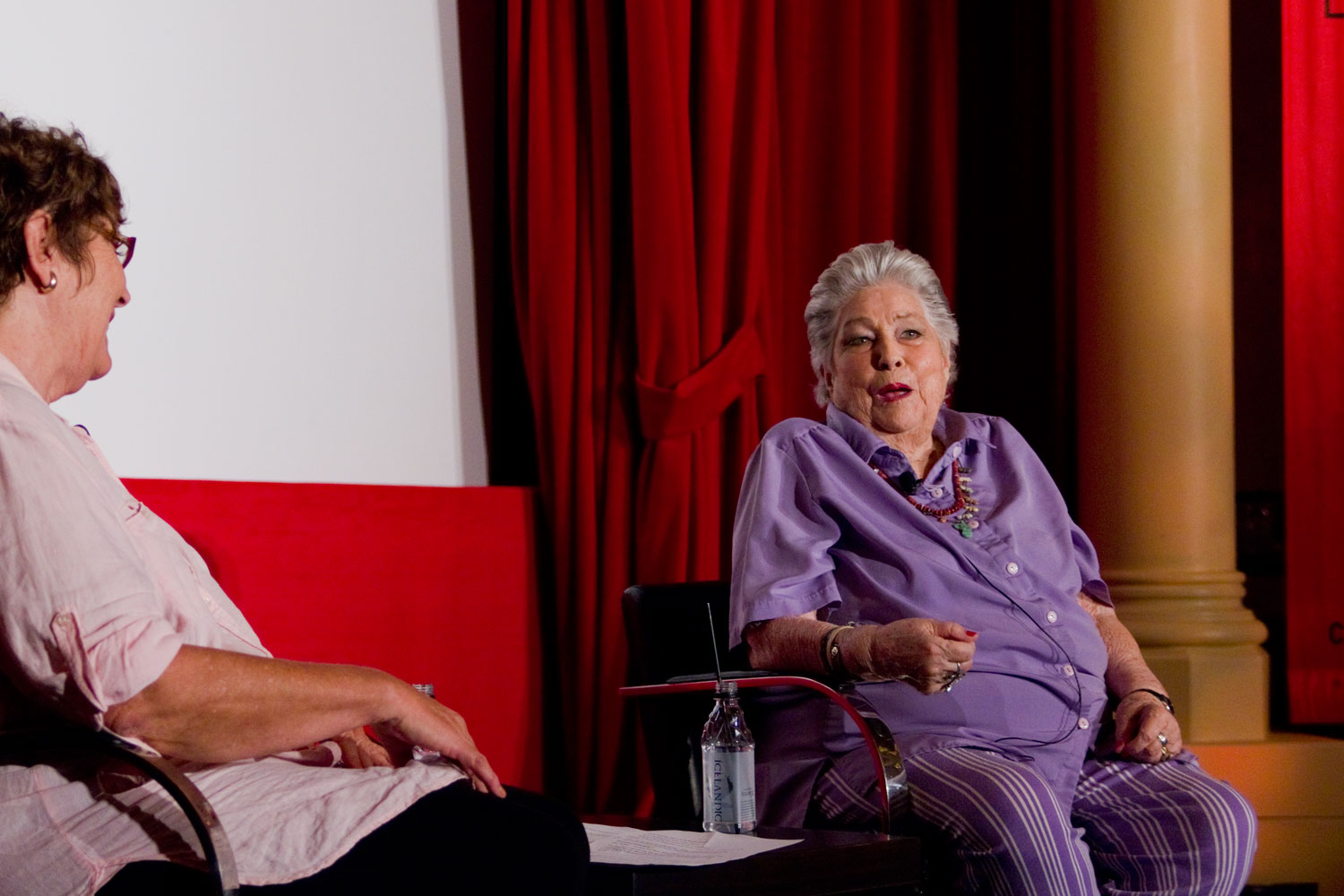 One of the great things about the TCM Film Festival is that there's always something going on. Miss a screening? Head to Club TCM at the Roosevelt for special talks and activities. I attended two of these. The first was a conversation with editor Anne Coates, who I mentioned above as being my favorite celebrity at the festival. I went because I wanted to learn about her association with David Lean, but I walked away having learned a lot more about this fascinating woman.
Coates fell in love with the movies when she saw Wuthering Heights in England and fell in love with Laurence Olivie. She began her career working as a director of religious films in the 1940s for her uncle, one J. Arthur Rank (producer of Laurence Olivier's Hamlet, several Powell and Pressburger films, and many other British classics). It was Rank who suggested she should become an editor and she got to assist on the Powell and Pressburger masterpiece The Red Shoes. It was fascinating to hear her talk about her role in shaping an actor's performance.  If an actor gave a good performance, her work was relatively easy. If it was a terrible performance, she had her work cut out for her, trying to turn something terrible into something worth watching. Much to our disappointment (but much to her credit), she didn't name names. However she did speak of one anonymous actress who had most of her dialogue cut out of the finished film because the delivery was so awful. Everyone praised the final performance, but it was Coates who deserved the accolades.
Coates is in her 80s now and is semi-retired. Throughout her busy career she's edited choice films like To Paris with Love (1956), Becket (1964), Lawrence of Arabia (1962), Murder on the Orient Express (1974), The Elephant Man (1980), Chaplin (1992), In the Line of Fire (1993), Unfaithful (2002). Her most recent film was Fifty Shades of Grey (2014).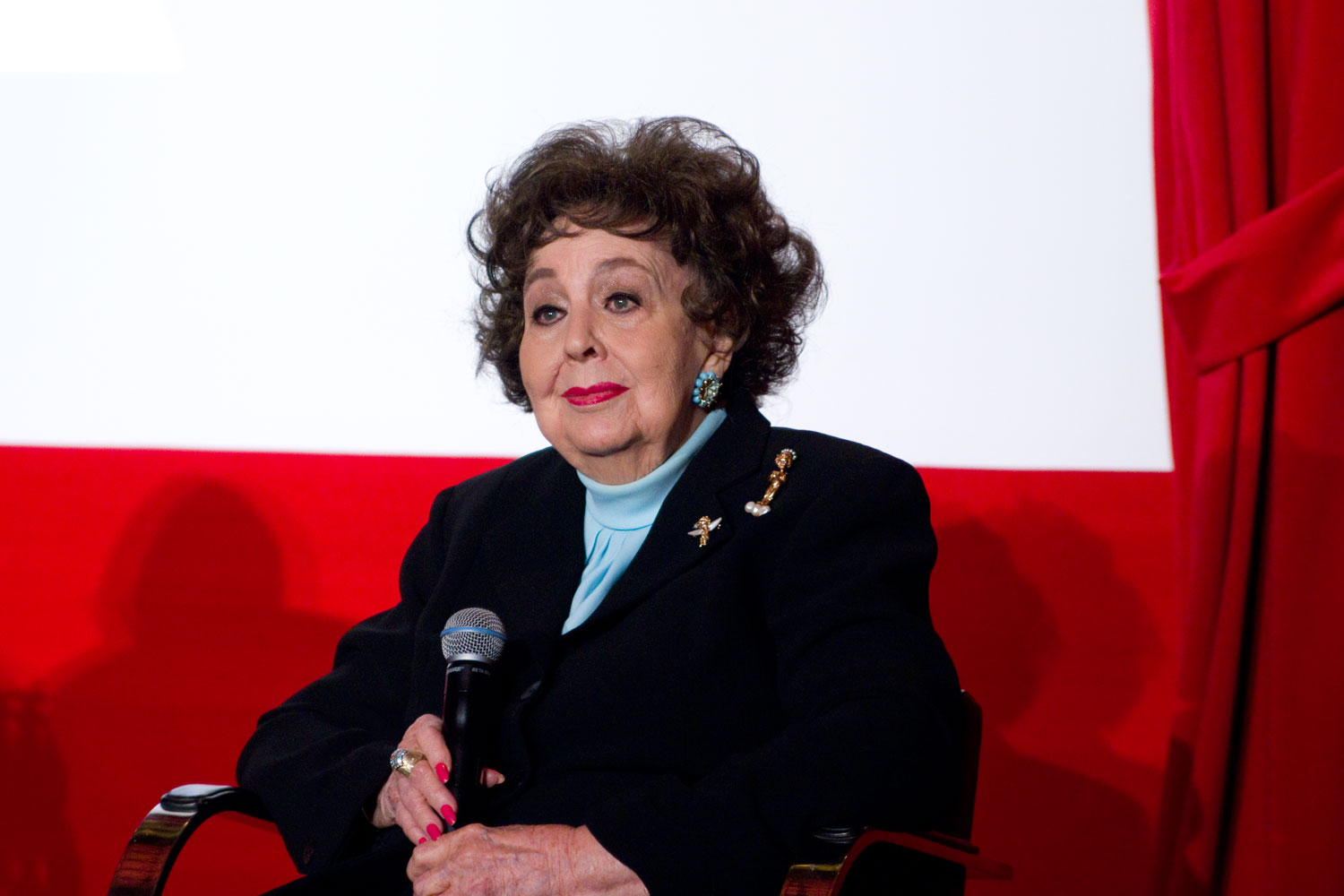 "Good gravy!" Child star Jane Withers talking about her home movies at Club TCM.
The second special event I attended at Club TCM was "Hollywood Home Movies," which is exactly what it sounds like: Jane Withers, Bob Koster and Neile Adams McQueen joined AMPAS' Randy Haberkamp and Lynne Kirste for an afternoon of home videos. It was so much fun and such a treat to see color footage of famous names like Freddie Bartholomew, Elsa Lanchester, Charles Laughton, Jane Withers, Steve McQueen and others going about their normal lives – lives that included pool parties, motorcycle riding, luncheons, tennis matches and other activities. Haberkamp and Kirste also treated us to rare footage of Gary Cooper behind the scenes on one of his lost silent films. Getting an inside perspective into this footage really brought it to life. Now if only AMPAS would release that color footage from Wuthering Heights!
The Friends
The festival itself was enough to write home about but what really took it to the next level for me was meeting so many fellow film bloggers and people I'd been talking to on social media for ages. There was a real sense of camaraderie – of people being interested in each other's work and what they're doing in the classic film community, whether it's reporting for top publications, writing books, archiving, or simply blogging as a hobby. I felt I gained some real friends, people I'd actually hang out with in real life. Everyone, bloggers or not, came together to celebrate a mutual love of movies, and it was beautiful. So cheers to all of you that I met. You're all extraordinary in your own ways. And cheers to TCM for creating this wonderful event where we could geek out to our hearts' content without embarrassment or judgement. I'm moving back to London in the fall, so I might not be able to go again next year, but I'm so grateful for the opportunity to experience the TCM Film Festival in all its glory at least this once.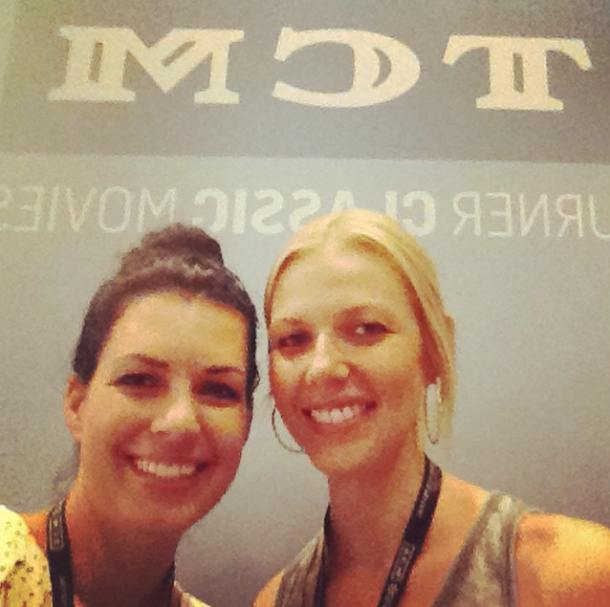 With Amy, who I've known since 6th grade!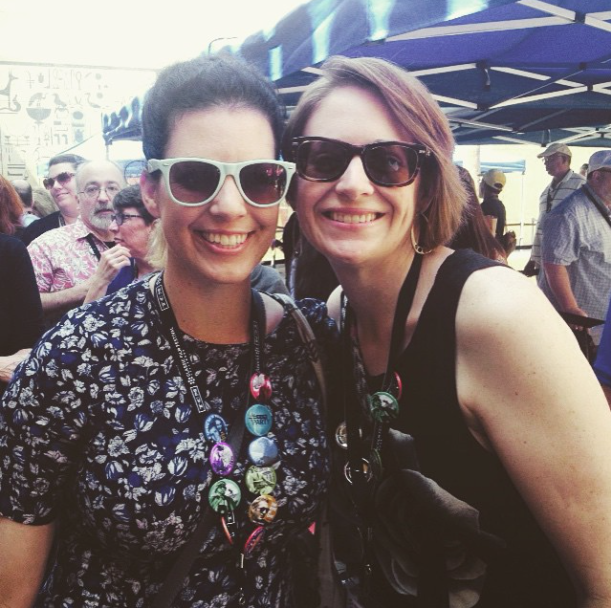 With Jill from The Black Maria!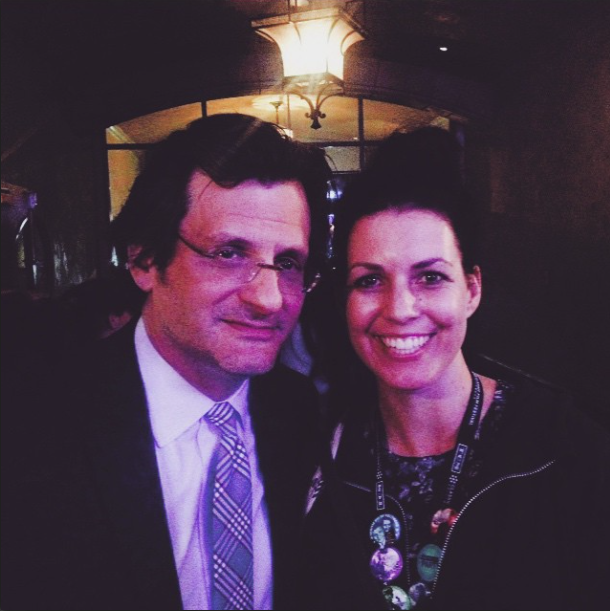 With Ben Mankiewicz!
Finally, I'd like to give a special shoutout to the following people whom I had the pleasure to meet and whose blogs you should definitely seek out: Aurora (Once Upon a Screen), Jill, Carley and Wade (The Black Maria), Diana (Everywhere, basically), Marya (Cinema Fanatic), Kellee (Outspoken and Freckled), Raquel (Out of the Past), Kristen L. (Journeys in Classic Film), Christy (Sue Sue Applegate), Kristen S. (Sales on Film), Kim (I See a Dark Theater), Lara (Backlots), Jessica (Comet Over Hollywood), Angela (Hollywood Revue), Trevor (A Modern Musketeer), Joel (Joel's Classic Film Passion), Iba (I Luv Cinema), Laura (Lauras Misc. Musings), Casey (Noir Girl), Kendahl (A Classic Movie Blog).
All photographs in this post © Kendra Bean
 ♠ ♣ ♠ ♣ ♠