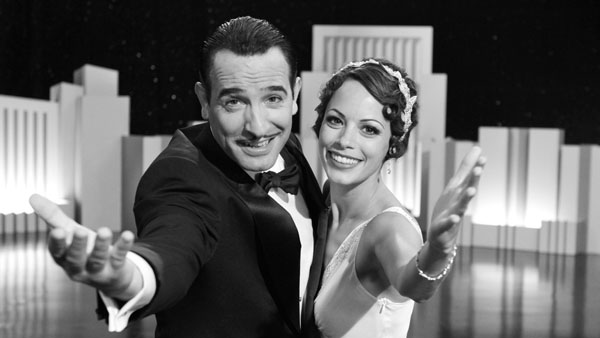 I was going to post this yesterday, but then I got a job, so the first in a series of Film Diary Fridays will be on a Saturday. Hopefully this will be an exception and not a rule. Anyway…
These days, more often than not, I leave the cinema feeling cheated of the majority of the money I paid to watch a film. I don't think I'd be out of place saying there's a lot of grade A shit that somehow manages to get financed and produced in Hollywood. I mean, I am hard-pressed to name one film in the past 10 years that's actually been worth the extortionate ticket prices. That's why I cherish those films that are released once in a blue moon that actually have substance and creativity, and remind me just why I love movies in the first place. I'm happy to report that on Wednesday I experienced one of those once in a blue moon moments when I went to a preview screening of the awards ceremony front-runner and critical darling The Artist.
George Valentin (Jean Dujardin) is the biggest star in Hollywood. Like real-life Douglas Fairbanks, the tiny-mustachioed Valentin swashbuckles and charms his way across the silent screen and  into America's hearts, thereby making him the hottest property at Kinograph Studios. Peppy Miller (Bernice Bejo) is one of Valentin's biggest fans. When she drops her autograph book while the press are taking photos of Valentin after the premier of his latest film, she accidentally lands on the front page of the Hollywood Reporter, launching her quest to become famous. She gets a job as an extra dancing in Valentin's next film A German Affair, and quickly becomes Hollywood's new "It" girl.
While Peppy's star is on the rise, Valentin's is fast on the decline. When talkies are introduced in 1929, he laughs them off as a fad. The Kinograph studio chief (played with robust charisma by John Goodman) gives him an ultimatum: make the switch or he's finished. Like Louise Brooks did in her heyday, Valentin decides he doesn't need to talk on screen. Audiences love him. He spends his last penny directing and starring in what he hopes is his magnum opus, Tears of Love. But the fans don't come and Valentin realizes how quickly a star can be replaced. "Make way for the young." Broke and destitute, Valentin drives himself to the brink of self-destruction, only to be pulled back by the girl he made famous.
The Artist isn't a complicated film or even a very innovative one. Instead it's a heartfelt homage to Hollywood's cinematic history.  My love for classic films, and Hollywood films in particular, may be why I loved this one so much, but I have a feeling I'd have enjoyed it regardless of my cinematic tastes. What stood out for me the most were the performances. Jean Dujardin was note perfect. He's loaded with charisma and mastered the suave but silly facial expressions that were made popular by actors like Fairbanks and John Barrymore. Bernice Bejo was also lovely, and there were great supporting performances by John Goodman and James Cromwell (as Valentin's loyal butler and chauffeur). Last but certainly not least, was the amazing "performance" by Uggie the terrier, a modern day Asta to Valentin and Peppy's Nick and Nora.
This review would not be complete without mentioning the ending, which was the best thing possibly ever. Whoever did the choreography for the dance sequences ought to get an Oscar. These days, when mindless, action packed blockbusters rule the silver screen, it seems ironic that the film to break the monotony should be one that uses a formula that was popular nearly 100 years ago. But The Artist is like a vintage wine, the "older", the better, and it definitely goes down smooth. I hope all of you who get the chance to see it love it as much as I did. It's extremely nostalgic without being sappy and without trying too hard. All of the allure and magic of classic Hollywood cinema has been recreated here, and I was thoroughly enchanted.
Grade: A