Kate from Silents and Talkies and Discovering Dirk Bogarde, and Meredith from Vote For Gracie nominated vivandlarry.com with a Creative Blogger Award!  Thanks, Kate and Meredith.  Yeay!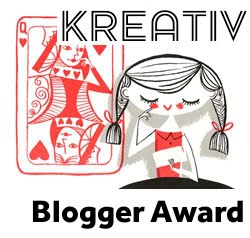 Here are the rules and regulations:
1. Copy the logo and place it on your blog.
2. Link to the person who nominated you for this award.
3. Name 7 things about yourself that people might find interesting.
4. Nominate 7 other bloggers, and post links to the 7 blogs you nominate.
5. Leave a comment on each of the blogs letting them know they have been nominated.
++++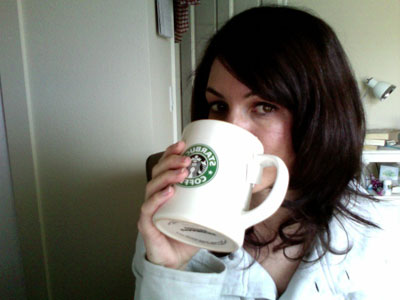 7 things about me that surely no one cares about, but I'll tell you anyway!
1.  I used to play competitive soccer.  When I was 16 I went to Europe with a team of girls from the West Coast and played in the second largest youth tournament in the world: the Coca-Cola Haarlem Cup in the Netherlands.  We got second place!  I was moved up to varsity my freshman year in high school, and was team captain during my senior year, and also got named MVP out of all the area high schools.  I miss the glorious game.  It's also my dream to attend the World Cup.
2.  I'm in love with the Criterion Collection and it's my goal to one day watch all of the films on their roster.
3. Even though I live not far from Hollywood, I always do obnoxious touristy things whenever I go there (like today!).
4. My favorite autobiographies are The Moon's a Balloon by David Niven, Lulu in Hollywood by Louise Brooks, Self Portrait by Gene Tierney, and DV by Diana Vreeland.
5. I find the tragic stars most interesting.  My top three faves are Vivien Leigh (really?), Carole Lombard, and Louise Brooks
6. One of the prettiest places I've ever been is the Pacific Northwest.  Who knew Idaho was so gorgeous?  It is.  Very woodsy and misty.
7. I LOVE California.  No matter where I roam, I think I'll always come back here in the end.  CA has everything–ocean (which I currently live by), mountains (which I grew up near–hey, Sierra Nevada), desert, etc.  Yosemite is my favorite park (haven't been?  Please go, it's beautiful!), and San Francisco is my favorite city here.
++++
I hereby pass this award along to the following people/blogs, all of which I find interesting and entertaining.
Traci at for the love of guava
Tatiana and Marissa at tv rots your mind grapes
Leigh at scarlettohara.org
Almie at apocalypstick
Farran the self-styled siren
Meredith at vote for gracie–yah sorry, I just saw you also nominated me. what goes around comes around! lol
Nicole at vintage film nerd
I had a fun blog post planned about my adventures at the Noel Coward exhibit and subsequent visit to Madame Tussaud's on Hollywood Blvd., but it'll have to wait 'til later!