It's that time of year again: Oscar season. I have to admit I'm not a huge fan of the televised ceremony because it keeps getting worse and worse every year, but I watch it anyway. I can't help it (ad I'll always remember the time I went up to LA to try and get a bleacher seat but ended up standing at the corner of Hollywood and Highland with a bunch of obnoxious and scary people for 11 hours)!   The Academy Awards are good for food, friends, fashion and frustration, in my opinion.
The Oliviers had four Oscars between them, 3 for acting and one for special achievement. For the next three days leading up to the Academy Awards ceremony, I thought it would be fun to go back in time and look at Larry and Vivien's crowning cinematic achievements.
The glamorous days of pre-war Hollywood.  The scene: the Cocoanut Grove at the Ambassador Hotel on Wilshire Blvd. The occasion: The 12th annual Academy Awards celebrating the best in cinema.
1939 is considered by many to be Hollywood's best year in terms of quality output. 10 films were nominated for the Best Picture prize that year (something the Academy reinstated in 2010), and what a selection! Wuthering Heights, Ninotchka, Mr. Smith Goes to Washington, The Wizard of Oz, Stagecoach, Dark Victory, Love Affair, Goodbye, Mr Chips, Of Mice and Men, and the biggest of them all, Gone with the Wind.
The competition in the Best Actor and Actress categories was equally as tough: Clark Gable, Jimmy Stewart, Laurence Olivier, Robert Donat, Bette Davis, Greta Garbo, Irene Dunne, and Greer Garson were all in the running. But as far as the Best Actress was concerned, none of the ladies listed above even came close to garnering as many votes as Vivien Leigh. The Hollywood newcomer was the belle of the ball when she turned up on the arm of producer David O. Selznick, leaving fiancee Laurence Olivier to escort her co-star Olivia DeHavilland (who was up for the Best Supporting Actress award).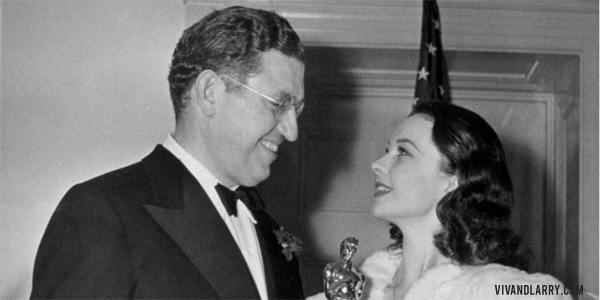 Vivien's choice of Oscar fashion is still referenced today for its elegant simplicity. Bronwyn Cosgrave explains:
Selznick made up for his bad behavior on Wind's set by picking up the tab for the wardrobe custom-made by Irene Gibbons for Leigh and all the women appearing at the series of gala premieres and after parties feting Wind's December 1939 release in Atlanta, New York, and Los Angeles. "Irene" was the couturier who operated the French Salon, the exclusive ladies' dress department at Bullock's Wilshire, the downtown Los Angeles luxury department store. While Irene fitted Leigh with an ermine-tipped, black velvet gown and golden tulle ensemble for Wind premieres, Leigh discovered in the designer's spring 1940 collection what became her Oscar dress.

Irene's show commenced in Bullock's lounge with a whisper: "Doesn't she look smart?" Edna Woolman Chase, Vogue's editor, had just arrived, eliciting the comment of approval from someone among the crowd of about one hundred well-dressed Hollywood wives. Chase's visit to Bullock's also marked a turning point for the Los Angeles fashion scene because it was the first time she traveled to the West Coast to view fashion produced by a Los Angeles designer. Leigh, on her way back to Los Angeles from London to shoot retakes of Wind's opening scene, wasn't there. So aside from silver-haired, sixty-three-year-old Chase, the show's guest of honor was MGM leading lady Greta Garbo. Reclusive Garbo, clad in slacks and a floppy sun hat, rarely ventured beyond MGM's lot. The presentation of Irene's collection was the only L.A. fashion show she attended. By her side was the man with whom the L.A. Examiner's Louella Parsons reported she was swiftly moving "that-away" toward marriage—her nutritional guru, Gaylord Hauser, who later penned the best-selling raw-food diet book Look Younger, Live Longer. Outside Bullock's a pack of reporters waited on the pavement to capture Garbo and Hauser's exit. The pair refused to sit alongside Irene's audience assembled in Bullock's lounge. So just before the dimmer switch flipped the chandelier light low, signaling show-time, French doors were swung back to create a private enclave for the VIPs.

Irene's program described Leigh's Oscar dress, which debuted as look fourteen on a pale blond model, simply as "Red Poppy Evening Gown." Green-stemmed red poppies exploded like fireworks upon the long chiffon gown. Its vibrant floral print carried on a theme Irene had been exploring for a while. She produced sexy gowns drenched with big, bold blooms including a frisky white dance dress dotted with perky black-eyed Susans in which Ginger Rogers boogied alongside Fred Astaire in 1937's Shall We Dance. A year later, at a San Francisco hotel party, Marlene Dietrich caused a sensation in a low-cut, spaghetti-strapped Irene frock of white silk enlivened with purple hydrangeas. "The bigger, the better" was Irene's pattern philosophy.

Within its bodice was a light, inner support necessitating that nothing need be worn beneath it. "[Irene's] soft crêpes and chiffons were meant to be worn without a brassiere—a discreet construction underneath them lifted the breasts delicately," wrote Hollywood costume expert David Chierichetti of the frocks Irene built for maximum comfort because so many of her movie star clients, like Leigh, spent long days on film sets bound in tight-fitting, corset-topped period costumes.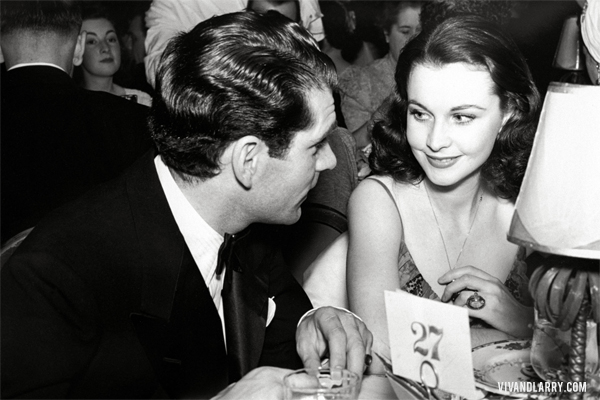 The winners were leaked to the press before the ceremony began so Vivien knew she had won before arrival–giving her ample opportunity to memorize a short speech in which she thanked "that composite figure of courage, generosity, and very great kindness," David Selznick for successfully bringing together all of the elements of Gone with the Wind. The Best Actor favorite was Clark Gable, who was unexpectedly edged out by British actor Robert Donat. The upset caused a fervor, and thereafter, the Academy instated a system for not allowing the winners to be announced before the ceremony.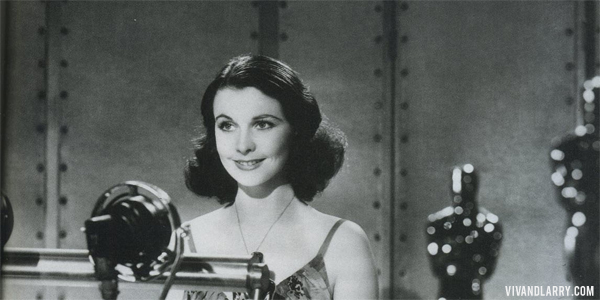 It is customary for the previous year's best Actor winner to present the next year's Best Actress winner and vice versa. Spencer Tracy, who had won the previous year for his performance in Boys Town, was in the hospital being treated for strep throat, but managed to make it to the ceremony to present the award to Vivien.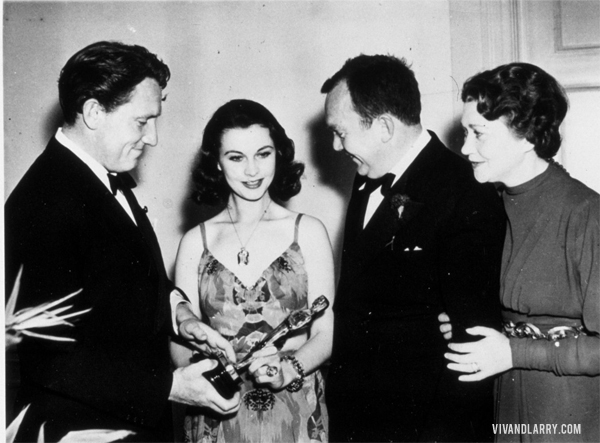 Interesting fact: This was the only Oscars ceremony that Vivien Leigh attended. She was supposed to present the 1940 award to Jimmy Stewart for The Philadelphia Story, but she had already returned to England for the duration of the war by this point. She was also supposed to present the Best Actor award to Gary Cooper for High Noon in 1953 but was unable to do so owing to suffering a nervous breakdown in March of that year.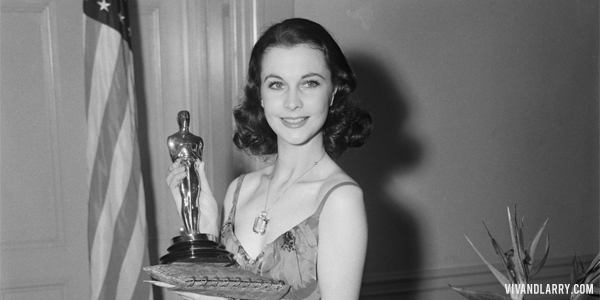 After the ceremony, Vivien was photographed by Peter Stackpole for LIFE putting her statue on the mantle of the home she and Larry were renting in Beverly Hills. She later used it as a bathroom doorstop.