The Academy Awards ceremony in 1949 marked a big step for British films in Hollywood. Two masterpieces from across the pond (Hamlet, directed by Laurence Olivier, and The Red Shoes, directed by Michael Powell and Emeric Pressburger) were up for the Best Picture of 1948. Although the sumptuous and colourful film about a ballerina forced to choose between love and her career was the top-grossing British film of 1948, Laurence Olivier's moody Shakespearean adaptation ran away with the Best Picture award.
While filming Hamlet, Larry received an honorary Academy Award for special achievement with his 1944 film Henry V (which was released in the US in 1946). Ray Milland came to England to present the award to Olivier at Denham Studios.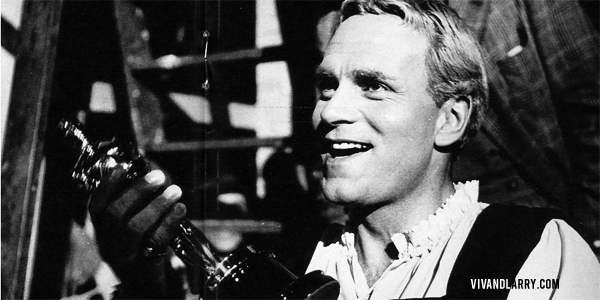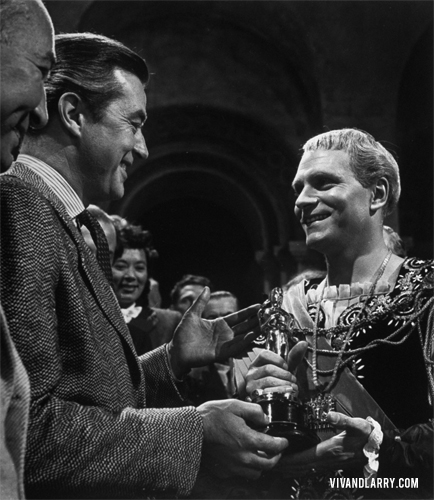 Hamlet garnered Larry with his 4th nomination for Best Actor. He had previously been nominated for Wuthering Heights (1939), Rebecca (1940) and Henry V (1946).  According to filmsite.org, Larry's competition at the 1949 awards was not very stiff and he easily ran away with the award. Hamlet also became the first British film as well as the first and only Shakespearean film adaptation to with the Best Picture Award. Larry was the first director to direct himself to a Best Actor Oscar, a feat only matched in 1998 by Roberto Benigni for Life is Beautiful.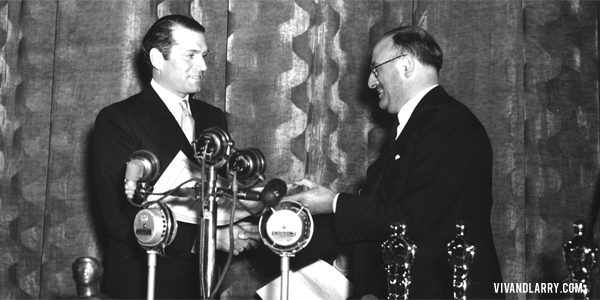 Larry was unable to attend the 1949 ceremony in Hollywood due to a previous engagement in the theatre in London. Friend Douglas Fairbanks, Jr. accepted his awards on Larry's behalf. A special ceremony was held later in London which Larry was able to attend. Ealing Studios chief Michael Balcon handed out the awards.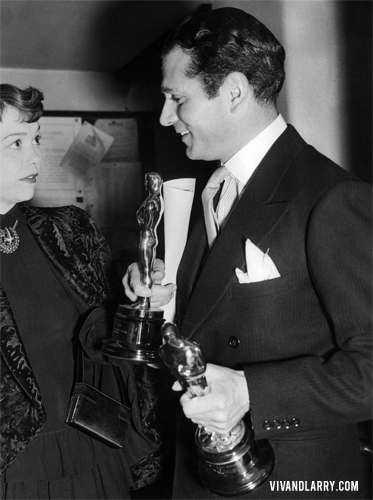 Click the screencap below to watch segments of the 1949 special Academy Awards ceremony in London. People of note in this video (besides Laurence Olivier): Glynis Johns, Jane Wyman, Diana Dors, Carol Reed. Larry's speech starts at 2:44.