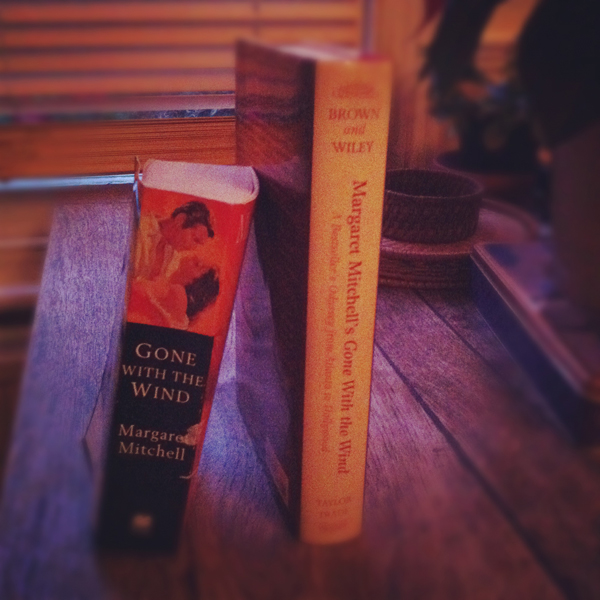 2011 marks the 75th anniversary of the publication of my favorite of all favorite books, Gone with the Wind. Back in August I wrote about the documentary Margaret Mitchell: American Rebel, produced earlier this year for PBS, and just a couple of weeks ago, I reviewed the insightful and wonderfully written biography of the book Margaret Mitchell's Gone with the Wind: A Bestseller's Odyssey from Atlanta to Hollywood. Today, I'm excited to share with you an interview with Ellen F. Brown, the award-winning author of A Bestseller's Odyssey. Ellen was kind enough to answer questions relating to her research and some of the interesting things she and co-author John Wiley, Jr. unearthed relating to Vivien Leigh and Laurence Olivier's experience during the huge uproar surrounding Selznick's blockbuster film.
V&L: How did you become interested in researching and writing A Bestseller's Odyssey?
EFB: I was assigned to write a magazine article about John Wiley, who owns the world's largest collection of GWTW memorabilia. I had never read GWTW and went into the interview skeptically. Although I loved the movie version of Mitchell's story, I guess I thought of the novel as romance. John quickly set me straight, explaining that Mitchell had won the National Book Award and the Pulitzer Prize and that her book had been a critical (not just popular) success. I finally sat down to read it and was blown away. It is one of the finest pieces of writing I have ever had the pleasure to read.
I told John I wanted to read more about the history of Mitchell's novel, especially its success overseas. I was amazed when he told me nobody had ever written a history of the book. There are Mitchell biographies and many books about the movie, but no book about the book. I told him he was crazy if he didn't write one. We eventually decided to write it together.
V&L: Was there any particular bit of information you were most hoping to find while conducting your research?
EFB: Like so many people all over the world, I've always wondered what Mitchell had in mind for Scarlett and Rhett after he said he didn't give a damn. Mitchell always made a point of saying she had no idea, but I just couldn't believe that she didn't have some notion in mind. It was an absolute thrill when John told me that he'd discovered a letter from Mitchell to Kay Brown, David O. Selznick's story editor, in which the author set forth what happened to Scarlett and Rhett down the road.
V&L: What was the most surprising thing you discovered about Margaret Mitchell and/or Gone with the Wind?
EFB: I came away amazed by what an impressive person Margaret Mitchell was. In preparation for writing our book, I had read all of the previous Mitchell biographies. For the most part, they had led me to believe she was a hypochondriac recluse who stumbled into her success. After spending years immersed in Mitchell's personal correspondence, I learned that that image of her was dead wrong. Mitchell had been an incredibly bright, witty, hardworking, strong and talented woman. The public perception of her as anything less arose out of her husband's well-intentioned desire to shield her from the public eye and the limited access previous biographers had to key documents. Was she perfect?  No. But the thing I am most proud of in this book is that we present her in a new and more accurate light. I hope our story will be an inspiration to people, especially writers and women looking to make their mark on the world.
V&L: How did Mitchell feel about the casting of GWTW?
EFB: While Mitchell was careful not to publicly reveal her personal feelings about the movie's casting, she and her husband, John Marsh, expressed some thoughts to family and friends. Before the movie came out, neither was a big fan of Clark Gable in the role of Rhett, but after seeing his work on the big screen, they came away impressed. They also were extremely happy with the performances of Vivien Leigh as Scarlett and Hattie McDaniel as Mammy. Privately, they expressed disappointment in Leslie Howard's performance as Ashley.
V&L: Your book offers a behind-the-scenes look at the movie's premiere. Tell us a little about Leigh and Olivier's experiences during their 1939 visit to Atlanta.
EFB: On the evening of December 13, Margaret Mitchell hosted a small party at her apartment for several of the movie people who had arrived that day. According to a local newspaper, the author served as a gracious hostess to producer David O. Selznick, Vivien Leigh, and Olivia de Havilland. (The paper does not mention whether Olivier attended. Cautious about calling attention to Leigh and Olivier's ongoing affair, Selznick may have wanted to keep the two apart as much as possible.) The get-together was described as a low-key event at which ''the diminutive author . . . sat on the floor and talked animatedly with her guests.'' The account also reported that ''in accordance with the true rules of hospitality,'' Mitchell offered her guests a drink, but they ''refused so much as a Southern Comfort'' because they needed ''no other stimulus than their hostess' conversation.'' The guests stayed until the wee hours of the morning.
Leigh and Mitchell appear to have hit it off. The next day, Leigh sent the author a note saying it had been a joy to meet her and that she hoped they had not kept her up too late. She also thanked Mitchell for a copy of a commemorative edition of Gone With the Wind  that the author had had delivered to Leigh's hotel room.
On the afternoon of Dec. 15, the Atlanta Women's Press Club hosted a cocktail party for local dignitaries and the visiting celebrities. Lois Cole, an editor at Mitchell's publisher, The Macmillan Company, recalled years later her experience of chatting with a lonesome-looking young Brit who told her his girlfriend was an actress. After about 15 minutes of conversation, the dashing man shook Cole's hand and graciously excused her as she was being pulled away by some old friends. The editor later realized, much to her chagrin, that she had abandoned Olivier!
V&L: Did Mitchell really refuse to sign a copy of GWTW for Leigh? 
EFB: Yes. After Gone With the Wind was released, Mitchell was inundated with requests to sign books. People accosted her on the streets—one time even at a funeral—and she received stacks of books in the mail that people wanted her to autograph. The requests became so overwhelming that in late 1936 Mitchell began refusing to sign any more books. She made rare exceptions for close friends and family members, but apparently the movie people did not merit special treatment. She declined to sign a motion picture edition of the book for Selznick and even the commemorative edition she had given Leigh.
But Mitchell was not hard-hearted about it. The author struggled with denying people such a simple favor when they seemed so interested in her work and, in some cases, offered small concessions. For instance, although Mitchell declined to sign Leigh's book, the author sent the actress a small sheet of paper on which she had written a few lines of a poem and her signature. Presumably, the author intended ''Scarlett'' to paste the memento inside her copy of the book.
V&L: What happened to the Oscar Leigh won for GWTW?
EFB: In 1993, Leigh's family put the Oscar up for auction at Sotheby's in New York, where it sold for more than $500,000. It apparently was purchased by a private collector.
V&L: Tell us about the two other GWTW-related visits Leigh made to Atlanta after the 1939 premiere. 
EFB: Hoping to re-create the magic of the original unveiling, Loew's scheduled a ''second premiere'' at the Grand Theatre in Atlanta for December 12, 1940. The distributor promoted the event as a benefit for the Atlanta branch of the British War Relief fund. As an added attraction, Vivien Leigh and Hattie McDaniel were scheduled to reenact the movie's famous corset-lacing scene onstage before the film was shown. The re-creation would feature a replica of the movie set, along with lights, cameras, and other equipment to capture the feel of a Hollywood sound stage. However, the promoters forgot to ask for permission from Mitchell, who retained the dramatic rights to her story. When news of the plans broke in the local papers, Mitchell was tempted to ''sue the hell out of them.'' After numerous letters, telegrams, and phone calls between Atlanta, New York, and Hollywood, the author reluctantly agreed to allow the reenactment but only on the condition that the scene be copyrighted in her name. After weeks of nailing down the details, McDaniel announced she had a scheduling conflict and was unable to attend. The scene was canceled.
Even with the stage scene shelved, organizers remained optimistic the ''re-premiere'' would be a success. They arranged for Leigh to bring with her fellow Brits Laurence Olivier, whom she had married in August, and director Alfred Hitchcock. However, plans went awry when the plane carrying Leigh, Olivier, and Hitchcock encountered bad weather. The trio missed the rescreening but did enjoy a luncheon the following day with Margaret Mitchell, John Marsh, and Atlanta's mayor.
In 1961, the film had another gala opening—its fourth—in Atlanta, this time to commemorate the centennial of the Civil War. Vivien Leigh joined Selznick and Olivia de Havilland for the event, attending a ball and then a showing of the film at Loew's Grand. It would be Leigh's last appearance in Atlanta.
 ++++
Margaret Mitchell's Gone with the Wind: A Bestseller's Odyssey was selected by Publishers Weekly as a top 10 pick for spring 2011 in the field of performing arts, the book reveals fascinating new details about Selznick's film version of Scarlett and Rhett's story. It would also make a great holiday gift for anyone who loves history, literature, cinema and of course, Gone with the Wind. I'd like to thank Ellen F. Brown for taking the time to share these wonderful tidbits with us here at vivandlarry.com, and I'd urge all of you to read this fantastic book!