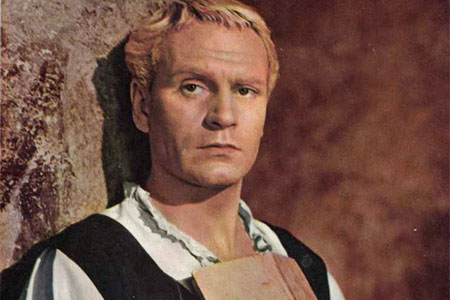 I was sent an email from one of the film professors at King's College London (where I'm currently studying) regarding a upcoming colloquium and National Theatre event (October 30, 2010) to kickstart the recent renewed appreciation for Laurence Olivier's Shakespeare films among film scholars.

The colloquium is called Olivier's Shakespeare: Violence and Memory, and it will feature prominent scholars from all over England talking about the different facets of Olivier's impact on film and British national identity.  The special guest will be Helga Keller, the woman who edited both Henry V and Hamlet.  After the colloquium, the National Theatre Studio will be hosting an event featuring writers, critics, actors and directors who worked with Larry under his directorship of the National Theatre or who have written about his life and work.
Provisional programe
9.30 Registration
10.00 Daniel Rosenthal (author of 100 Shakespeare Films): introduction to Olivier on stage & screen
10.30 Tony Howard (University of Warwick): Outsiders on the Couch: From Richard to Shylock
11.30 Jennifer Barnes (a University of Exeter PhD student, working on Olivier's Shakespeare films): Richard III & post-war national identity
12.30 Lunch
13.30 Judith Buchanan (University of York): War & Memory in Olivier's Henry V
14.30 Luke McKernan (British Library) on Olivier's unmade Macbeth film
15.30 Olivier in wartime London: Helga Keller in conversation with Gordon McMullan
16.30 Launch event for the London Shakespeare Centre; then drinks
18.30-20.30 National Theatre Studio event with writers, directors and critics on Olivier's Shakespeare films and Shakespeare at the National under his directorship.
Click here for further information
To book a spot at the KCL colloquium (£45), email shakespeare@kcl.ac.uk
For tickets to the free public event at the National Theatre Studio, please phone +44(0)20 7020 7452 3000
++++++
I'm really excited about this!  I had no idea that the BFI has just restored Olivier's Shakespeare trilogy, or that there was a renewed interest in this work among academics.  It's as it should be, though, because Laurence Olivier had such a huge impact on theatre, cinema, and culture in Britain during the 1940s and 50s.  Well done, Sir, well done.
If you're in London, I strongly encourage you to attend one or both of these events, and I will definitely see you there.