For months I had been having issues uploading photos to the gallery, and finally figured out that it was an issue of theme compatibility. The lovely theme I'd had up before wasn't working with the latest version of coppermine and wouldn't let me add very many new photos! I'm glad that's fixed and I'm excited to unveil the new photo gallery layout!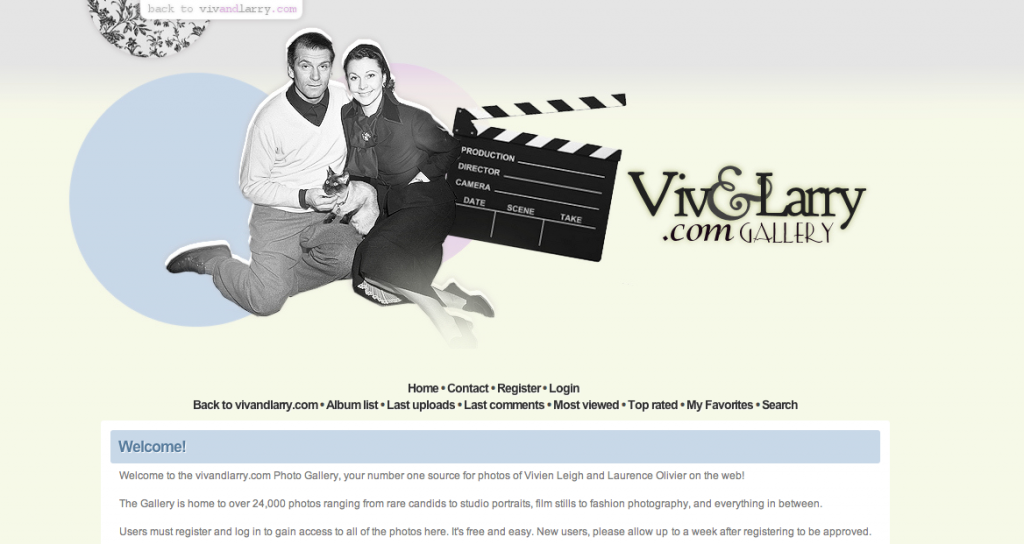 The new layout was designed by Mycah of Purple Haze Inc. and I'm very pleased with it!
To mark the occasion, I've uploaded over 100 screencaps from newsreel footage showing Vivien Leigh and Laurence Olivier at various social functions. These include the Royal Command Film Performances of 1946-1948 and 1952, Vivien Leigh at the Gone with the Wind/Civil War Centennial in 1961, Vivien Leigh at the London premier of My Fair Lady with Rex Harrison and Jack Merivale, Laurence Olivier at the London premier of A Nun's Story with Audrey Hepburn, and the Oliviers at the Old Vic Theatrical Garden Party in Roehampton in 1946.
Some changes that have been made regarding viewing photos:
The entire gallery has been made public, meaning you do not have to register or log in to see thumbnails and small versions of photos.  You DO need to register and log in to see hi-res photos.
When registering, please remember to sign up using a legit username (i.e. something other than iruuit8726, for example). New users have to be approved by me before you can log in for the first time, and any usernames that look as if they might be a spambot will be denied access.
Please do not register with the same username 5 times in a row because it won't automatically let you log in. As mentioned, all new users must be approved by me before you can access the full versions of photos.
I've seen lots of people nabbing photos from the gallery and posting them on sites like tumblr. This is fine, as long as you credit. Please link back to vivandlarry.com so that other people can find the site. It's not hard, and it's polite.
Other than that, enjoy the new updates!