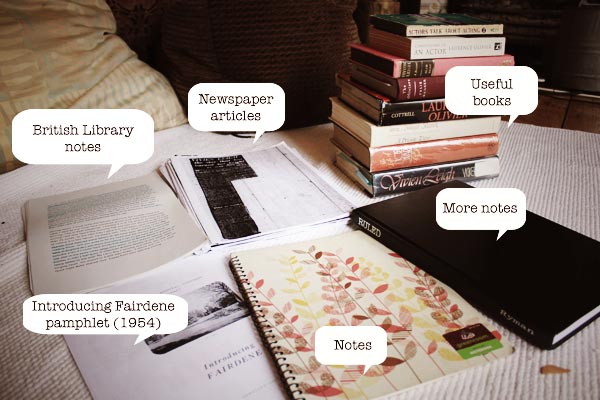 My favorite part of writing is not so much the creation of a narrative as the research that is necessary to piece that narrative together. I love rummaging through the stacks (the basement) in libraries for books that have been collecting dust for God knows how long; physically touching paper that was handled by an historical figure who contributed something meaningful to society; looking at personal photos that have never been published;  reading correspondences between fascinating personalities. It's like history coming to life in my hands and I feel like a proper detective looking for clues to solve some kind of mystery.
I consider myself lucky enough to have been able to scour special collections in Universities and national libraries on both sides of the Atlantic for this particular project. I find archival materials especially significant when researching the life of a person who is no longer alive. (Auto)biographies may tell one version of events, but archival materials are physical evidence — proof — that an event did or didn't happen as it was later reported. From Hollywood to London (I even went to Birmingham!), I've spent hours upon hours over the past three years searching for the answers to the question "Who were Laurence Olivier and Vivien Leigh?" Here are a few things I've learned along the way.
1. You won't find everything in one place  — Considering how much the Oliviers travelled, how many people they met, the level of their celebrity and their penchant for letter writing (especially Vivien), it's no surprise that you can find materials related to them scattered around the globe. I've found that the two most useful archives are located in London and Beverly Hills. It wouldn't be very fun if everything was handed to you in one piece. The search for information has been a mysterious and wonderful journey.
2. Sometimes, the most honest observations about a person's life come from other people — If we know anything about the nature of stardom, it's that famous people play a big role in fueling their own public image. What people say about themselves in autobiographies or in interviews is only one perspective. At times, this perspective matches what we already know about their public image, at other times it doesn't. Sometimes the people around them gave the most interesting observations. In the case of Larry and Vivien, one of these people was Noel Coward, who was often the middle man for their marital problems and a close friend of both of them throughout their lives. A prolific diarist, everyone came under his microscope. Not everything he said was nice, but it was honest. For example, in 1960 he wrote about Vivien being in a manic phase and how awful her behaviour was, and that he was annoyed and sick of the way she treated people during these episodes:
I went to see her 'alone' and found the flat full of people. She arrived from Notley, where she had been insulting the new owners. She was almost inarticulate with drink and spitting vitriol about everyone and everything. The next morning she called me at 8.30 and said she wanted to see me alone, and I refused flatly and said I didn't want to speak to her so long as she continued behaving like that, whereupon she said, 'Oh, God!' and hung up, and that's the end of that. I have a dreadful suspicion that all this disgraceful carry-on is really a vino-veritas condition! She has always been spoilt and when she fails to get her own way she takes to the bottle and goes berserk. Of course I am fond of her and of course I am sorry for her, but however upset she may be about Larry, she should control herself and behave better. It's all her own fault anyhow and I am now abysmally bored with the whole situation. It has been going on for far too long and I'll have no more of it."
These sorts of observations are as useful as those saying how much he loved Vivien because it gives us insight into what she was actually like sometimes and how difficult it was for those close to her to cope with her bipolar disorder (as well as how little understood it really was).
3. There is far too much information to try and squeeze into one book — Yes, there is such a thing as too much information. Although I aspire to learn everything that I can about subjects I'm interested in, I sometimes find it hard to focus on the topic at hand for a paper or what have you. Having looked through everything from personal letters to fan mail to articles to contracts to receipts for cars, I kind of feel like I have information overload. Is it all fascinating? Yes, of course. Is it all actually useful for my project? Probably not. One of the most difficult tasks is weeding through everything to pick out the essential bits, choosing what to incorporate and where. I'm still perfecting my editorial eye.
4. You never really find the answers to everything — This is especially true with rumours (and God knows there are plenty surrounding Larry and Vivien). We just have to face the fact that you can never know absolutely everything about a person or event. But the good news is that by investigating various angles you can find out interesting things about said rumours. For example, my friend/research assistant at UCLA discovered that the rumour about the supposed 10 year affair between Danny Kaye and Laurence Olivier was perpetuated by Donald Spoto to justify his (and Michael Korda's) opinions that Vivien Leigh never actually had a bipolar disorder, despite there admittedly being no actual evidence to support the former but reams of evidence to support the latter. I found this really annoying and terrible reportage. We will likely never know whether this affair actually happened. Sometimes you can dig and dig for answers but never find anything conclusive.
5. I realize I admire the human qualities of these people as much as the  star qualities — We often think of film stars of the golden age as being models of perfection — that the image we see on screen perfectly matched who they were off-screen. But as much as we'd like to believe that rainbows and butterflies appeared every time Vivien Leigh entered a room, it simply wasn't the case. What has been reiterated over and over again through my research is that she and Larry were 100% human. However perfect we'd like to think they were, they just…weren't. They made mistakes and did and said less-than-exemplary things, just like you and I. The courses of their lives were far from smooth and no doubt they had their fair share of regrets. Someone on Facebook recently asked me if my opinions about either of them have changed over the course of my research. My answer is simple: No. I still like them in spite of their flaws because it's often the flaws that make people more interesting.