"It is refreshing to meet a star who is exactly what I hoped she would be." So said photographer George Douglas of Vivien Leigh. Born in 1920, Douglas spent his childhood in Rottingdean, East Sussex before relocating with his American father and British mother first to Dallas, Texas, and then to Santa Monica, California. It was there in California that his passion for photography took flight.
Santa Monica was an ideal locale for an aspiring photographer. With its close proximity to Hollywood, it was a playground for celebrities and potential stars eager to be noticed. Douglas could often be found wandering the sun-soaked beach with the $5 Leica he had purchased from a local pawnshop. "We have images from his early shots on Muscle Beach (including Jane Russell who was sunbathing and posed up for young George) through to his breakthrough picture of Angela Lansbury and her fiancée Peter Shaw which made a whole page in Life and launched his career," says Shan Lancaster of the George Douglas Archive.
Douglas' career took off in the 1940s when he sold his first image to the Los Angeles Times for $30. From there he went to Sun Valley Idaho, where he became the head of photography for the Sun Valley News Bureau. The following year he returned to California where he began contributing photographs of celebrities to Life magazine. His most prolific partnership, however, was with the British news publication Picture Post, where his quick output earned him the nickname "Speedy." (He shot 99 features for the magazine in the 1950s alone).
By 1965, Picture Post had long ceased to exist and Douglas was making a living as a freelancer for British women's magazines and the popular TV Mirror. That summer, while on assignment for Woman, he accompanied Vivien Leigh's good friend, the journalist Godfrey Winn, to Tickerage Mill in Sussex.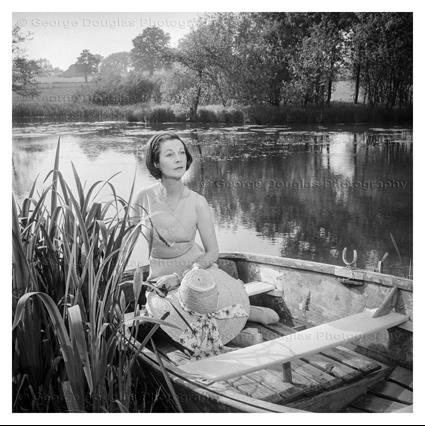 In Winn's eyes, "Tickerage Mill was just as romantic a setting as Notley [Abbey], if on a smaller scale. The lake close to the house provided for her the essential ingredient of water always present, and she assured me that she was comforted by the knowledge that it was there, even when obscured by the mist of autumn, the winter fogs. There was also a miniature wood filled with carpets of anemones and bluebells that she had planted, which burgeoning in the spring might have been created for Titania [the character Vivien played in A Midsummer Night's Dream in 1937].  Like my mother, Vivien had green fingers, and in an enviously short time, the garden, which had been sadly neglected till the arrival of the new owner, took on a blossoming look of someone who knows that she is cherished."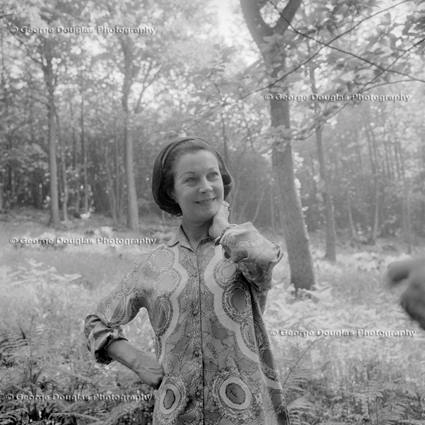 George Douglas "vividly" recalled his visit to Tickerage:
"A long table had been set in the garden for lunch and while we ate Vivien said how she wished she was a writer.

'I mean working on your own, choosing your own subjects,' she said. 'I have read dozens of new plays these last few months and I cannot find one to suit me. An actor or an actress cannot perform without a playwright and a theatre and an audience.

'All you need, Godfrey, is a pad, a pen and a quiet room.'

'Too quiet, sometimes,' Godfrey replied. 'You begin to dread the solitude.'

'Yes, I see what you mean. I'm always at my happiest when working with a company,' Vivien replied. 'It's feeling you are part of a production, of a plan, watching it take shape and form.'

"She then gave an illustration of what she meant. At the farewell party that was given at the end of the shooting of The Roman Spring of Mrs. Stone, when she came on the set for the last time, the tough camera crew spontaneously cheered her for being such a good trouper: always punctual on the set, always polite, never changing her tone for important people or small ones."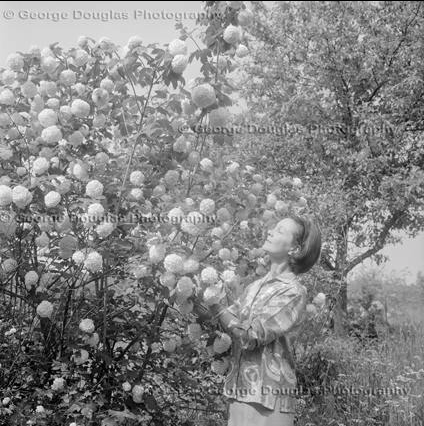 In his years as a pro photographer, Douglas had earned a reputation for being a gentleman. And he was well versed in photographing celebrities, including Audrey Hepburn, Peter Sellers, and The Beatles. These qualities were surely appreciated by Vivien, who valued professionalism and privacy. Since purchasing the Mill in 1961 she had allowed a select few photographers into her private country sphere, among them Surrey-based photographer Thomas Wilkie. But it is Douglas whose photographs are the most recognizable to Vivien's fans today, partially owing to one of them being used on the dust jacket for Alan Dent's nostalgic 1969 tribute, Vivien Leigh: A Bouquet.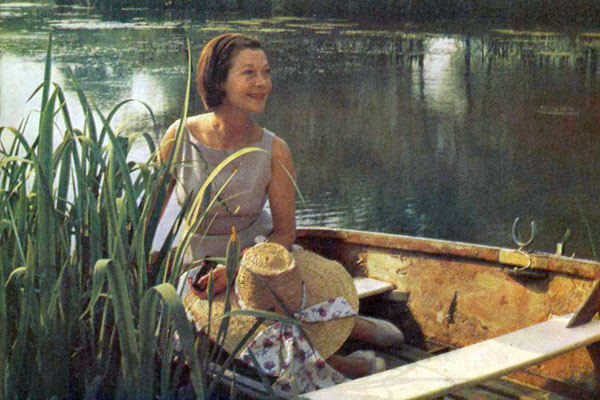 There is a sense of peaceful sadness about the color photographs of Vivien, clad in a lavender sundress with straw hat in hand, sitting in a small row boat on the pond in front of her house. Douglas was able to capture perfectly what Vivien told Godfrey Winn about the significance of Tickerage at that particular time in her life: "This is a breathing space for me, while I refill the reservoir."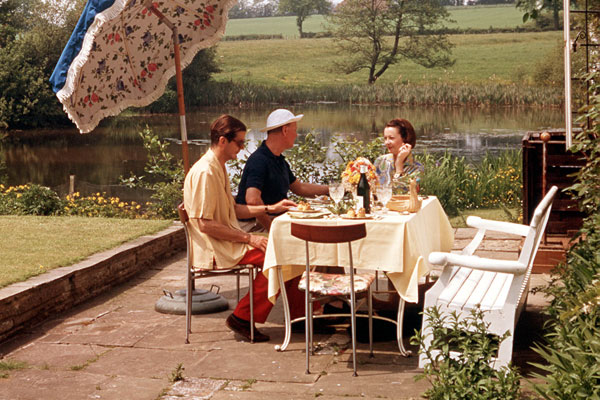 It is unclear exactly what Douglas hoped Vivien would be (a non-pretentious celebrity, perhaps?), but her parting words to his traveling companion left a great impression on him:
"At this time I was not to know that in two years time Vivien Leigh would be dead, but I always remember her last remark," Douglas recalled. "She was talking to Godfrey and she said, 'You remember the day we first met? It was a heavenly one, like this.

'We were both guests at Jeanne de Casalis' house for the air rally at Lympne, and Noel Coward gave a marvellous party that evening. It was all such fun and we were both so young, and I trusted everyone and I imagined, like the very young always do, that everything lasts for ever.

'I mean that a day like this will be followed by another, and another and another.

'And now I know differently. I know that one has to face periods of despondency and that one must not always trust everyone or else one can be very hurt. At the same time, I have learned through life who really are my friends, and that is so very comforting.'"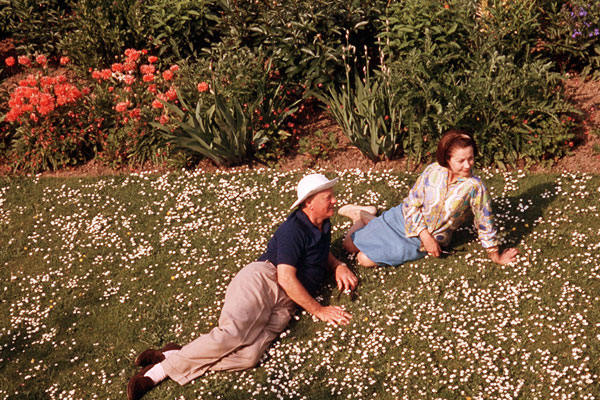 When his mother fell ill in Santa Monica, Douglas, tired of "chasing deadlines," retired from professional photography. To make ends meet, he opened an antiques store in southern California and sold goods imported from the UK. In 1985 he was living with his wife, Jill, in Brighton, when Shan Lancaster and her husband, Roger Bamber, moved in across the street. The two couples became friends, but Douglas never went into detail about his former career.
"He talked about photography to Roger my husband but never showed much of his work to him," Shan says. "We used to take care of his house in the winter when he was away in California."
Shan and Jill became especially close. "When George died suddenly in 2010 we spent a lot of time with her, she was so lonely, they had no children and were devoted. She came to us every Sunday at lunchtime, and I'd call on her every day. When she died two years later she left us the house and all the photo archive and only then did we realise quite what he had done in his life. The saddest thing was a manuscript, immaculately typed, which began 'My friend Roger Bamber keeps telling me I should write my life story so here goes…' and it goes on for 57,000 words but he never showed us a single page of it."
Earlier this year, Shan and Roger curated an exhibition at Douglas' former home, which garnered national media attention. Because the George Douglas Archive is currently in its fledgling stage, the possibilities for making Douglas' work known to a wider audience are many. "We are working on exploring the archive (tons more negatives to sort through) and hoping to find future venues for exhibitions of his work," says Shan. "His pictures made an enormous impact at the Brighton Festival in May this year. People were moved, delighted, amazed, amused by them. It's going to be interesting!"
All photos in this post © Roger Bamber, the George Douglas Archive
 ♠ ♣ ♠ ♣ ♠