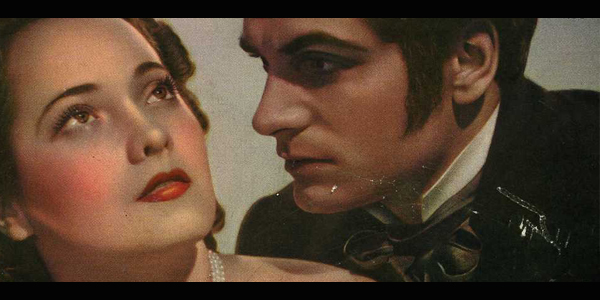 When I originally signed on to participate in the CMBA Films of 1939 Blogathon, I was really hoping I'd get a chance to write about William Wyler's adaptation of Wuthering Heights. But it turned out someone else had already chosen to write about this film. Therefore, I decided to wait until after the blogathon finished to get my two cents in about what is not only one of my favorite films of 1939, but what might just be my favorite film, period.
Let me give you a little back story. I read Emily Bronte's Wuthering Heights for my AP English class during my senior year in high school and admittedly hated it. This was followed by  screening of the 1992 film version starring Juliette Binoche and Ralph Fiennes, and I hated that, too. Then one day a couple of years down the road, I caught the 1939 version on TCM and the rest, as they say, is history.
As an adaptation of one of the most famous novels in English history, some may have qualms about this film version. It leaves out about half of Bronte's story, instead choosing to focus on the relationship between Cathy Earnshaw and Heathcliff. There is no second generation, there is no borderline necrophilia and the gothic factor is toned down. Yet, as a film–particularly a Hollywood studio film—I find this version to be absolutely beautiful. Gregg Toland, who would become famous for his use of deep focus photography in Citizen Kane, did the cinematography here and photographed the "Yorkshire moors" in all of their moody splendor. Alfred Newman's score, particularly Cathy's Theme, is one of my favorites from any film.
Like The Wizard of Oz, Wuthering Heights is notable for the performances, specifically Laurence Olivier's. Melodrama, particularly costume films, is usually a genre where the female lead gets to shine. One might say this is true for Merle Oberon, as the film was planned as a star-making vehicle for her. However, it turned out to be much more of a star-making film for Olivier who takes the cake as Heathcliff. Personally, I think Merle is okay in this film, and perhaps other actresses could have done better, but Laurence Olivier is the best Heathcliff out of any film version I've seen.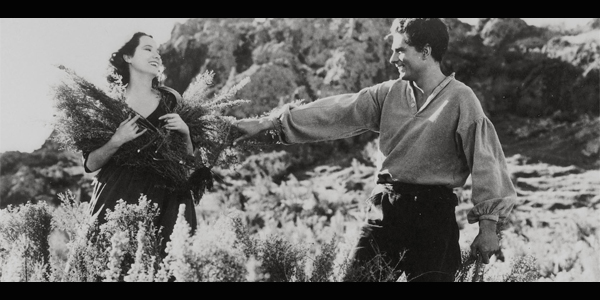 Heathcliff was not a part that Olivier was eager to accept. In 1938, he was vacationing in France with Vivien Leigh when a letter came through from William Wyler asking him to consider returning to Hollywood. Olivier's misgivings were twofold. He did not want to be separated from Vivien for such a long period of time, and he had a strong dislike for filmmaking in general and Hollywood specifically. His first stint in Hollywood had proved a failure. In 1931, he and his first wife Jill Esmond had gone to Hollywood under contract to RKO. Olivier had been molded and marketed as the next Ronald Colman, but he only made three films before being sacked by Greta Garbo from Queen Christina and replaced by John Gilbert. Olivier and Esmond returned to England where he immediately set out to conquer the classical stage, occasionally acting in British films to supplement his income. When Wyler offered him the role in Wuthering Heights, he said he would only do it if Vivien Leigh was given the role of Cathy. Unfortunately for them, it had already been promised to Merle Oberon and Vivien was offered the consolation role of Isabella Linton. In response, Vivien is supposed to have famously told Wyler that she'd play Cathy or she'd play nothing.
It is not 100% clear what finally motivated Olivier to accept the role, but when he arrived in Hollywood in November 1938, he was miserable. The separation from Vivien was straining and it showed in his mood. Wyler advised he keep his personal life separate from his work. Olivier later confessed in his book On Acting, "He was right. I was madly in love with Vivien and could think of little else." Aside from personal angst, Olivier found working on the film challenging. He clashed with Merle Oberon, perhasp because he was bitter that Vivien did not get the part. He also went head to head with Wyler who he forever thought horrible to work with, although he greatly respected the director. Wyler was determined to bully a natural performance out of his leading actor, and Olivier (who also later described himself as a "pompous twat" on the set of Wuthering Heights) had to be taken down a few notches before he gave in and began to appreciate that acting for the screen was a different game altogether.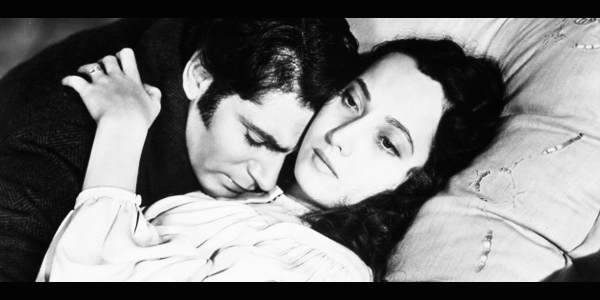 For Olivier, the difference between acting on film and acting on stage was fundamental. Film was the director's medium whereas theatre was the true actor's medium. In a famous 1969 interview with Michael Parkinson, he explained this difference: "I'd say [acting for film] was more a science than an art. If you are acting on a film, the camera comes in and gets you and the sound man comes in and gets you, and that is projected onto the screen. If you are acting on the stage, you're projecting it onto the audience."
Wyler's tough love stance eventually won Olivier over, so much so that Olivier willingly signed up to work with him again on the 1952 film Carrie (which is definitely one of Larry's best and most under-rated performances. Well worth a view if you haven't see it already). The mutual respect between actor and director eventually paid off. Olivier gives, in my opinion, one of the best performances of his career in Wuthering Heights. There is a great intensity and sensuality about him, particularly in his eyes. Many people who saw him perform on stage talk about his palpable intensity, and I think it comes through in this film. He is truly electrifying. I think if he and Vivien had starred together in this film, the screen probably would have exploded. Although he lost to Robert Donat in Goodbye Mr. Chips, Olivier earned the first of many Oscar nominations for his performance. The film also won the New York Film Critics Circle award for Best Film of 1939, beating out even Gone with the Wind.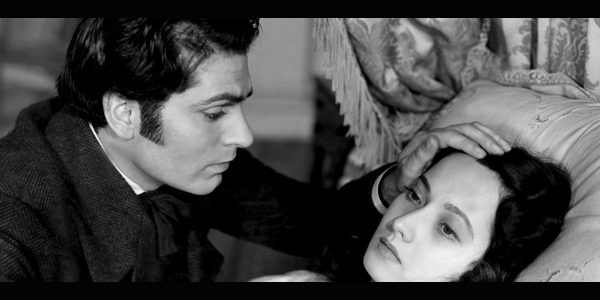 I mentioned in my Wizard of Oz post that I had the opportunity to see it on the big screen in beverly Hills at the AMPAS tribute to the films of 1939. I also had the chance to see Wuthering Heights during the same tribute, and it was probably the best film screening ever. Unfortunately, this is not a film that gets revived…ever. Hell, it's not even on DVD in the US. What is wrong with this picture, seriously? So having the chance to see it as it was originally shown was really special for me. Samuel Goldwyn Jr. was on hand to introduce the film. He talked a bit about the production and how, out of all the films his father produced, this one always made the famous mogul most proud. We also got a very special treat when the programmers screened some home video footage from William Wyler's collection which showed Olivier and Merle Oberon filming the Penistone Crag scenes. The best part? It was in color! And it was glorious!
Wuthering Heights is a film that I have seen many times and never get sick of watching it. This is the film that made me love Laurence Olivier. It was as if a lightbulb went on as soon as I saw him on screen and I haven't looked back since. Well done, Larry, well done.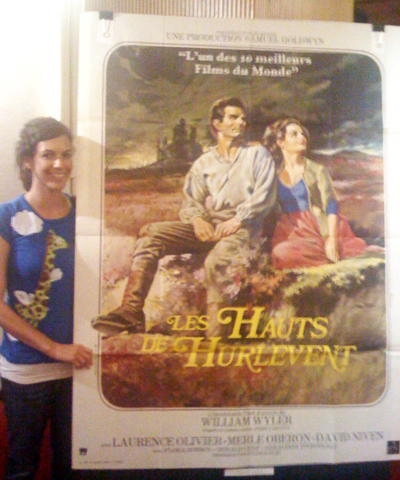 Hello!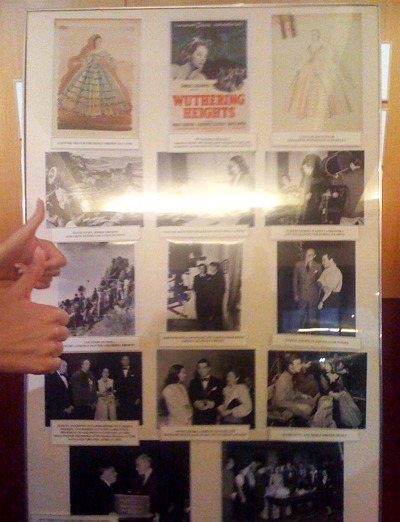 Publicity and Academy Awards photos. Samuel Goldwyn Theatre, 2009