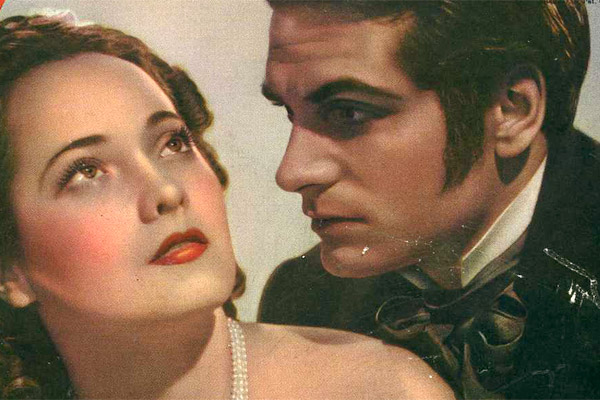 The announcement last week that Warner Brothers had acquired the Samuel Goldwyn film library gives us classic film fans good reason to cheer. Goldwyn, whose name made up one third of the famous Metro-Goldwyn-Mayer conglomerate before he decided to fly solo with The Samuel Goldwyn Company, produced some of the most revered films of Hollywood's golden era: The Best Years of Our Lives, The Pride of the Yankees, Guys and Dolls, and a title pertinent to readers of vivandlarry.com, Wuthering Heights.
Warner Brothers has a stellar reputation for bringing classic films to home audiences. Some films are lucky enough to get several clean-ups and re-releases. Once getting the green light for a DVD/blu-ray release, there are two avenues a classic title can travel down before hitting the shelves in an entertainment store near you. The first is the full shebang; a special edition, sometimes multi-disc DVD that is beautifully restored and packed with extras. This is the treatment that has been bestowed on major titles such as Gone with the Wind, Casablanca and Singin' in the Rain. The other avenue is through the Warner Archive, which releases lesser-known titles but seldom includes any special features.
When I first heard about the Goldwyn acquisition, the title that immediately sprang to mind was William Wyler's 1939 gem Wuthering Heights. Starring Laurence Olivier, Merle Oberon and David Niven, this heartbreakingly beautiful film has been mentioned as one of those at the top of Warner Bros.' to-be-released-on-DVD list. Here are three reasons why Wuthering Heights deserves the same restoration and special edition treatment given to Gone with the Wind and the other major titles listed above.
1. It was the apple of Goldwyn's eye
In 2009, I was lucky enough to see Wuthering Heights on the big screen in Beverly Hills during the Academy of Motion Pictures Arts and Sciences' ode to 1939. During this event, AMPAS screened all 10 of the best picture nominees of 1939 in homage to Hollywood's most glittering year. Most of the screenings included a guest speaker that regaled the audience with tales from the set and the historical significance of the film in question. For the Wuthering Heights screening, that special guest was Sam Goldwyn Jr., the very same person who has teamed up with Warner Bros. to negotiate this deal. Goldwyn told us that of all the films he produced during his long career as an independent mogul, Wuthering Heights was the one his father was most proud of. And for good reason…
2. It's no ordinary film
Don't let the fact that you currently have to import Wuthering Heights from South Korea if you want to own a DVD copy fool you into thinking this film isn't important. Because it is. Wuthering Heights may not be the epic Technicolor spectacle that was Gone with the Wind or The Wizard of Oz, but it was highly acclaimed by critics and audiences. It was nominated for eight Academy Awards, including Best Actor (Laurence Olivier), Best Original Score (Alfred Newman) and Best Picture. Gregg Toland, best known for his use of deep focus in Citizen Kane in 1941, snagged the Best Black and White Cinematography statue. It also beat out Gone with the Wind to receive the Best Picture of 1939 accolade from the New York Film Critics Circle.
And what of the film's stars? Catherine Earnshaw was arguably the defining role of Merle Oberon's career, and playing Heathcliff turned Laurence Olivier into the (talented) R-Patz of his day. When he went to New York after completing the film to star in No Time for Comedy on Broadway, he was literally mobbed by women who tore at his clothes. Vivien Leigh probably wasn't too happy about that last bit. But aside from becoming the Idol of the Moment, Olivier learned to appreciate screen acting while working on this film. We can thank William Wyler for all of Olivier's subsequent achievements in front of and behind the camera. The director had to bully a natural performance out of the reluctant and arrogant thespian, but the results are amazing. Many actors have since stepped into the role in various film and TV adaptations, but Olivier, with his dark, brooding vulnerability, remains the quintessential Heathcliff.
3. The vaults have secrets…
Before the 35mm reel started rolling that spring evening in 2009, we were treated to another surprise: colour home video footage taken on the set by Wyler himself. This footage, it was explained, is a small part of what is housed in the Wyler collection at AMPAS. That means there's probably plenty more where that came from. AMPAS is one of the best institutions in the world for cataloguing cinematic artifacts–not just the films themselves, but the material generated around them–and they know the importance of preserving Hollywood film history. The amazing thing about LA is that all of these film institutions are located in the same general vicinity, so the people of Warner Bros. need not travel very far to find a chest of treasures to include on a DVD/blu-ray of Wuthering Heights.
The other day, I was talking with my good friend Mark in Hollywood via skype. We were discussing how, in the case of cinema (and history in general), absence does not make the heart grow fonder. It just makes things fade from memory. The subject of our discussion was Vivien Leigh, and how, despite a lot of new material becoming available in the 25 years since Hugo Vickers published his well-respected biography about the actress, her estate has been very reluctant to assist anyone wanting to lend a fresh perspective to Vivien's story. Time has a habit of eroding and eventually erasing memory. If the discussion about Vivien Leigh isn't kept up through various forms (respectful books, documentaries, etc.), she'll be forgotten. Or, perhaps worse yet, the door will be left wide open for those who are out to make money through rumour and hearsay, until no one knows who Vivien really was or what she actually contributed to the history of cinema. Wuthering Heights is a lot like Vivien Leigh. It's a genuine classic that's been collecting dust in a studio vault for years. But Warner Bros. has a chance to bring it back into the spotlight for fans to really enjoy. Let's hope they make the most of the opportunity.