Sunday morning had an early wake-up call. Our first adventure was a walking tour of London. We met at the ungodly early hour of  9 am at the Laurence Olivier statue in front of the National Theatre and at 9:30 set off to see some of the places where Vivien Leigh and Laurence Olivier worked and lived. Our route took us across Waterloo Bridge (sorry, guys, not seen in the 1940 film) to Aldwych, down to the Strand, up to Covent Garden, over to Soho and Piccadilly, down through St James' Park to Westminster, over to Belgravia and finally to Chelsea. The list of sites:
Aldwych Theatre

— where Laurence Olivier directed Vivien Leigh in A Streetcar Named Desire, 1949

The Savoy Hotel

— where Vivien Leigh and Laurence Olivier formally met in 1935 while having dinner in the famous Grill Room

St. Paul's The Actor's Church, Covent Garden

— The plaque dedicated to Vivien Leigh, which was given by John Mills after Vivien died, is special because it is, in a sense, the only sort-of grave marker that she has.

St. Martin-in-the-Fields, Trafalgar Square

— The beautiful church where Vivien Leigh's public memorial service was held

The Noel Coward Theatre

— Formerly the New Theatre in St. Martin's Lane. This is where the Old Vic company performed during and after the war while waiting for bomb damage at the Old Vic to be repaired. The stage at the New Theatre is where Laurence Olivier officially became a theatrical superstar during the 1944-1945 season.

The Ivy

— This famous, exclusive restaurant near Covent Garden was frequented by London's smart set, including Vivien Leigh who could often be spotted dining alongside Noel Coward and other theatrical luminaries.

Ambassadors Theatre

— Just next door to the Ivy, Vivien Leigh became an overnight star when The Mask of Virtue opened here in 1935.

The Phoenix Theatre

— This Soho theatre is ticked away in a not-so-nice alley, but it is noteworthy because this is where Vivien Leigh performed in The Skin of Our Teeth in 1945 before falling ill with tuberculosis. When the play was revived in 1946, it was performed at the Piccadilly Theatre.

The Apollo Theatre

— This Shaftesbury Avenue theatre is where Vivien Leigh performed in Duel of Angels during the London run of the play.

The Lyric Theatre

— Vivien Leigh performed here in Noel Coward's South Sea Bubble in 1956.

Theatre Royal, Haymarket

— When The Doctor's Dilemma came to London in 1943, it opened at this theatre and ran for over a year because audiences were thrilled to be able to see Scarlett O'Hara in the flesh.

St. James House

– The former site of the St James' Theatre. It was demolished and rebuilt as a modern office building, but the alley between the office and the pub next door boasts a relief of the Oliviers in the Two Cleopatras as well as a plaque commemorating the protest to save the theatre that was led by Vivien Leigh in 1958.

Westminster Abbey

— The final resting place of Sir Laurence Olivier, O.M.

54 Eaton Square

— This flat (flat D) in one of the most expensive neighborhoods in London, was purchased by the Oliviers in 1958. After their divorce, as part of the settlement, Larry continued to pay rent on the flat so that Vivien and Jack Merivale could continue to live in London in style. Vivien Leigh died here in July 1967. Today, Academy Award-winning actress Louise Rainer occupies No. 54 and the bench Gertrude Hartley dedicated to Vivien upon her death still sits in the garden. You can see more photos of Eaton Square here.

The Royal Court Theatre

— This off-the-beaten-path theatre in Chelse'a Sloane Square was the birthplace of kitchen sink dramas in the late 50s and 60s, starting with John Osborne's Look Back in Anger. Laurence Olivier performed here in The Entertainer in 1958. Vivien Leigh also performed here in a different sort of play in 1959, Noel Coward's Look After Lulu.

Durham Cottage

— Laurence Olivier's and Vivien Leigh's love nest is situated on a quiet street just off the King's Road in Chelsea. It was purchased in 1937 and served at their London base before relocating to Belgravia in 1957.
For a full photo tour of London's Theatreland, click here.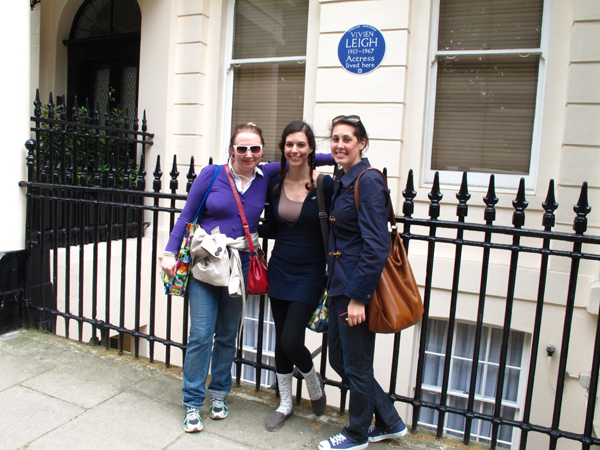 Jenni, me and Marissa outside 54 Eaton Square, Vivien Leigh's flat in London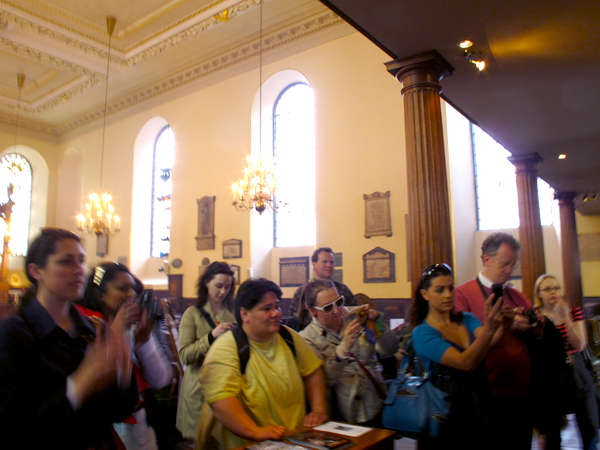 Taking photos of the plaque dedicated to Vivien Leigh by John Mills. The Actor's Church, Covent Garden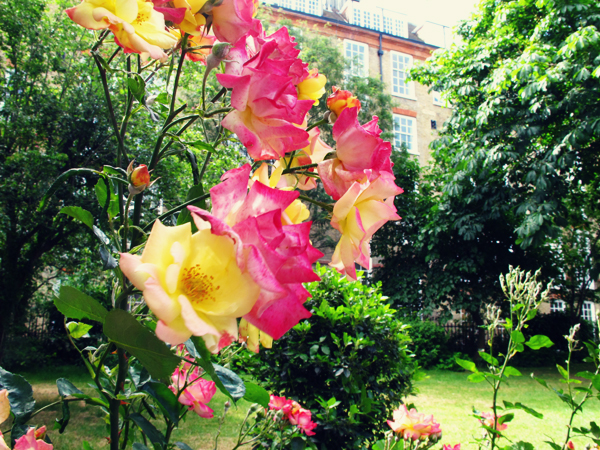 Roses in Covent Garden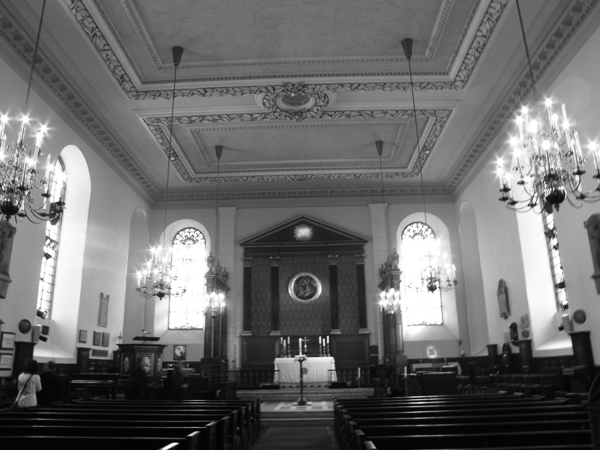 Inside The Actor's Church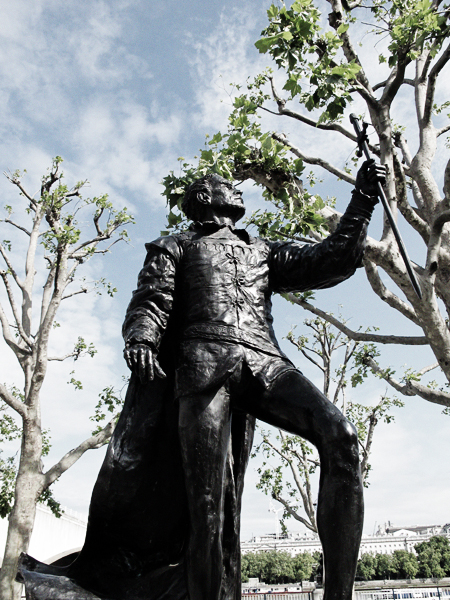 Laurence Olivier's statue on the South Bank (it doesn't look like him)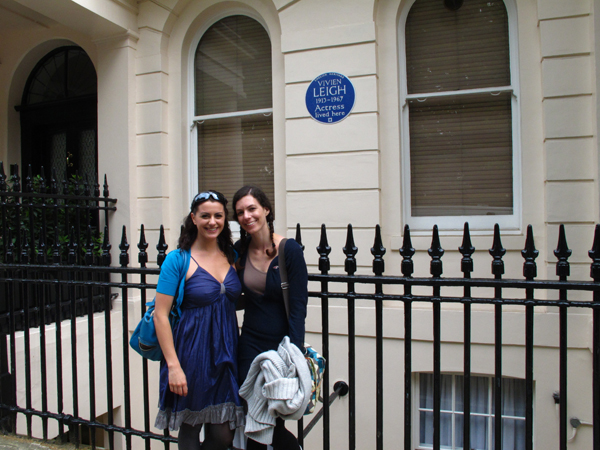 Sammi and I outside 54 Eaton Square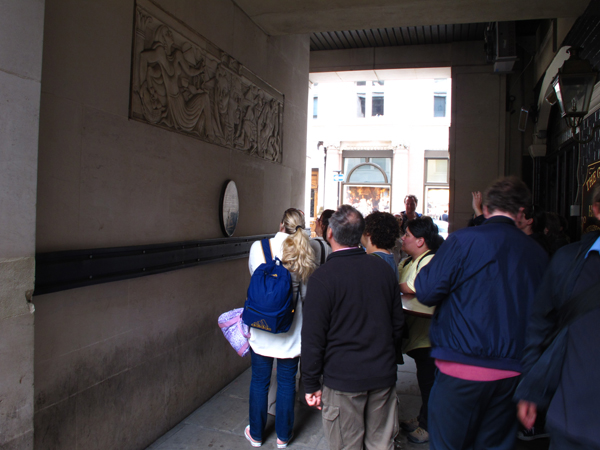 The relief and plaque commemorating Vivien Leigh and Laurence Olivier at St James' House, the former site of the St James' Theatre. King Street, Piccadilly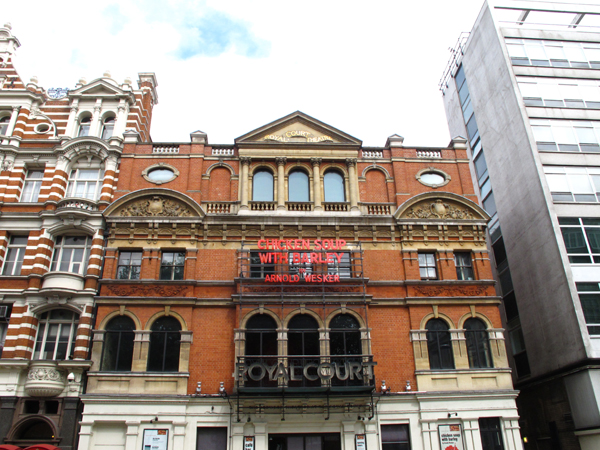 The Royal Court, Sloane Square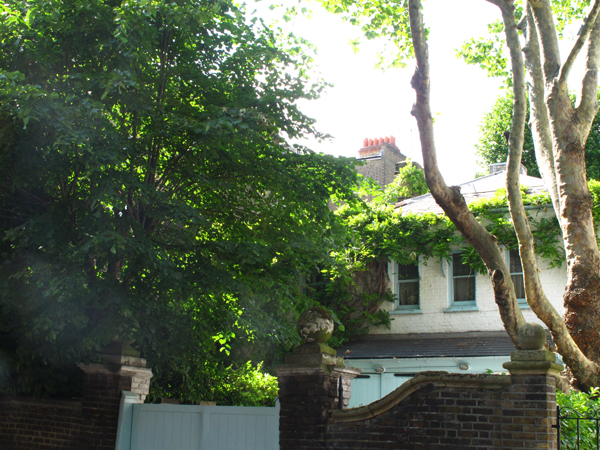 Durham Cottage, Chelsea
I was so impressed with our group! It was a long hike–I guestimated about 5-ish miles–but no one wandered off or complained out loud. Everyone was such a trooper! At each stop I explained a little bit of the history of the theatre or building as related to the Oliviers.
Following the tour, we hopped on the tube to South Kensington to spend a little time in the Victoria and Albert Museum Theatre Exhibit. I wanted people to get to see Vivien Leigh's red Dior dress from Duel of Angels and Larry's Oedipus costume made from utility materials because of rationing.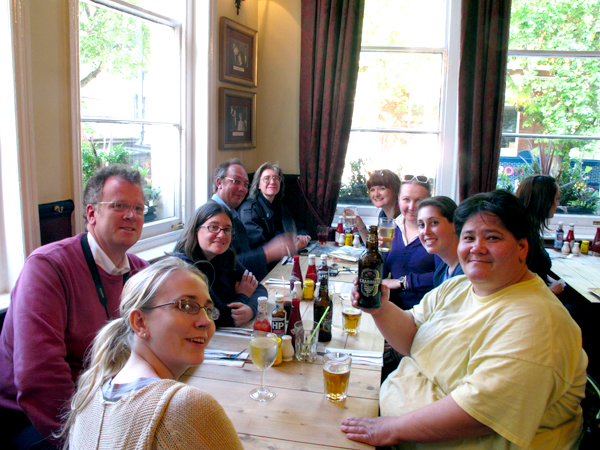 Clockwise from the bottom: Louise, Julian, Lara, Andrew, Sharon, Zoe, Jenni, Marissa, Christina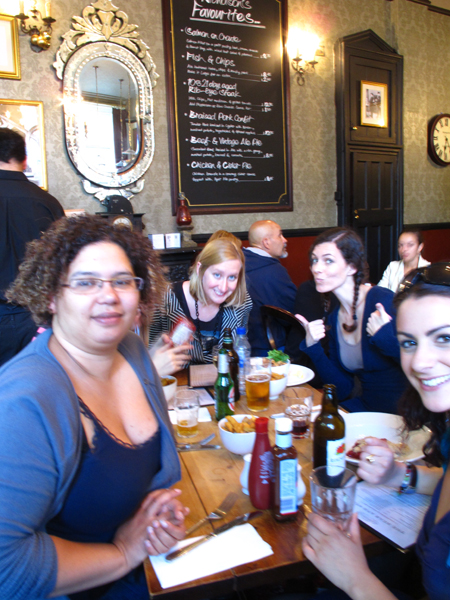 Clockwise: Chloe, Elizabeth-Anne, Maxine, me, Sammi
After a very long day of sight-seeing, we headed back to Leicester Square for a drink and a meal at a pub and then about 20 of us went over to the Leicester Square Theatre to see a reading of a new one-woman play called A Letter to Larry. This was a late addition to our event agenda but I'm really glad it worked out. It takes place in Vivien Leigh's dressing room during Duel of Angels around the time of Vivien's divorce from Larry Olivier. In it, Vivien recalls her past as she tries to make sense of the present. Vivien Leigh was played by Australian actress Susie Lindeman (Howard's End), a waif-like woman who, like so many of us, became enchanted by Vivien Leigh and her story at a young age. I thought the performance, particularly her interpretation of what Vivien was like while going through a manic phase, was really interesting. It was definitely much better than clips I've seen of that awful-looking Vivien Leigh play The Last Press Conference. I don't know the criteria a play needs to have to get a West End run, but I wish Susie and her crew all the best!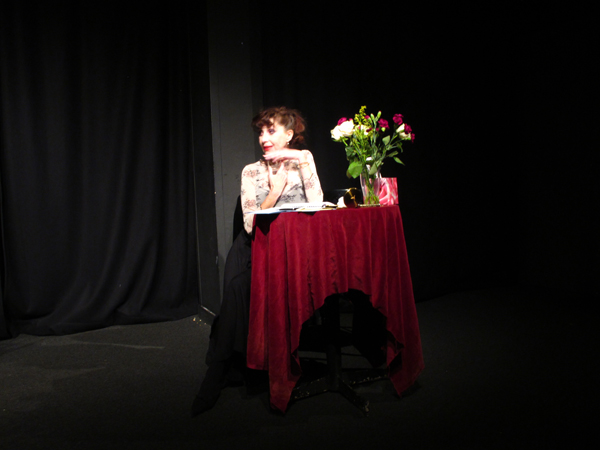 Susie Lindeman as Vivien Leigh in A Letter to Larry; a reading of a new one-woman play in Leicester Square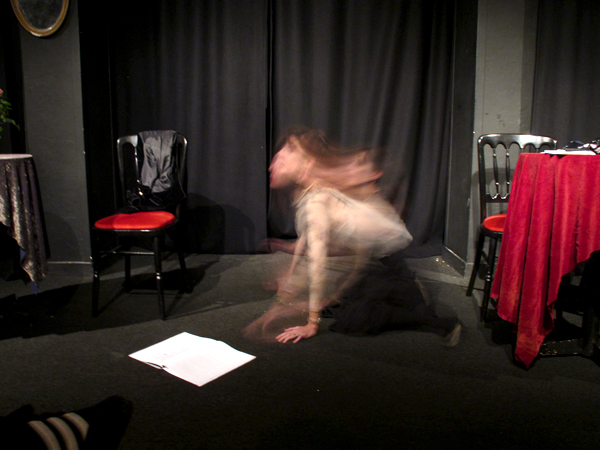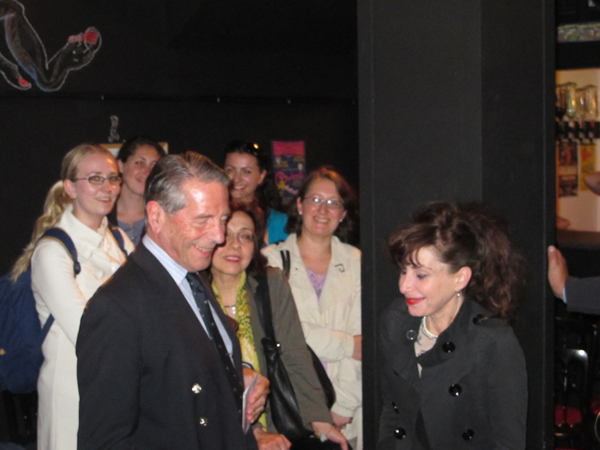 Tarquin Olivier chatting with Susie after the show
Our group got an extra surprise when Tarquin Olivier showed up to see Susie's performance!
I also got an unexpected treat when one of the girls handed me a card that had been signed by everyone thanking me for organizing the weekend. I got pretty emotional and may or may not have cried a little. In public. It was really sweet. They also gave me a poster of Larry and Vivien from the National Portrait Gallery! I WAS SO HAPPY! I honestly couldn't have asked for a better group of people for this first-time event. Everyone was so kind, cooperative and patient with everything. I'm so glad people seemed to make new friends, as well! I think people getting to meet Tarquin was like the icing on the cake to a really fantastic weekend.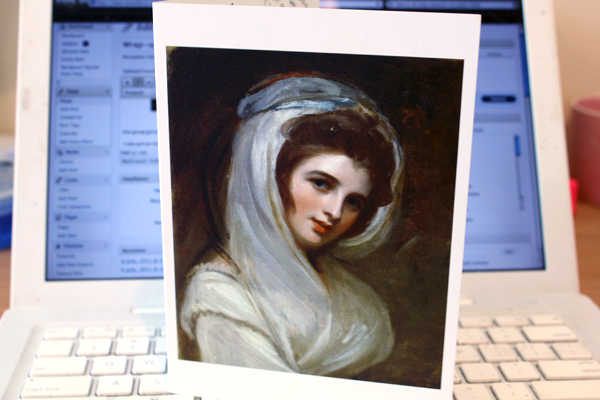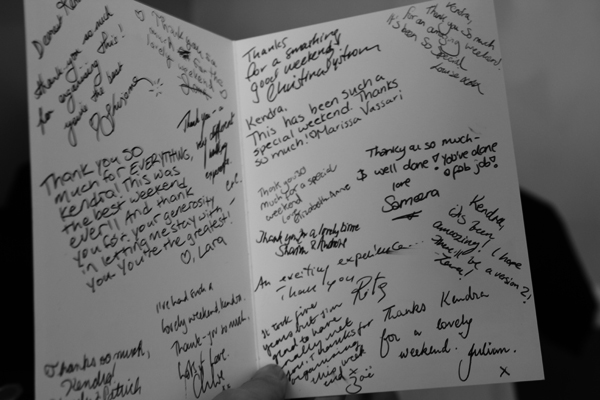 Over the course of the weekend, a couple of people commented to me that thing just seem to happen whenever I go to these places connected with Vivien Leigh and Laurence Olivier. I've been pretty lucky with things–just being in the right place at the right time. This weekend was about sharing a bit of London that many people visiting the city may not know about. It was about sharing my passion for this subject with others and I can definitely say it was so gratifying to have people respond in kind. We Viv and Larry fans are a unique and special bunch, and I'm so glad to have met so many of you!
Was this the first event of many? Based on the success of this weekend, I would definitely love to do it again, but we'll see which way the wind blows. Until then, thanks again to all of you who turned out for A Weekend with the Oliviers! I still have one more blog post in store. On Monday those of us who remained boarded a train for the country…
Stay tuned for Part 4!
*Special thanks to Zoe for sitting in the front row and snapping photos during the play