10 Reasons Why Gone with the Wind is Still Awesome
In the 75 years since Margaret Mitchell published her Pulitzer Prize-winning novel, the phenomenon that is Gone with the Wind has never quite died down. In 1939, David O. Selznick turned the most popular novel of its time into the most popular film ever made. It is perhaps the film, more than the book, that keeps the fanfare alive around the world today. Yet, in spite of its popularity, Gone with the Wind has come under fire in recent years from film critics who often cite it as outdated and chide its non-PC depiction of slavery. Even with its faults, Selznick's Civil War epic has stood the test of time and remains the shining beacon of the Hollywood studio era. Here are 10 reasons why Gone with the Wind is still an awesome film.
1. Costumes
Costumes are an integral part of the mise-en-scene of a film. This is especially true for period films because they help draw the audience into a specific historical time frame. Let's be honest, there's nothing worse than watching a serious film set in Regency England but the costumes scream Civil War America…or something (I see you, Robert Z. Leonard's Pride and Prejudice). The costumes designed by Walter Plunkett for Gone with the Wind remain among the most famous in film history for their beauty, construction and the sheer volume of them required for the film. As Gone with the Wind was an epic being filmed in Technicolor, Selznick demanded the costumes be sensational while remaining historically accurate. Plunkett and his team created over 5,000 pieces of clothing for the principal cast and thousands of extras. The costumes, particularly Scarlett's gowns, covered two major historical periods (the Civil War and Reconstruction), and reflected the changing fashions of the time. Just last year, the Harry Ransom Center at the the University of Texas, Austin raised over $30,000 to restore remaining costumes from Gone with the Wind, including Scarlett's famous green curtain dress and the stunning red gown she wears to Ashley Wilkes' birthday party.
2. Production Design
Move over, CGI! The art direction on Gone with the Wind still looks amazing after nearly 3/4 of a century. We have production designer William Cameron Menzies and special effects guru Jack Cosgrove to thank for that. Not only was a plantation and post-war state capital constructed, but many of the stunning backdrops were hand painted (matte) and combined with live action shots during the editing process. Those vibrant sunsets at Tara? Hand painted. The facade of Twelve Oaks plantation? Yup, hand painted. Menzies directed one of the film's most famous scenes, the Burning of Atlanta. I get chills whenever I watch the silhouettes of Rhett and Scarlett dwarfed by the flaming sets of the 1933 version of King Kong as they escape the carnage left by Sherman's army just in the knick of time. The scope of Menzies and Cosgrove's contributions to the film becomes strikingly apparent when we remember that Gone with the Wind was shot almost entirely on the Selznick backlot in Culver City.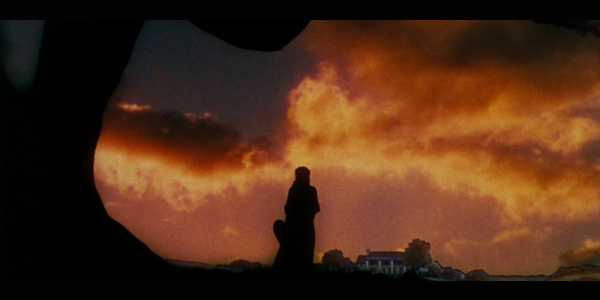 3. Music
Tara's Theme is one of the most easily recognizable motifs in the history of film music. It's also one of the most beautiful (in my humble opinion). In fact, I may or may not have cried when  the LA Philharmonic performed it live at the Hollywood Bowl a couple years ago during John Williams' annual tribute to the movies. It was that good. My friend Tatiana can testify to the validity of this statement. The film was scored by famous film composer Max Steiner (Now, Voyager, Casablanca, Mildred Pierce), and true to melodramatic form, it barely lets up throughout the entire film. Not a scene goes by that isn't inflected with either soft background music or epic, soaring melodies. Steiner and his orchestrators worked day and night for months to get the score completed in time for the film's Atlanta premier in December 1939. The results were definitely worth it. Steiner may have lost out on the Academy Award for best original score (which went to Herbert Stothart for The Wizard of Oz), but in terms of popular consciousness of the music in Gone with the Wind, he definitely emerged the winner.
4. Victor Fleming's Direction
Everyone has probably heard of the countless problems that plagued the production of Gone with the Wind. 3 directors worked on the film including George Cukor and Sam Wood. But the one who  got all the credit (and an Oscar) was Victor Fleming. Fleming left the The Wizard of Oz set to take over on Gone with the Wind after the dismissal of George Cukor. He was a good friend of Clark Gable, but he and Vivien Leigh famously did not see eye to eye on how Scarlett O'Hara should be portrayed. However, Fleming was a no-nonsense director who managed to pull together a film that was already over budget and behind schedule. He directed Leigh to an Academy Award and even coaxed Clark Gable into crying on camera. Now that's an achievement to be proud of!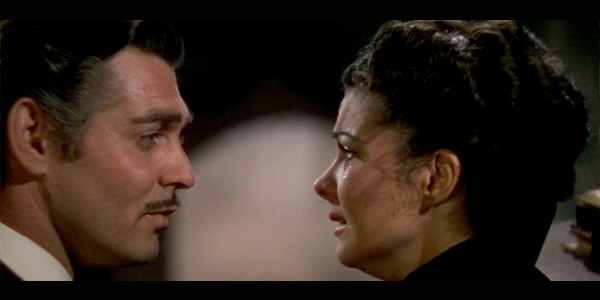 5. Casting
Has there ever been a leading couple as right for the parts they were playing as Clark Gable and Vivien Leigh in Gone with the Wind? Talk about perfect casting! I read the novel before I saw the film and I remember, all those years ago, marveling at how well Gable and Leigh fit my vision of Rhett Butler and Scarlett O'Hara. It wasn't just that they looked like Margaret Mitchell's characters, they fully embodied them. Clark Gable was so much the public's idea of Rhett Butler that they unanimously demanded to have him cast. The choice of British Vivien Leigh caused quite a disturbance amongst the Hollywood gossip columnists, but any qualms disappeared when the film premiered and everyone got a glimpse of Gable and Leigh's on-screen chemistry. So spot-on was the casting of the two leads that it remains nearly impossible to imagine anyone else playing the roles. The film also boasts great performances by Olivia DeHavilland and Hattie McDaniel, who became the first African American to win an Oscar for her performance as Mammy.
6. Vivien Leigh's Performance
Clark Gable may have given one of the best performances of his career in Gone with the Wind, but there is no denying that Vivien Leigh owns this film. It is, after all Scarlett O'Hara's story, and Vivien appears in almost every scene. Scarlett is a dynamic character and the expanse of the film allowed Leigh the space to bring her to life . Over the course of four hours we see Scarlett change from carefree coquette to world-weary woman. An entire scale of emotions is played out on Leigh's expressive face. In addition, Leigh is one of the only principal cast members who took mandatory voice lessons to perfect a southern accent. This coming from a girl who, when she made her initial screentest for the part, had never heard a southern accent before. The result of Leigh's dedication and passion for the role was a performance that is still counted among the greatest of all time.
7. Entertainment value
Gone with the Wind clocks in at a running time of close to four hours. That's enough time for two normal movies. But Gone with the Wind isn't a normal movie. It's an epic movie. An epic movie with an epic story to be told. There are many three-four hour films that feel like four hours. There are even many two hour films that feel like four hours. Not Gone with the Wind. Some may disagree, but Gone with the Wind has good enough pacing (especially in the first half) and enough action on screen to keep me riveted to my seat from Prologue to Exit Music… Alright, maybe it does help to have an intermission, but it's never a boring film.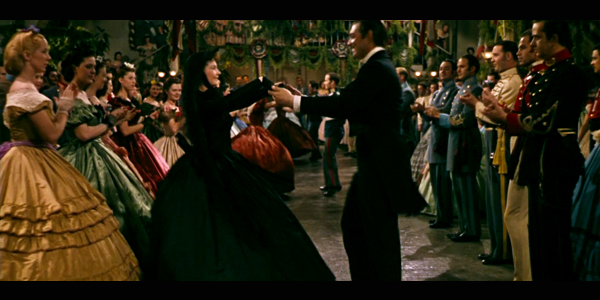 8. Universal Themes
Why has Gone with the Wind remained so popular for so long? This was one of the questions I asked TCM host Robert Osborne when I interviewed him last summer for vivandlarry.com. We both agreed that the answer was probably the universal themes of the story. Survival and courage in a time of crisis, never giving up despite insurmountable odds, and of course the mantra "Tomorrow is another day" are all ideas that anyone, regardless of age, gender, location, orientation, or religion can cling on to. We can all relate to the characters on some level or another. In this way, it is difficult to pigeonhole Gone with the Wind as belonging to any one era. It is certainly a product of its time, but the themes make it a product for all time.
9. It looks great for its age
As mentioned above, Gone with the Wind is nearly 75 years old, but modern technologies for film restoration have made sure it continues to look fresh. If film restoration was like plastic surgery, Gone with the Wind would probably be the equivalent of Joan Rivers. But instead of being an old, hot mess, Gone with the Wind looks amazing. Thanks to Warner Bros. and their digital restoration team, the Technicolor glory of this film has been retouched and cleaned up on numerous occasions. The vibrant colors look incredibly natural and the intricacies of costumes and sets can be seen in stunning detail. If you thought the latest DVD looked fabulous, wait until you see the Blu Ray (which is where the screencaps in this post were grabbed from).
10. Lasting impact on pop culture
Last, but certainly not least, Gone with the Wind remains a pop culture phenomenon. Continuous theatrical screenings, events and DVD re-releases have ensured that this film remains above the radar. It's amazing how beloved both the film and Margaret Mitchell's story remain for people of all ages in all corners of the globe. I've personally seen it in the theatre a number of times and on several occasions have been amazed by the diverse crowds that still flock to see Gable and Leigh light up the big screen. It seems like there is always something Gone with the Wind-related going on somewhere. A new book about the book called Margaret Mitchell's Gone with the Wind: A Bestseller's Odyssey was just published. In fact, there is a huge celebration planned in Georgia for the novel's 75th anniversary this June. The "Windies" will be out in full force (one of them was even interviewed for the NY Times recently), and it's sure to be an interesting party. You can find out more about the festivities here. I went to the film's 70th anniversary soiree in Atlanta in 2009 and it was definitely a memorable experience.

Kate of Scathingly Brilliant had a great idea on her blog, so I thought I'd try it as well and see how it works out. I really appreciate everyone who stops by vivandlarry.com to check for updates and read blog posts, and it warms my heart when people comment and engage in discussion. I know how hard it can be to think of things to say in response to a blog post, so maybe this will help if you're stuck! Here's a discussion question that you can answer if you can't think of anything else to say :)
What is your favorite thing about Gone with the Wind (or, if you're not a fan, why?)?
If you enjoyed this post, you might also like...