The Star Quality: The World of Noel Coward exhibit at the Academy of Motion Pictures Arts and Sciences was fascinating!  It documented Coward's life from a boy actor to a playwright, famous friend, producer, etc.  Artifacts found in the exhibit included Noel's stage make-up case from the 1950s complete with Max Factor compacts, brushes, lipstick, and a cracked mirror, several of his silk dressing gowns, letters to Noel from both Vivien Leigh and Laurence Olivier, an original annotated script from Brief Encounter (quite possibly my favorite item in the whole exhibit), photos from his stage productions, hand-written lyrics for his famous song Mad Dogs and Englishmen, his Oscar for In Which We Serve, and much more.  They even had a running video of his home movies from the 1930s that showed people like Leslie Howard, Norma Shearer and Irving Thalberg, etc.  It was so amazing.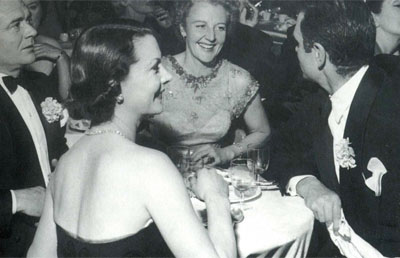 As I said in a previous post, I discovered Noel Coward through my fascination with Vivien Leigh and Laurence Olivier, and quickly grew to love him.  His collaborations with David Lean in the 1940s produced two of my favorite films: Brief Encounter and Blithe Spirit, and I think his songs are hilarious and so very Cole Porter-ish.
Noel was a very close friend to both Vivien and Larry for many years, including the whole length of their marriage to one another.  They often confided in him with their marital problems and he acted as a sort of middle man at times, and he meant a lot to both of them.  They would often go visit him at his home in Jamaica when he was a tax exile.  The letter from Vivien that was in the exhibit was to thank Noel for taking her in during Christmas of 1959 (she stayed with him at Les Avants, his house in Switzerland).  It was a very hard time for Vivien because she was going through the divorce with Larry.  Her letter read:
Oh darling dear–I can never thank you enough for being so angelically kind to me.  You made Christmas & the New year so much more than possible than I ever thought it could be.  You are so wonderfully generous in every way, Noellie darling & I shall never cease to be grateful to you.  Your wise and kind advice is in my mind & I shall try to follow it.  You know well how difficult that is, but I am sure you are right.  Thank you dear dear for your unfailing friendship and thought of me.  I do hope you are going to have the greatest joy from the new house.  You have made it so lovely & goodness how thrilled I am to have been your first guest.  Next time I think I shall be a gayer one.  I also trust that you will beat the hell out of me at baccarat & Backgammon. Of course it was only your masterly teaching that enabled me to achieve those stunning results!–Oh darling my loving loving thanks.  You are so good as well as being the very prettiest & very best.

Your ever devoted

Vivien

Vivien at Les Avants, Christmas, 1959
In his diaries, Noel wrote of how he felt when Vivien died, which I think gives a clear indication of just how close their friendship was and how much she meant to him in return.
Sunday 16 July

I can't even remember the date of the morning that Coley came into my suite at the Savoy, suffused with tears, and told me that Vivien had died.  The shock was too violent.  I mind too deeply about this to go on about it very much.  She was a lovely, generous and darling friend, and I shall miss her always.  Apparently Jacko [Marivale] came back from his theatre, saw her sleeping peacefully and went to warm up some soup for himself in the kitchen.  When he came back a few minutes later she was laying on the floor in a welter of blood, having had a haemorrhage.  Jacko, with almost incredible courage and tact, cleaned up all the hideous mess because he knew that she would hate anybody, even the doctor, to see her like that.  Then he telephoned for the doctor.  Jacko is a good and kind man.  A day or two later he rang me up and asked me to read the address at her memorial service, which is, I believe, to be on the twenty-fourth.  I lovingly but very firmly refused.  I truly do not believe I could have done it without breaking down and making a shambles of it.  I know this was cowardly, but I cant regret it.  The emotional strain would be ghastly, and as I am not feeling any too well at the moment it would possibly cause me great damage.  All my own loved ones agree and I can only hope that they're right.  if it could have helped Vivien in any way I would have done anything, but it couldn't because she's gone forever…
I could probably write an entire post about Noel's friendship with Larry Olivier (hmm, maybe I will at some point).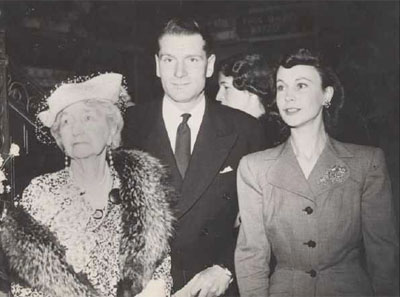 Anyway, I seem to have gotten off track there.  The exhibit was great, and I really enjoyed seeing so many artifacts from one of the greatest personalities ever to come out of England.  Noel's star waned in the 1950s but made a great revival in the 1960s.  He was the first living playwright to be invited to the National Theatre to direct one of his own plays (Blithe Spirit).  It really seems like if you weren't friends with Noel Coward, you weren't anyone, and he had a lot of famous friends.
The exhibit runs through the middle of April, so if you get a chance to go and see it, I'd highly recommend it.
You can also purchase the Noel Coward Diaries on Amazon. Great read!