In the spring of 1944, Vivien Leigh accompanied Hungarian director Gabriel Pascal to playwright George Bernard Shaw's home in Ayot St. Lawrence, Hertfordshire. Producer J. Arthur Rank had secured her on a loan from David O. Selznick to star in the film adaptation of Shaw's Caesar and Cleopatra – her first film since returning to England at the end of 1940. As the screenwriter, Shaw was given a heavy hand in the production process. He had never seen Vivien in person – despite her long run in The Doctor's Dilemma at the the Theatre Royal Haymarket in London the previous year – and wanted to make sure she was suitable enough to play his kittenish queen. Studio photographer Wilfrid Newton accompanied Vivien and Pascal, documenting their visit for publicity purposes. They were photographed in Shaw's study and in his famous revolvable writing hut at the bottom of the garden.
Shaw and his wife Charlotte moved into the house in 1906 and promptly nicknamed it "Shaw's Corner."  It was her that he wrote some of his most famous works. When he and Charlotte both passed away, the house was bequeathed to the National Trust with the stipulation that all of Shaw's belongings stay exactly as he had left them. This is what my friend Andy and I found so unique about the house when we went to visit last week. It's literally a time capsule of early 20th century country life; like one of those abandoned houses you see in urban exploration photography, minus the dust and decay.
I'll let the photos below serve as a tour.
Shaw's Corner can be reached by train from King's Cross. It's quite a trek from Welwyn Garden City, so we took a cab, and had drinks and a meal at the 13th century pub down the road afterward.
All photos © Kendra Bean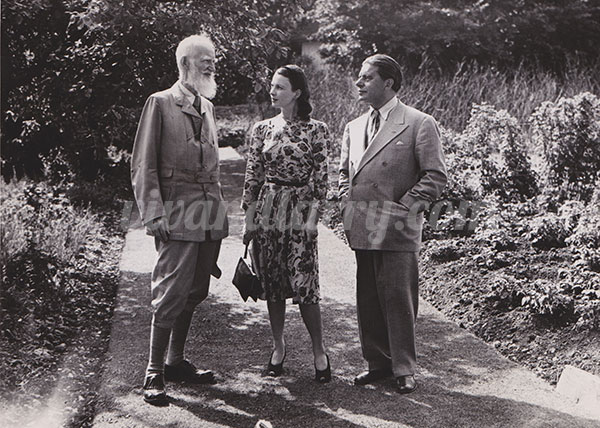 Vivien with Shaw and Hungarian director Gabriel Pascal in the garden at Shaw's Corner, 1944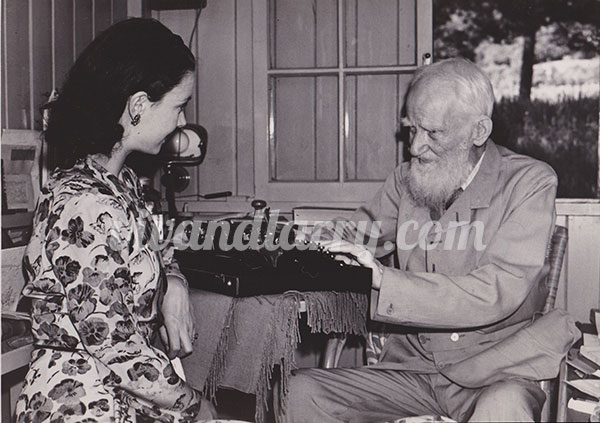 Vivien chats with Shaw in his revolving writing hut
Shaw's Academy Award for Pygmalion (above) and 1925 Novel prize for literature (below)
Ayot St. Lawrence Old Church
 ♠ ♣ ♠ ♣ ♠