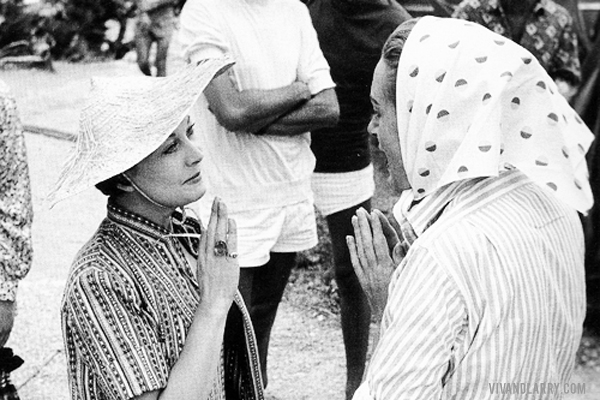 Vivien Leigh and Laurence Olivier counted many famous people among their circle of friends: artists, politicians, actors, etc.  One of those people was British actress Deborah Kerr, whom you may know from such films as Black Narcissus, The Innocents, From Here to Eternity, and The King and I, among many others.  I'd always wanted to know if there were photos out there of Deborah and Vivien Leigh hanging out together, but they seemed impossible to find…until now, that is!
Thanks to Catherine, and photographer Bob Willoughby, these two amazing photos have surfaced of Vivien Leigh visiting Deborah on the set of Bonjour Tristesse in the South of France, 1957.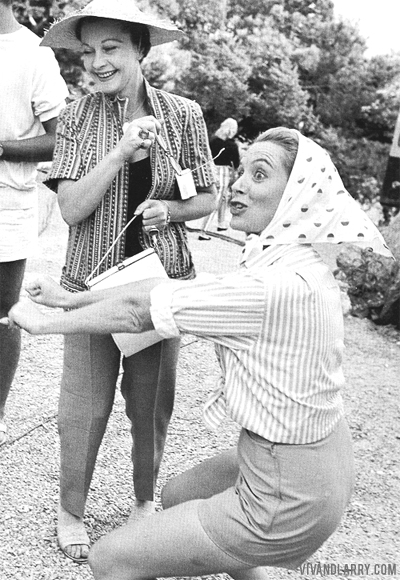 Aren't they just fabulous and silly?  I just love them!  Though their paths did not cross often, Deborah had fond memories of her friend:
"My acquaintance with the lovely Vivien Leigh was one of those friendships that endured over the years, sometimes many years passing without our meeting. My most vivid memory of her was when I was in London, and suffering that infuriating affliction of losing your balance. Not serious, but a long bore! I was in bed at the Connaught Hotel, and the phone rang and it was Vivien, who said: 'Darling, here we are, both of us in bed! Isn't it ridiculous?' We shared the same doctor, and it was he who hastened over to me to inform me of her death. He was afraid I would hear it on the tv or radio…She was without a doubt the most exquisitely beautiful woman ever. I wish I had spent more time with her in my life."
See the full versions of these photos in the vivandlarry.com gallery.