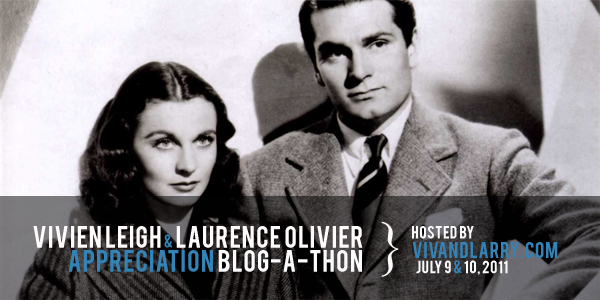 The Vivien Leigh and Laurence Olivier Appreciation Blogathon starts tomorrow! I don't know about you, but I'm so excited! Over 30 of the most awesome film blogs on the internet are signed up to participate and I can't wait to read everyone's entries! I just wanted to do a post clarifying the rules and how it will work.
Participating Bloggers:
You may post your entries on your own blog at any time before or during the blogathon. There will be a new key post here tomorrow. Make sure to leave a link to your own blog post in a comment to either this post or the one I'll be making tomorrow. Also be sure to include a link back to the blogathon in your respective post(s)
There is no post limit for the blogathon. If you'd like to do one for each day of the event, or just one total, or more, it's up to you.
The blogathon will officially start tomorrow at 9 am Pacific Standard Time.
Readers:
If you don't have a blog, you are still more than welcome to read and comment on other people's posts. In fact, I highly encourage it! It will be great to get a lot of people talking about Larry and Vivien, their films, and their lasting impact!
Check in tomorrow and Sunday for a running list of everyone's posts.
Disclaimer:
The opinions expressed in participating blog posts may or may not reflect those of vivandlarry.com. The purpose of the blogathon is to get people talking about Vivien Leigh and Laurence Olivier, and to celebrate their stellar contributions to 20th century pop culture. All I can say is, I'm pretty sure this blogathon is going to be extremely quality! Have fun, everyone!