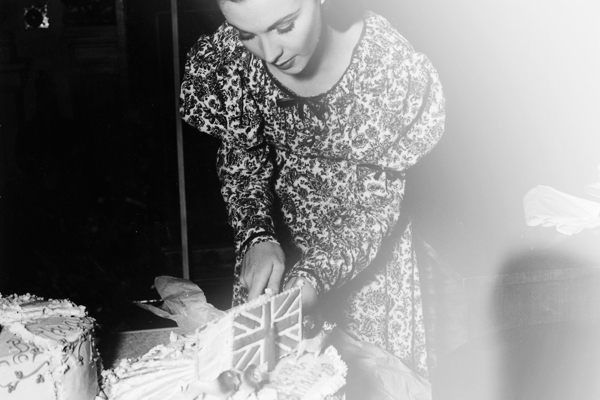 Today marks 4 years since vivandlarry.com was officially launched online! I say this every year, but it's true, I'm pleasantly surprised that it's lasted this long. What's more, I can't believe how much this little site has grown since 2007. Vivandlarry.com has had many faces over the years, and what started from humble beginnings (self-taught web design, yikes!) has grown into a large online network.
I never thought it would get this big or that it would touch so many. Maintaining a website that is always growing is genuinely hard work and time consuming, but I am constantly reminded why it's all worth it. The site has certainly come a long way. I've met some amazing people through the site–both casual acquaintances and close personal friends–and nothing warms my heart more than knowing that there is a community of dedicated, passionate, and knowledgeable fans out there  who are as fascinated with the Oliviers, their films, their friends, and their lasting legacy as I am. Thank you, thank you, thank you so much for all of your support of the site over these past 4 years. Whether you have donated money for site upkeep, shared videos and photos, commented on the blog posts, sent encouraging emails, or simply just continued to come back to the site to browse, I can't thank you enough.
I'm still as fascinated with Vivien Leigh and Laurence Olivier as I was when I started this site, and even after years of research, I know there is still so much out there that has yet to be compiled. Big things are on the horizon! So, here's to the next four years. I'll be here, and I hope you stick around, too.
Cheers,
Kendra
As part of the celebration, I thought it would be fun to look at 5 aspects of the vivandlarry.com network that have been the most popular over the years.
01. The Photo Gallery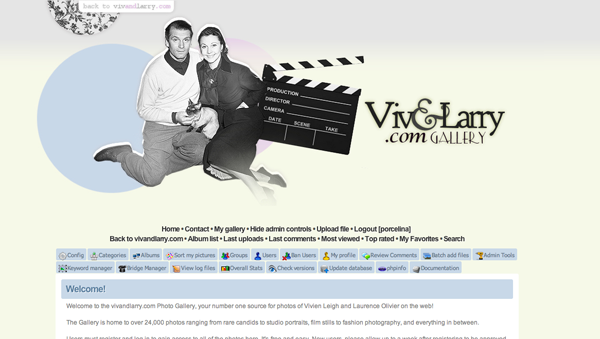 The Gallery is by far the most popular part of vivandlarry.com. Seeing as Vivien Leigh and Laurence Olivier were totally gorgeous, it makes sense that people would want to gaze upon their astonishing visages. With over 24,000 photos, including screencaps, candids, studio portraits and theatre photos, it's possible that one could literally gaze for days at a time. Remember: the entire gallery is public access, but visitors need to register and/or log in to see large versions of photos.
*Vivandlarry.com is not responsible for damage of computers or human brains due to overload of resplendent attractiveness. View photos at your own risk.
02. The Cinema Archive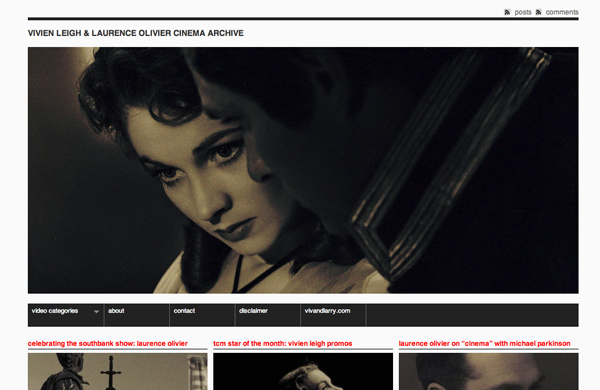 The Cinema Archive houses rare video footage of Vivien Leigh and Laurence Olivier, such as documentaries, lost interviews, and rare television performances. Some of the rarities you'll find here include Vivien Leigh's one-night live television performance in The Skin of Our Teeth from 1959, Laurence Olivier launching Ulster Television, Laurence Olivier's interview with Michael Parkinson, and Vivien Leigh's appearance on Edward Murrow's Small World from 1958. Check it out! Most of the videos in this collection have been graciously donated by fellow fans.
03. The Facebook Page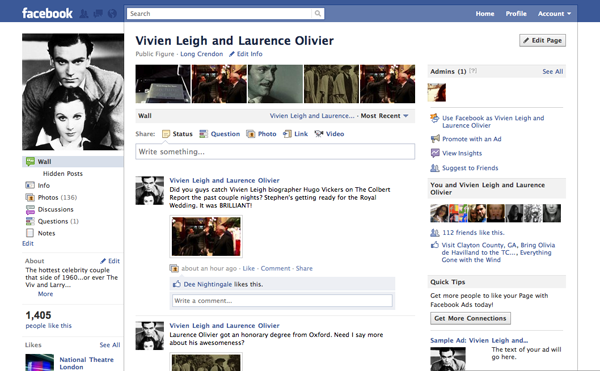 The Vivien Leigh and Laurence Olivier Facebook Page provides fans with a daily dose of Viv and Larry on their news feeds. If you're on facebook and you're a fan of either of these two people, Gone with the Wind, Wuthering Heights, fashion, photography, good discussion and random facts, you should definitely join in! My favorite part is all of the great commentary other people leave. Viv and Larry fans really know how to have a quality discussion!
04. Interviews and Guest Posts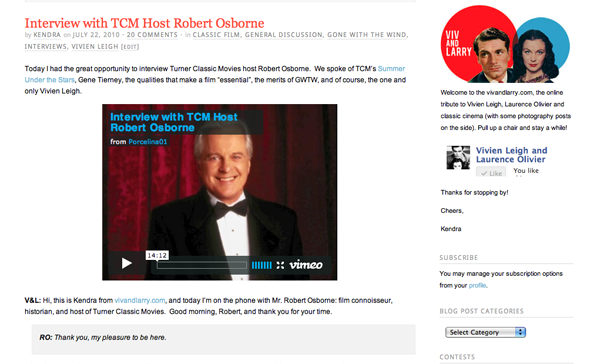 I love talking to people who share my passion for film! I've been lucky enough to interview some amazing people who really know their stuff about movies and Vivien Leigh/Laurence Olivier. One of these people was TCM host Robert Osborne. He was really friendly, and we chatted about TCMs Summer Under the Stars and September 2010 star of the month, Vivien Leigh. This interview turned out to be one of the most-viewed posts here at vivandlarry.com, probably because Robert Osborne is more awesome than most people put together.
Another thing that is definitely encouraged and popular here is the guest post. Guest posts are written by vivandlarry.com visitors who touch on interesting and/or favorite aspects of the Oliviers lives. Past guest bloggers have included fans and experts alike, and cover a wide range of topics such as The Oliviers' relationship with photographer Cecil Beaton, Larry and Vivien at the Gone with the Wind premier and tributes to recently deceased film stars, among others. Who can be a guest blogger? Anyone! If you'd like to write for vivandlarry.com, simply let me know via email!
05. Vlogs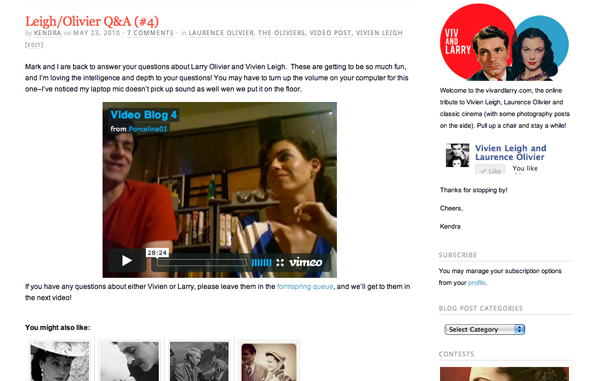 Vlogs (video + blogs) are probably my favorite things to do here at vivandlarry.com. About a year ago, I started a video series called "Viv and Larry Q&A" where fans sent in questions about Vivien Leigh and Laurence Olivier to formspring, and they were then answered in a video post. Things definitely got a bit more fun(ny) when I teamed up with one of my favorite people, Vivien Leigh expert Mark Mayes. Hopefully there will be a revival of vlogs this summer, so stay tuned!