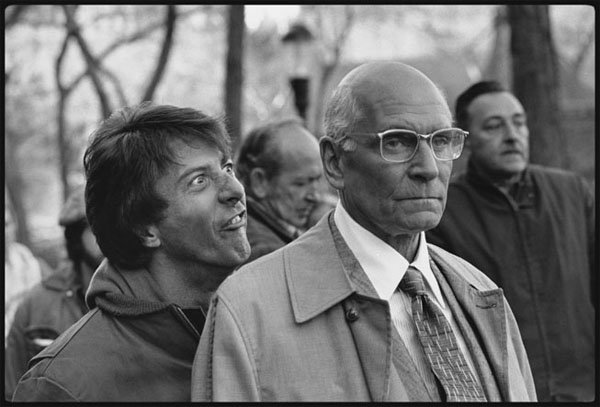 "Is it safe?" Mary Ellen Mark captures Dustin Hoffman and Laurence Olivier in a playful moment before the tense final scene on the set of John Schlesinger's Marathon Man. 

oinciding with renewed public interest in the Holocaust following the Cold War, and the race to bring WWII criminals to justice, 1970s Hollywood saw the reemergence of  the Nazi as the ultimate screen villain. Suddenly, many of moviedom's pre-war male heartthrobs were donning the evil, masochistic mask of Hitler's henchmen. Famous examples include Dirk Bogarde in The Night Porter (1974), Gregory Peck as real-life Joseph Mengele in The Boys from Brazil (1978) and, perhaps most famously, Laurence Olivier in Marathon Man (1976). I had the pleasure of viewing this last film at Screen on the Green in Angel, Islington a couple weekends ago as part of their Saturday late night flashback series.
Screen on the Green is part of an increasingly rare and dying breed of cinemas that still screen films in 35mm, and this is what my friend Anthony and I were treated to (along with wine, brownies and popcorn!) when we went to see John Schlesinger's political thriller.
Babe Levy (Dustin Hoffman) is a Ph.D. student and marathon trainee who unwillingly becomes entangled in a complicated and violent web of government secrecy. The situation is triggered by a car accident in New York City that kills the brother of infamous Auschwitz dentist Christian Szell (Olivier), known to his Jewish victims as "The White Angel". Szell's brother had in his possession a Band-Aid box full of diamonds, and his death prompts Szell to leave South America, where he'd fled after the war, to safeguard the rest of his assets in New York.
Babe becomes involved with a secretive German student called Elsa (Marthe Keller) who seems to spell trouble from the get-go. They're chased down and mugged by suspicious-looking goons in Central Park. Not long after, Babe's brother Doc (Roy Scheider) is murdered by Szell, whose weapon of choice for literally cutting down anyone who he feels is a threat to his fortune is a metal fist-cuff containing a long switch blade. It turns out Doc was a CIA operative and Babe begins to realize that his brother was simultaneously hunting and helping Szell. Also, Elsa is in cahoots with the Nazis.
It gets worse. Much worse.
Doc's death leads Szell and the other members of Doc's special ops division to Babe, who they're convinced is in on the diamond-smuggling plot. Szell wants to know whether his diamonds are "safe," but instead of being diplomatic, Szell goes straight for what he did best: torture by dentistry. Babe knows nothing of Szell's diamonds, but gets a good tooth-drilling anyway. He then outwits and outruns Szell's men for a good couple of hours (hence the film's title) before he comes face to face with his torturer; this time getting the upper hand.
Throughout his life, Laurence Olivier played a number of less-than-savoury characters, but Christian Szell remains one of the worst on the spectrum of good and evil. AFI included him on their list of 50 greatest movie villains in American cinema. Despite being seriously ill while making the film, Olivier's performance won him a Golden Globe for Best Supporting Actor and an Oscar nomination for the same category. Both well-deserved, considering it was by far one of the best screen performances he gave in the later part of his career. Hoffman cherished his experience working with Olivier, and still tells with fondness the famous anecdote about not sleeping for days in order to appear genuinely exhausted a la Lee Strasberg's Method. When encountered by Olivier, the older thespian suggested he "try acting".
I'd watched this film a couple times before on DVD and TV, but the 35mm print trumped any previous viewings by a long shot. It was as if the entire film had run through an orange-brown filter and it just screamed "1970s!" I love how cleaned-up digital prints are able to make old films seem as if they were made yesterday. But I think many film fans would agree that there's something special about watching a film as it was originally meant to be seen.
Marathon Man is a bit long in running time, but definitely worth a watch for killer performances by Olivier (see what I did there?) and Hoffman. Beware, you may never want to step foot in the dentist's office again.
Grade: A