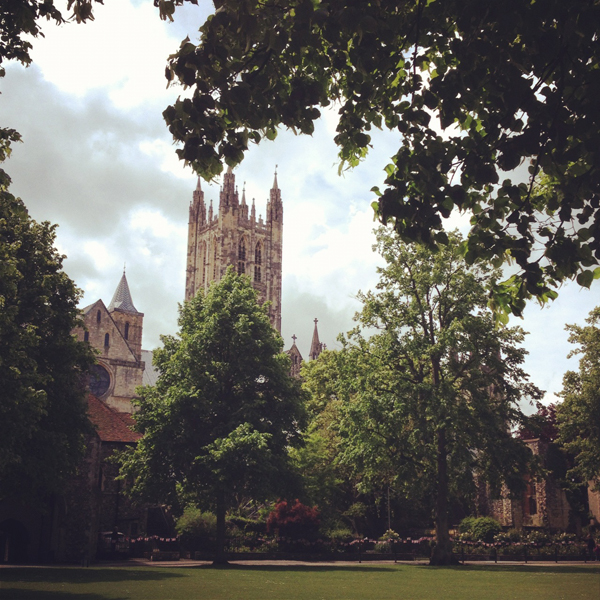 Admittedly, I don't pay much attention to the goings-on of the British Royal Family, but I won't hesitate to give HM The Queen a royal salute for having her Diamond Jubilee this past weekend. As a result, we got two bank holidays in a row, and the four-day weekend was most welcome, indeed. When in the moment, I feared I wasn't getting much done during this block of free time. But looking back on it, I accomplished quite a bit: a trip to Colindale to find some long-lost newspaper articles for book research; an interview with Australian actor Trader Faulkner, who told of some memorable weekends at Notley Abbey in 1955; arranged for tea with 97-year-old actress Renee Asherson; went to a screening of Prometheus; and finally, got out of London for a day!
With the seaside in mind, I boarded a train bound for Canterbury yesterday morning with my friend Anthony and his partner Tony. Canterbury is a lovely, medieval walled city famous for its massive cathedral, Chaucer's stories and Eric Portman putting glue in girls' hair during the blackout. After lunch at a little French cafe, we went to visit the site of many a religious pilgrimage before boarding a bus to Herne Bay.
The countryside was lovely, but Herne Bay is one of those seaside towns that looks much better in photos. The horrible weather didn't help the already slightly depressing ambiance. What was once a bustling Victorian beach resort is now little more than beach-front ice cream shops, a shopping centre and a really ugly pier (the remains of the burnt-out Victorian pier are isolated out at sea). Rather disappointing, but all in all it was a fun trip and I managed to get some decent photos armed only with my camera phone.*
*This post is image-heavy.