From Topsham to Tara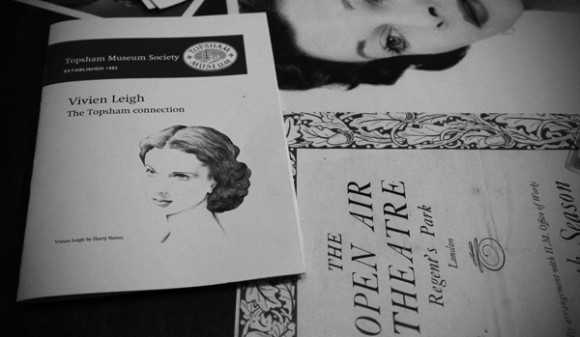 I know I said no new blog posts until I've handed in my dissertation. I lied. In desperate need of a break and a respite from writer's block, my friend Sammi and I decided to hop a train to Devon to visit the fabled Topsham Museum. I say "fabled" because I've yet to meet any other Vivien Leigh fans who have been there. Well, it turns out we weren't special after all because, as curator Rachel Nichols informed us, fans from all over the world visit the quaint hamlet near Exeter just to see the Vivien Leigh memorabilia on display in their museum. This includes her daughter Suzanne Farrington, who visits a few times a year. What's the connection? Topsham is a  picturesque port village on the River Exe with roots that date back to Roman times. The Holmans, whom Vivien Leigh married in to in 1932, were thriving ship builders here in the mid-19th century. Leigh Holman's sister Dorothy lived in a massive house at 25 The Strand, and Suzanne used to spend holidays here. There are stories of Vivien coming to visit Dorothy on occasion in the 1940s and 50s (no word whether or not Larry Olivier ever tagged along). Members of the local youth club, which Dorothy founded in 1939, remember Vivien stopping by to play table tennis and offer practical advice about acting. In the 1960s, Dorothy decided to turn her home into a museum about local culture and history. Hearing about her aunt's plans, Suzanne donated several items of her mother's to be put on display. Suzanne and/or Dorothy have also donated Vivien's belongings to a few other museums in Exeter. The prized piece in the Topsham collection is the silk nightgown Vivien Leigh wore as Scarlett O'Hara in Gone with the Wind. After filming wrapped, Vivien was allowed to keep two costumes from the wardrobe department. This was one of the pieces she chose. Rachel told us that she discovered the nightgown in the bottom of a chest at the back of the museum and that it still held traces of Vivien's perfume. This dress is switched out for a replica every few months, which is the version we saw on our visit. Other items in the exhibit include the gown Vivien wore to the London premier of Richard III in 1955 (this was my personal favorite, it's so beautiful), a chair from the St. James Theatre, a tan day-suit, Letters from Vivien to Dorothy, including an invitation to Suzanne's wedding to Robin Farrington and a calling card for Lowndes Cottage, a veiled hat and fur muff, a scent bottle, a cashmere stole from India and a silk square Vivien used to cover her dirty clothes at the end of the day–a habit she picked up at the convent school in Roehampton as a child. It was a real treat to get to see these things up close and in person, and the staff at the museum could not have been more friendly. If you're ever in the Westcountry or just feel like venturing out to see this museum, I'd definitely recommend it. The town itself is beautiful and the museum adds a nice extra touch. I'm so glad fans travel all the way there just for Vivien. It's certainly a testament to her lasting power! Photos open in lightbox.
All photos © Kendra Bean with special thanks to the Topsham Museum. The Topsham Museum 25 The Strand Topsham EX3 0AX
If you enjoyed this post, you might also like...