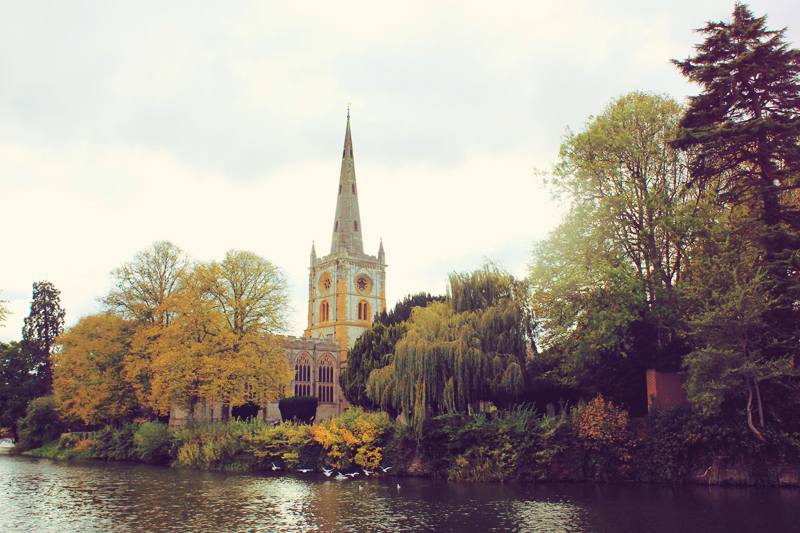 For someone who's been dead for nearly 400 years, William Shakespeare sure knows how to make a living. His birthplace, Stratford-upon-Avon, is a virtual tourist trap for travelers who come from far and wide wanting to indulge in all things Shakespeare-related. One can learn of the town's Tudor history at Falstaffs Experience, see plays come to life at the famous Royal Shakespeare Company, and even visit the bard's final resting place in the Holy Trinity church–all for a price, of course.
Luckily, I had no need to elicit the services of a conspicuous-looking man in a doublet and lace, leather gloves and a wide brimmed hat on my visit to Stratford yesterday. My tour guide was the lovely Emma Parry, a long-time friend of vivandlarry.com who invited me up to have a look around. Being a fellow Vivien Leigh and Laurence Olivier fan, Emma knew all of the best sites to see.
We had lunch in a great restaurant called Edward Moon. The leek and potato soup, and mushroom and madiera chicken were fantastic–no room left for crème brûlée, sadly! Afterward, we took a walk to the Royal Shakespeare Company to see where the Oliviers performed in Macbeth, Titus Andronicus and Twelfth Night during the famous 1955 season. Although it was overcast, the walk offered beautiful views of the theatre and parkland on both sides of the River Avon. We stopped by the Holy Trinity church to pay a visit to Shakespeare himself and saw the memorial tree that had been dedicated to Vivien Leigh.
Our tour of Stratford was followed by a drive in the country to visit Emma's home town, Chipping Campden, and then on to Broadway, both in the picturesque Cotswolds. We enjoyed afternoon tea with fresh scones, clotted cream and home-made jam at the Bantam Tea Rooms in Chipping Campden before heading over to Broadway to buy sweets in the old fashioned candy shop. The Cotswolds are the definition of a picturesque English village, and look like something out of a Thomas Kincaide painting. One of the most notable buildings in Broadway is the Lygon Arms. This famous hotel has served as a rendezvous spot for many famous people over the centuries. Notable guests have included Oliver Cromwell, J.M. Barrie, Laurence Olivier and Vivien Leigh, and the Kennedys.
It was wonderful to explore the heart of England with a kindred spirit. I honestly feel very lucky that this website has brought me in contact with so many amazing people. Thanks again for being a fabulous tour guide, Emma!
All photos in his post © Kendra Bean/vivandlarry.com