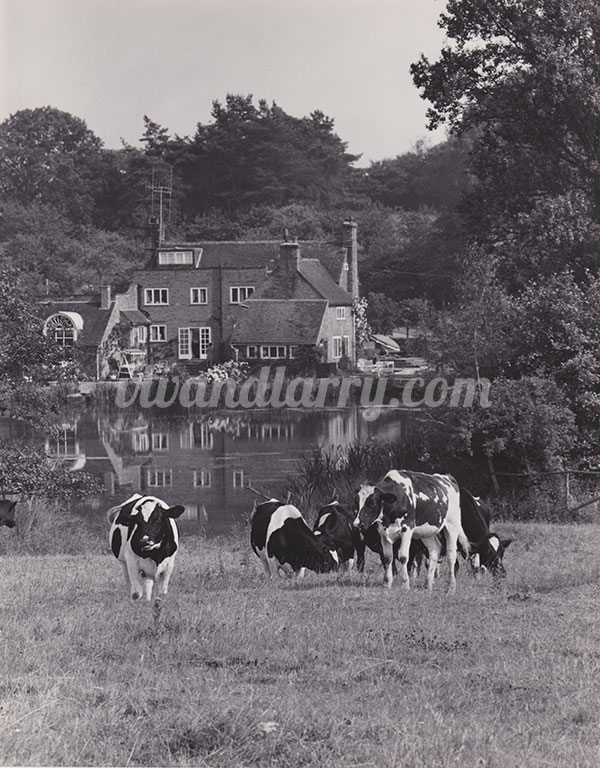 A view of Tickerage Mill from the farm owned by Vivien Leigh
Last week I posted some rare candid images of Vivien Leigh taken by Jack Merivale that showed the woman behind the star image; photographs her fans would likely never have seen had Merivale not graciously lent them to one of her biographers. Several of them showed Vivien at her recently-purchased home Tickerage Mill. The photos in today's post highlight the same setting. These, however, were intended for public consumption.
British actor Dirk Bogarde told journalist and biographer Alan Dent how Vivien came to own Tickerage in early 1961:
When Vivien had left Notley she once came down to my house, and felt utterly sad because she no longer had a garden…she adored mine, which was rather marvelous. Suddenly she said: "I want a little house…with a view like this, but by water…on a lake or a stream…and with trees…" and I had seen the exact house three days before. I told her, and she was off in a flash and found it to be the very place of her idea…that's how she got Tickerage Mill. I had wanted it very much for myself, but it was a bit too far from town, I thought, and too small for me. Viv was instantly at home there.
In the summer of 1962, Vivien invited professional Surrey-based photographer Thomas A. Wilkie to photograph her at Tickerage. She had been away for a year and was only now settling in and making the Queen Anne-style house in Sussex a true home.
The photos are part of a larger set that was intended for a magazine but, to my knowledge and the current owner's, were never published. I first came across the original prints in a famous theatre ephemera store in London back in 2005. I was a college student at the time and couldn't afford the asking price. "Vivien isn't cheap, you know," the shop owner said to me. I went away believing I'd never see them again, so it was a great surprise when Terence Pepper from the National Portrait Gallery asked me to come in and meet a local collector called John who had some Vivien photos to donate for an upcoming exhibit, and there they were. John inherited the photographs from a friend who recently passed away, and I am so grateful to him for letting me share some of them  here at vivandlarry.com.
The photos offer an intimate glimpse into Vivien's home and, like Jack Merivale's snapshots, show a woman making the best of life after her divorce from Olivier. So many of Vivien's endearing qualities come through in these pictures: her love for animals, her exquisite taste in interior design, her love of work, and her loyalty. I especially love the photo of her and her dog, Sebastian. It's not perfect, and she probably wouldn't have approved it for publication, but the expression on her face is adorable.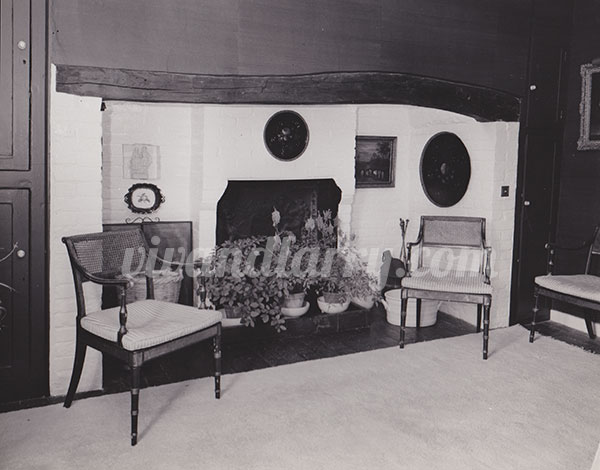 I just love this centuries old fireplace. It reminds me of a cozy English pub.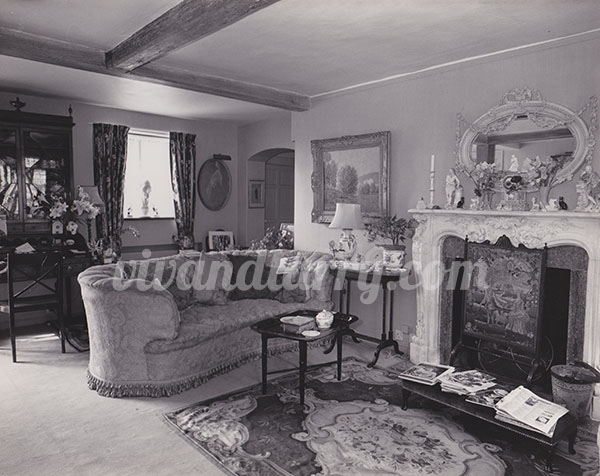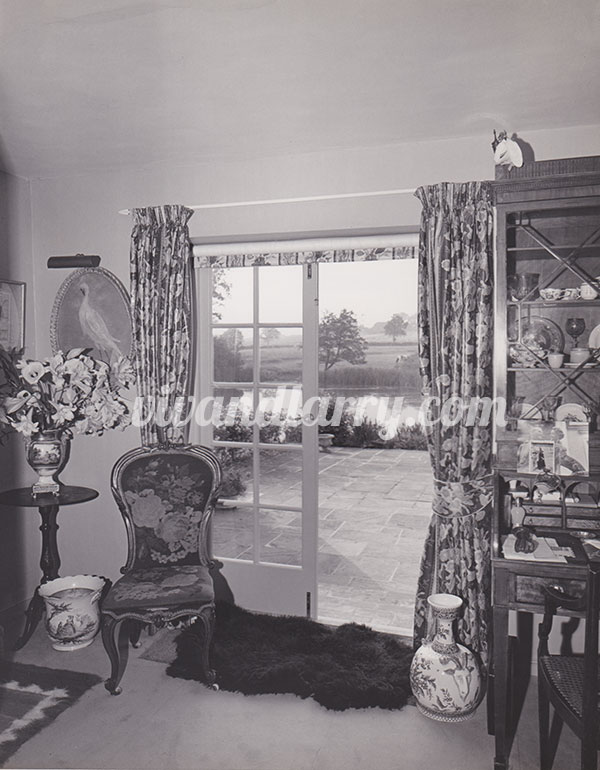 The sitting room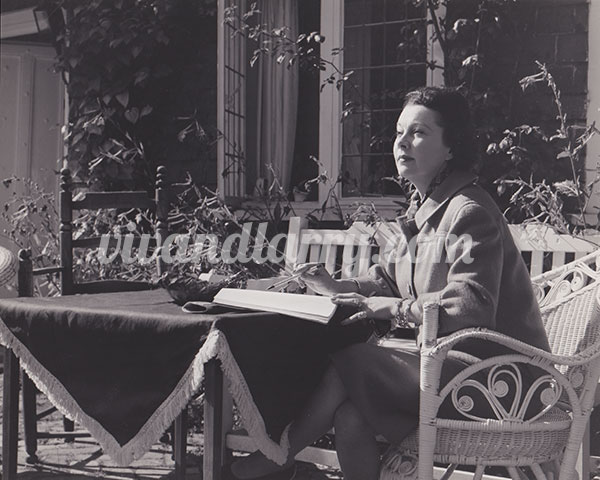 Talking about her upcoming musical, Tovarich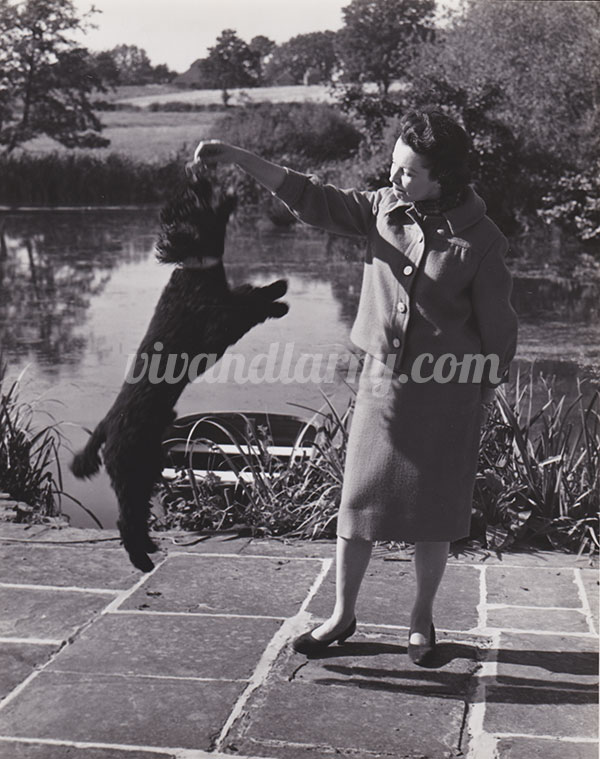 Playing with her poodle, Sebastian – a gift from Jack Merivale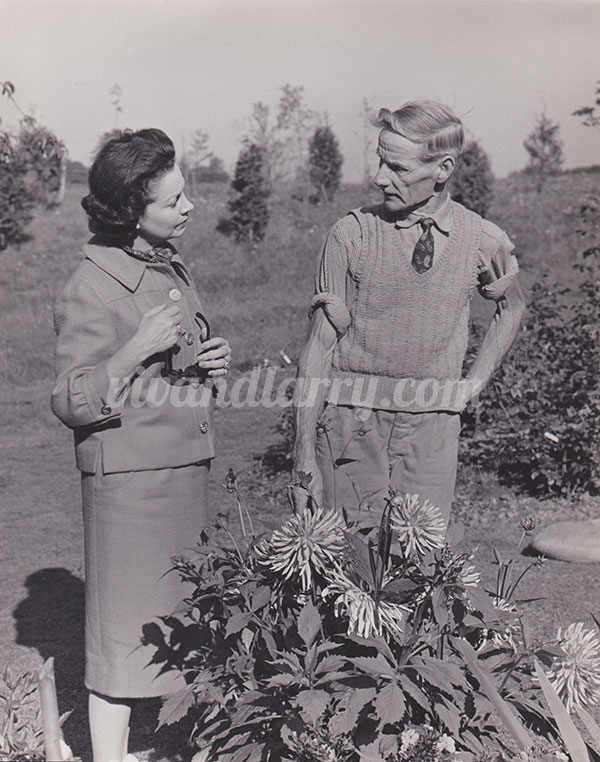 "Gardening – my great love." Talking to Cook, who was head gardener at Notley Abbey for eight years and left there in order to remain in Vivien's service.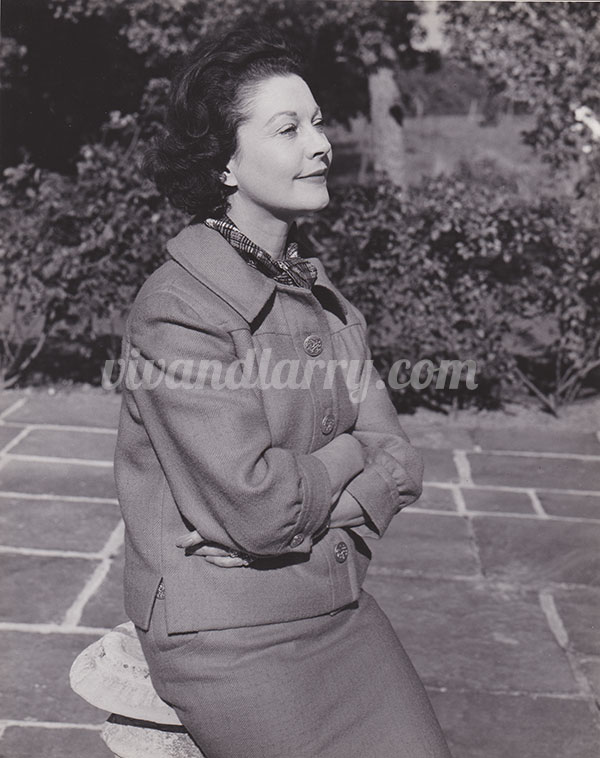 I simply love this photo