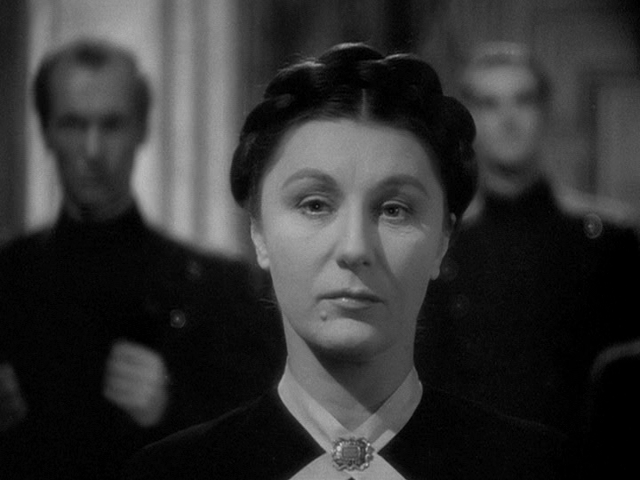 This post is part of the Queer Film Blogathon currently being hosted by Caroline at Garbo Laughs to celebrate gay pride month. The aim of the blogathon is to examine films that feature "lesbian, gay, bisexual, trans, or otherwise non-heterosexual, non-gender-binary depictions or personages in film." For an overview of queer film theory, click here.
The film I'd like to focus on is David O. Selznick's adaptation of Daphne DuMaurier's Rebecca (1940). Many scholars of queer film theory have written of the relationship between Manderley's mysterious and frightening Mrs. Danvers (Judith Anderson) and the ghostly but ever-present Rebecca. Rhona J. Berenstien notes that the horror genre is "a primary arena for sexualities and practices that fall outside the purview of patriarchal culture, and the subgeneric tropes of the unseen, the ghost and the haunted house…Portraying lesbians as ghosts in Hollywood movies is, then, directly linked to cultural attitudes and anxieties about homosexuality. The lesbian is a paradoxical figure; she is an invisible–yet representational–threat."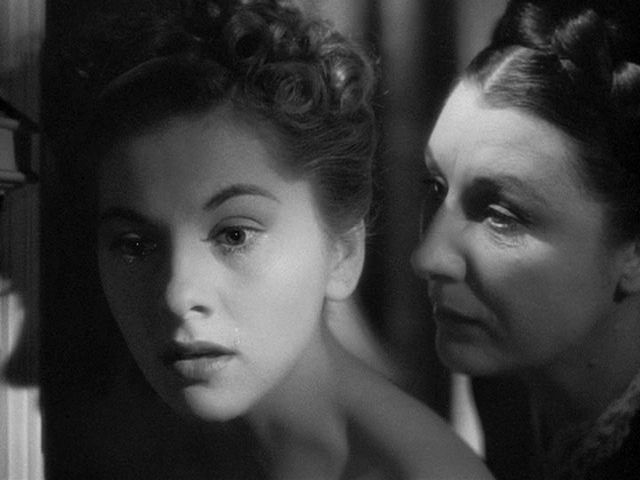 As Lily Tomlin explains in the 1995 documentary The Celluloid Closet, gay characters have been on the screen since the birth of cinema. However, after the enforcement of the Production Code in the 1930s, many of these characters took on a new identity: that of the "cold-blooded villain." This is certainly the picture that is painted of Mrs. Danvers in Alfred Hitchcock's film. One scene in particular stands out. The second Mrs. DeWinter (Joan Fontaine) has been tormented by both constant reminders of her new husband's recently deceased first wife and her chilly, intimidating interaction with Danvers. Mrs. DeWinter decides to explore the forbidden East wing at Manderly that Rebecca and Maxim occupied before Rebecca's death. She finds herself in Rebecca's bedroom and suddenly Danvers is right there behind her. The housekeeper takes Mrs. DeWinter around the room, revealing her lingering obsession with Rebecca–rubbing the sleeve of one of Rebecca's fur coats against her cheek, telling Mrs. DeWinter how Rebecca liked her hair brushed, showing her Rebecca's underwear drawer where her lingerie is kept neatly folded. Finally, Danvers beckons Mrs. DeWinter over to Rebecca's four poster bed where she shows her a black mesh negligee that belonged to Rebecca. "Have you ever seen anything so delicate?" inquires Danvers. "Look, you can see my hand through it." Although this scene can be read as one of the climaxes of Mrs. Danver's madness in this gothic story (she tries to convince the younger woman that her husband still loves Rebecca and that she will never be able to live up to the dead woman's memory), when doing a queer reading of the film, this is strong evidence to suggest that Mrs. Danvers is a lesbian. More than that, Mrs. Danvers is portrayed as a wraith; a sexual predator who is out to make Mrs. DeWinter her next victim. Mrs. DeWinter's fearful and timid reactions, paired with the creeping music, make this a sinister scene.
Joseph Breen, head of the Production Code, sent a strongly worded message to David O. Selznick explicitly forbidding any suggestion of  a relationship between Mrs. Danvers and Rebecca. Berenstein quotes directly from one of these letters in her article: "If any hint of this creeps into this scene, we will of course not be able to approve the picture." Yet all of these things made it in to the final cut, regardless.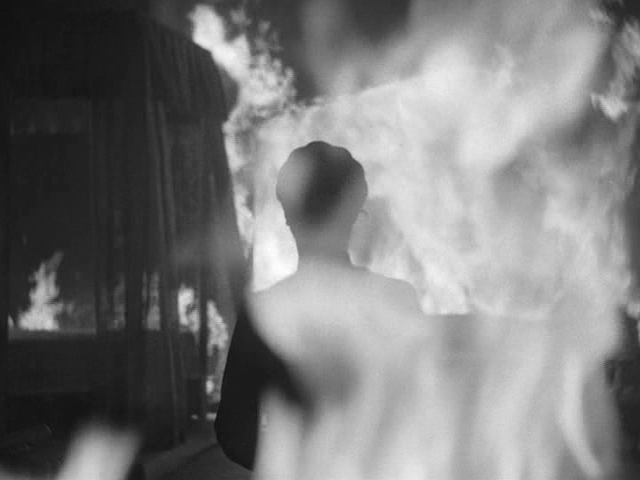 Under the Production Code, any character acting in a morally unsuitable way must be punished. Because Mrs. Danvers is represented as a monster (a "female Frankenstein" as Berenstein calls her), she must die like one in the end. As Max and his wife drive back from the inquest into Rebecca's death, they find Manderley engulfed in flames. Presumably it was Mrs. Danvers who started the fire. One of the last shots of the film shows Danvers in Rebecca's bedroom, looking out the window as the house burns around her.
Mainstream audiences in 1940 may or may not have read the film version of Rebecca as having anything to do with homosexuality, but it is likely that gay and lesbian audience members of the time viewed films in hopes of catching glimpses of LGBT people represented on screen. Although it is horror/melodrama, and the characters in question are represented as evil, I think Rebecca is a film that definitely delivers in the queer subtext department.