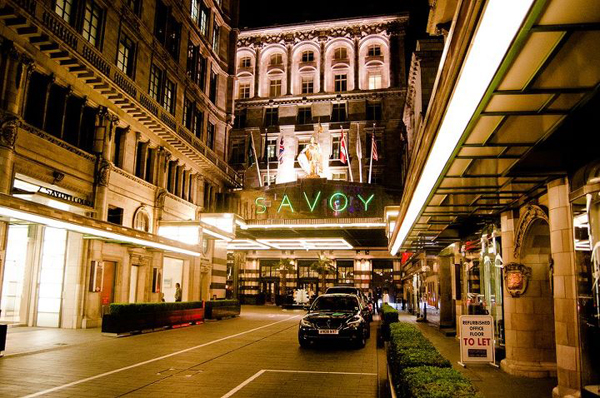 My friend Zsazsa came to visit from Hungary two weeks ago. She's a big Vivien Leigh fan, so we made some plans to see some of the places we visited back in May during the Weekend with the Oliviers (Zsazsa unfortunately couldn't make it). One of the first things we did was have drinks at the Savoy. Three of my friends, Sami, Ali and Emma joined us and we went for cocktails at the ultra-classy Beaufort Bar.
The Beaufort Bar has the atmosphere of an upscale gin joint with its black and gold art deco furnishings. The bar itself occupies the former cabaret stage where Gershwin once performed. They still employ a piano player and cabaret singer who lend greatly to the ambiance by crooning Cole Porter, Ella Fitzgerald and Lena Horne. But the best part of the experience is the booze!
The first time I came to the Savoy for my friend Shirmoa's birthday, I had a cocktail called Grounds for Divorce:
50 ml BACARDI – Reserva Superior 8 Year Old
15 ml BENEDICTINE – D.O.M.
15 ml LILLET – Blanc
10 ml NOILLY PRAT – Original French Dry
4 ml Black Treacle Syrup
1 dash(es) Bob's Vanilla Bitters
It was fantastic but a bit heavy. This time I decided to go for something a little more girly and ordered the Princess Ida (named after the Gilbert and Sullivan Opera):
Grey Goose
Cherry Mariner
Pressed Lemon
raspberry
vanilla
A nice light martini (by light I mean flavor-wise, definitely not alcohol by volume!). It was divine. I have to confess that I don't like beer (with the exception of Crabbie's alcoholic ginger beer, a delicious but probably tooth-rotting beverage that can be purchased in Wetherspoon's) and therefore always prefer a proper cocktail bar over a regular pub, particularly one where fancy dress is required!
Photos © Zsuzsa Ribai