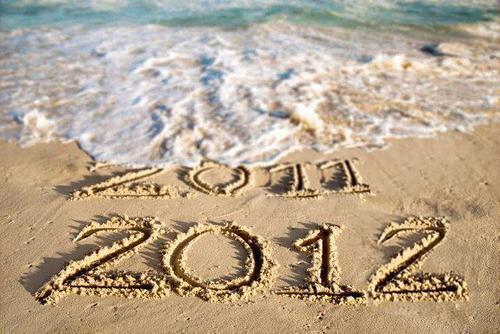 As we get older, time seems to go by faster and faster. Here we are at the end of yet another year. But 2011 was a memorable one for many reasons. I finished graduate school with distinction, wrote a really long paper on Vivien Leigh and film stardom, traveled to some amazing places including Paris and Poland, went back home to visit my family and friends in California, got an agent and am working hard on a book, saw Gone with the Wind on the big screen and met some amazing people both through this website and otherwise. It was also a big year for vivandlarry.com. Here's a round-up of the best things on the site this year, and my top 10 favorite new-to-me films!
The Best of Viv and Larry in 2011
Visiting Tickerage Mill — Sometimes the best things happen when you least expect them. When my friend and fellow Viv and Larry fan Sami and I decided to take a spur-of-the-moment trip to Sussex in search of Vivien Leigh's country home, we never expected to bump into the owner and be invited inside the gates to snap photos. It was a beautiful house and property with a very peaceful atmosphere. It's no wonder Vivien loved it.
A Weekend with the Oliviers — I've helped plan events before at work, but this was the first time I'd ever planned something entirely on my own. An amazing group of people came to London in May of this year to celebrate Larry and Vivien, and I was so happy it turned out well. Everyone was so nice, and luckily all the plans fell into place!  We did a backstage tour at the Old Vic, saw That Hamilton Woman on the big screen, chatted with Hugo Vickers, and saw a play about Vivien that happened to be attended by Tarquin Olivier. It gave me a real confidence boost to have been able to lead everyone around London for two days. What a bunch of good sports!
Tea at Notley Abbey — A last-minute addition to A Weekend with the Oliviers, our trip to Notley Abbey went from cool to awesome when it started raining and we were invited in for tea! Sipping a hot cup of Earl Grey and eating fresh brownies in Vivien Leigh and Laurence Olivier's former sitting room before being allowed to wander about and take photos was the perfect, spontaneous way to spend an afternoon!
Gone with the Wind tribute — This list of ten reasons why Gone with the Wind is still awesome was the top viewed post of 2011!
Interview with author Philip Ziegler — Author Philip Ziegler answered questions about his upcoming biography on Laurence Olivier. I cant wait for this to be published!
Interview with author Ellen F. Brown — Ellen F. Brown, co-author of Margaret Mitchell's Gone with the Wind: A Bestseller's Odyssey from Atlanta to Hollywood gave us the inside info on the journey of everyones favorite Civil War romance.
Remembering Vivien Leigh — A few of us fans in London left white roses for Vivien Leigh at 54 Eaton Square in honor of what would have been her 98th birthday on 5 November. We were lucky enough to catch a glimpse of current resident Luise Rainer!
The Viv and Larry holiday contest — This is currently going on right now! You can win a fab classic film prize pack, so don't miss out!
Top 10 new-to-me films of 2011
1. Letter from an Unknown Woman (Max Ophuls, 1948) — I'm usually not a big fan of Joan Fontaine but the combination of period drama, angst, Louis Jordan and one of my favorite directors made for very good viewing.
2. The Artist (Michel Hazanavicius, 2011) — This film actually opens today so I won't get to see it before January 1, but I can already tell I'll love it!
3. Term of Trial (Peter Glenville, 1962) — Laurence Olivier's underrated and understated performance as a schoolteacher accused of rape by his star pupil is one of the best in his repertoire.
4. Les Enfants du Paradis (Marcel Carne, 1945) — Screened at the BFI Film Festival, this centuries-old tale of unrequited love on the busy boulevards of Paris was one tear-jerker not to be missed.
5. Midnight in Paris (Woody Allen, 2011) — It's no Annie Hall, but I can't fault Woody Allen for transporting us back to 1920s Paris when Papa Hemingway, Picasso and everyone's favorite mustachioed surrealist Salvador Dali tore up the town.  Très romantique!
6. L'Historie d'Adele H. (Francois Truffaut, 1975) — Another story of unrequited love and madness, this time set in Nova Scotia. The beautiful Isabelle Adjani plays real-life tragic Adele Hugo to perfection in this film by French master Francois Truffaut.
7. Twentieth Century (Howard Hawks, 1934) — A zany film starring Carole Lombard and John Barrymore, in which Lombard plays the straight character. So funny and rather unexpected!
8. Les Diaboliques (Jaques-Henri Cluzot) — I loved this thriller starring Simone Signoret and Vera Clouzot about a woman who plans to have her husband murdered, and the tables are unexpectedly turned on her.
9. All About My Mother (Pedro Almodovar, 1999) — Definitely one of the best I've seen from this living legend. Penelope Cruz has really grown on me recently.
10. Evergreen (Victor Saville, 1934) — My  friend Mark introduced me to this sugary British musical starring Jessie Matthews. I ate it up like candy.
++++
There will be much more coming up here in 2012, so please stick around and thank you so much for all your wonderful support this past year!
Don't forget you can also find Vivien Leigh and Laurence Olivier in the following places: