It was pouring down rain when I arrived at the Victoria and Albert Museum on the morning of November 5. One of the museum's press officers met me in the lobby and escorted me up the stairs, through the darkened jewelry exhibition, and into the Theatre and Performance gallery. I was there to see curator Keith Lodwick, the lucky person overseeing the newly acquired Vivien Leigh archive. Having met Keith a few times prior to this meeting, I was looking forward to an interesting and lively discussion about the selection of material currently on display to commemorate Vivien's centenary. He didn't disappoint. Keith's passion for his job is palpable; a plus for researchers doing work in the Theatre and Performance archive at Blythe House, as well as Vivien Leigh fans who have been and will be lucky enough to hear him talk about the treasures in his care.
Vivien's papers had been handed down from her daughter, Suzanne Farrington, to her three grandsons. The V&A entered into negotiations for the acquisition in 2002, but the Farrington family suddenly withdrew for undisclosed reasons. Luckily, the negotiations started again in 2012 and the collection was purchased for an undisclosed sum earlier this year. As an international celebrity, Vivien's cultural appeal remains as prominent in America as it is in Britain. Keith mentioned that Suzanne came in to the museum not long before the display went up and said that she was glad the papers stayed in the UK to be preserved for the nation. There are over 10,000 items in the archive, including press cuttings books compiled by her mother Gertrude Hartley, diaries beginning in 1929, thousands of photographs (including 1000 color stereoscopic slides taken with Vivien's own camera in the 1950s and 60s), over 7,500 letters, awards, and other ephemera.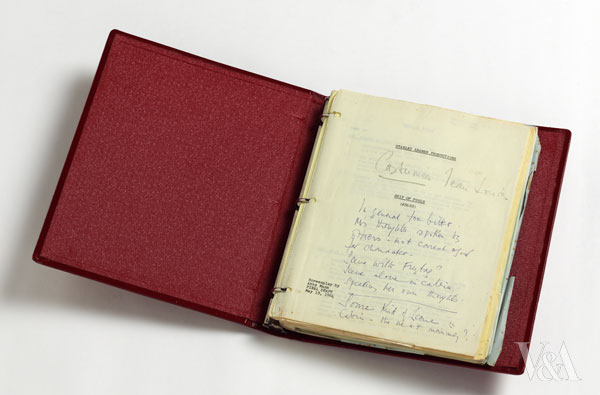 Vivien's annotated script for Ship of Fools. She thought the character of Mary Treadwell "too bitter" in general.
Having been a fan for years, and doing research in various archives pertaining to Vivien, I've seen a lot of things. A few months ago, however, I had the privilege view a portion of the archive at Blythe House and was amazed by the amount of material – particularly photographs – that was new to me. There were private snapshots, and variations of well-known studio portraits, many of which haven't been published. I can only imagine what treasures have yet to be revealed.
Visitors going to the V&A expecting to see a major exhibition about Vivien will likely be disappointed. There are a handful of paper goods in a glass showcase, as well as two costumes worn by Vivien in another part of the gallery. But don't be quick to discount what is on display. The chosen items offer a well-rounded glimpse into Vivien's private and professional world, and are bound to leave fans hungry for more (Bonus: Keith says they plan to rotate the items in the display every six months). With such a huge expanse of material to draw from, I wondered how Keith was able to narrow down the selection. "It was very difficult because the archive is so vast and after looking through it over some months, we feel we've really just scratched the surface," he said. "I suppose the selection was looking at A Streetcar Named Desire, which I thought was really interesting and something she was well renowned for. There's a huge amount of correspondence between her and Elia Kazan regarding the film, which I hadn't really read about before. It's new material."
The primary focus of Theatre and Performance is to explore the art and craft of how performance is created and constructed. Keith referred to a hand-written note from Vivien to Streetcar director Eliza Kazan, which is currently on display. Scrawled in pencil, it highlights her feelings about the wig she has to wear for the part of Blanche DuBois: "It's fascinating how she approached the character and the characterization, and how she wanted to look and the costume. That was so important to her." During his sold-out talk at the BFI on November 12, Keith showed us another letter in which Vivien told Kazan that she wouldn't mind bleaching her hair again, as she had done for the 1949 stage production. As we know from watching the film, Kazan was able to get beyond the physical construction of her character and coax Vivien's own emotions out of her shell. But her willingness to obscure her natural beauty if she felt it impeded on the character she was playing is well illustrated here.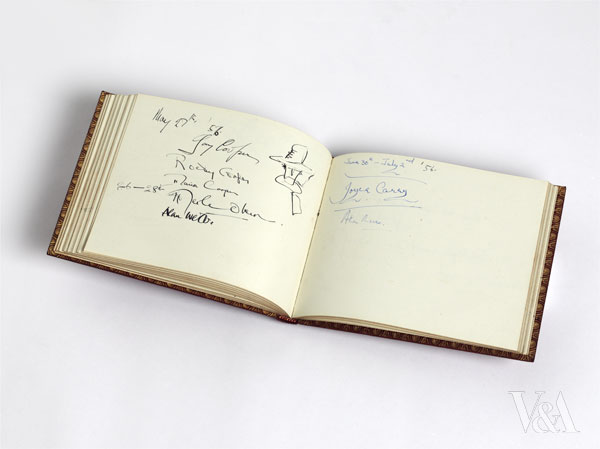 Notley Abbey visitor's book showing a cowboy sketch by Hollywood star Gary Cooper
Also on display is a selection of famous theatre photographs, including one from Streetcar taken by Angus McBean; a Streetcar playbill; a telegram from Norma Shearer congratulating Vivien on winning the role of Scarlett O'Hara, and a letter from Winston Churchill. These are all very interesting but the real centerpiece of the display is the visitor's book from Notley Abbey. It's an extraordinary record chronicling the celebrities that stopped by the Oliviers' Buckinghamshire estate for a weekend or a lavish party between 1945 and 1959. "It's a who's who of mid-century entertainment," said Keith. "Not just theatre people that you'd expect like John Gielgud, Edith Evans, Ralph Richardson, the Redgraves. You have Orson Welles, Katharine Hepburn, Judy Garland, Gary Cooper, Merle Oberon, Bette Davis and her husband Gary Merrill, David Niven. Also her family – Leigh Holman, who she was very close to for her entire life, is a regular visitor. So was Laurence Olivier's family. It's extraordinary to see all the people in one place, sometimes on the same weekend, and you think, 'Oh, to be a fly on the wall.'" Which guest was Keith most surprised to see listed? "Some of the Hollywood people like Gary Cooper. I wasn't aware of him coming over to Britain in the 1950s."
The V&A also holds the archives of several of Vivien's theatrical contemporaries, including costume and set designer Oliver Messel, who "crossed over from theatre to opera to ballet to film, interior design, architecture. He had a very prolific career," Keith explained. Messel first worked with Vivien Leigh in 1937 when Tyrone Guthrie cast her as Titania in A Midsummer Night's Dream at the Old Vic. "We have a full set of costume designs for Titania and Oberon, and a beautiful painting, and two headdresses that she wore – in fact, one of them is going on display next year for the 'Shakespeare: Greatest Living Playwright' exhibition, in our temporary gallery. They're so beautifully made. He was a real craftsperson. He loved making model boxes, headdresses. He liked to use everyday objects to make them."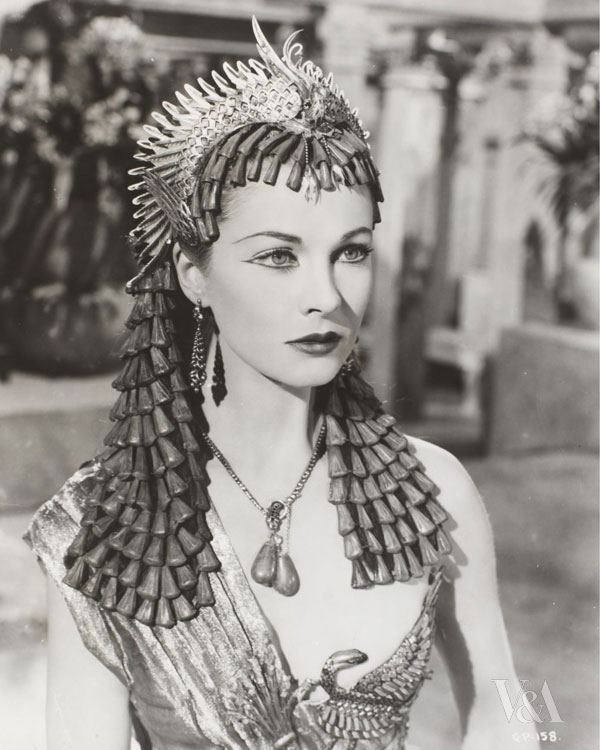 Vivien wearing the Oliver Messel headdress from Caesar and Cleopatra, currently on display in the Theatre and Performance gallery at the V&A
Of particular interest to Vivien fans will be one of the Messel-designed headdresses she wore in Caesar and Cleopatra (1945). The costume piece has been conserved especially for Vivien's centenary and is now on display for the first time since 1982. Seeing it up close, one can't help but marvel at Messel's craftsmanship and creativity. Wartime constraints meant that the designer had to create cinematic illusion out of everyday materials. The headdress is "made from pieces of papier-mâché, bits of acetate, bits of small glass. The pods are made of individual pieces of cut leather molded with a kind of wax inside. It's quite an extraordinary object. It looks more theatrical than filmic, but when you watch the film everything reads cinematically. It's very fairytale-like, which is a world he was very expert at creating."
Vivien became rather close friends with several set and costume designers throughout her career. The Vivien Leigh archive contains letters from Beatrice "Bumble" Dawson, who designed the general costumes for The Roman Spring of Mrs. Stone, as well as Messel, and Roger Furse, who was close with both her and Olivier. Furse would sometimes sketch pictures on the backs of the letters he sent to the Oliviers.
We talked about how many people continue to be fascinated by the legendary partnership between Vivien and her second husband. "We want to explore Vivien's work in her own right in terms of her career – she often exists in Olivier's shadow," Keith disclosed. "But they are so entwined. How do you separate them?" It's a tough balancing act, because even when she was still alive, Vivien was largely spoken of as somehow inferior to Olivier. She also referred to herself as such, always praising his achievements and skills and downplaying her own.
Olivier's influence over Vivien as an actress and a person was profound. Vivien was no doubt more natural on screen than Olivier was, but I've always personally felt that comparing them as performers is like comparing apples and oranges. Except if Olivier was an orange, Vivien wanted to be an orange, too. Keith seemed to agree: "Olivier acted from the outside in and, in a way, Vivien acted from the inside out in terms of characterization. I think she absolutely adored him and it must have been very hard for her. It is obvious from her sheer stamina that she wanted to play as many roles as possible. She packed a great deal of creativity into a relatively short life"
When doing research for Vivien Leigh: An Intimate Portrait, I read several of Vivien's letters to Olivier. Many of them had a very reverential tone, which continued after their divorce. I was hoping Keith could give a hint as to what kind of light the letters in this archive shine on their relationship. He said, "What comes out of this archive is how passionate their relationship was, and the risks they took to be together, considering the era in which they were living. It was quite extraordinary for them to both leave spouses with children to be together. The letters he wrote to her throughout the Gone With the Wind period are quite extraordinary." They often exchanged gifts and touching tokens of affection "like little carnations and little sewn hearts. He'd send little snapshots of himself in his dressing room and things like that which she used to keep. Endless extraordinary telegrams. I always think they're the vintage equivalent of the text message, and it's very fascinating that he was trying to disguise what he was sending her in these telegrams as a way to get around censors and the press. He'd often sign them as Andrew or Kerr and address her as Mrs. Hartley or Mrs. Holman, which she was at the time."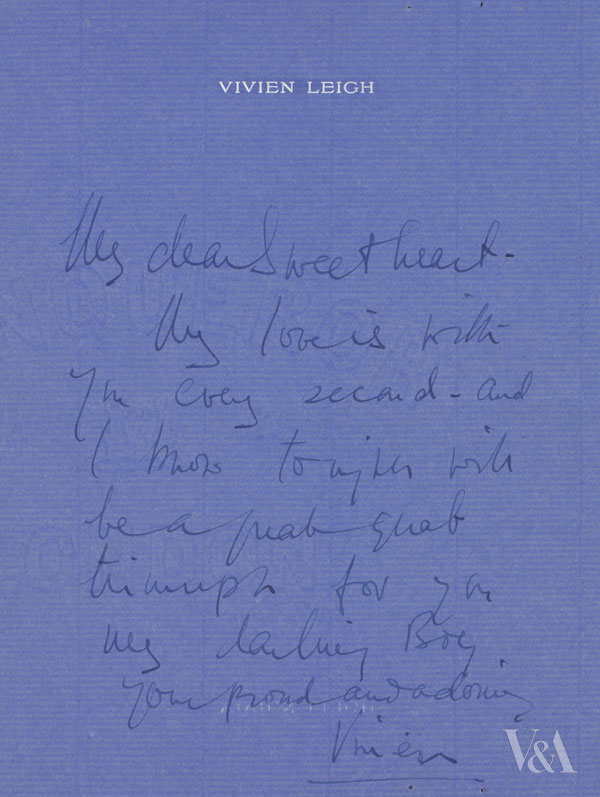 Undated letter from Vivien to Laurence Olivier. It reads: "My dear sweetheart, My love is with you every second, and I know tonight will be a great great triumph for you my darling Boy. Your proud and adoring Vivien."
What can researchers and casual fans expect to take away from this archive once it's been catalogued and opened to the public? Keith hopes that people "will consider her important place in British theatre and film history – her legacy, how important she was, how she wanted to be strong, accomplished, and versatile as a performer. For film historians and people who perhaps want to begin to write a slightly different story, there are all kinds of things in this archive about how she approached acting."
As an actress, Vivien "seems so separate from her theatre contemporaries [Peggy Ashcroft, Edith Evans, Rachel Kempson]. She was uniquely part of that tradition of English theatre with the Old Vic, Gielgud, Richardson etc. Those worlds were so interwoven, and yet she stands very separate, almost an international persona. She wanted to be a part of the future of British theatre history. The National Theatre came out of the Old Vic, which she was very much part of. It was Olivier's dream, of course. It had been discussed for such a long time – well over 100 years, and he was carrying on the flame of that tradition of Henry Irving and Ellen Terry, of having a national theatre for Great Britain. She would have been so much a part of that discussion throughout the 40s and 50s…It's rather sad that she wasn't part of that world when it finally formed itself in 1963 as the National Theatre Company at the Old Vic."
There are so many examples of museums and libraries purchasing or being given the papers of cultural figures only to have them sit in boxes in the basement for decades, shut away from the outside world, even when they aren't embargoed. So, it was refreshing to hear Keith talk about his plans to make the Vivien Leigh papers accessible to a wider audience as soon as possible. I personally can't wait!
The V&A will continue celebrating Vivien's centenary with the free exhibit in the Theatre and Performance gallery. On Wednesday 29 January, Keith will be giving a lunchtime lecture about the archives of Vivien Leigh and in addition, there will be a seminar on Saturday, February 8 titled "Vivien Leigh: Stage and Screen, the Struggle and Success." Speakers include Keith, Dr. Kate Dorney, myself, and Gone With the Wind scholar Helen Taylor. Tickets can be purchased online via the V&A's website.
All images in this post used by permission of the V&A.
♠ ♣ ♠ ♣ ♠
 ♠ ♣ ♠ ♣ ♠